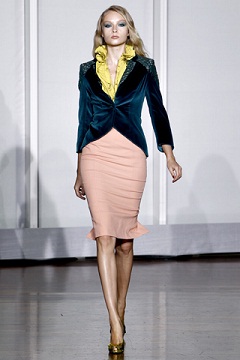 It's the perfect season to wear velvet and designers such as Dolce & Gabbana and Halston have it all over their runways to remind you that velvet is still in style.  Holding a subtle sheen with a luxurious look, velvet is plush and warm and oozes class, especially in darker jewel tones.  Colors like navy blue, ruby red, emerald green, plum, heather grey and black, look best.  Velvet in these colors can be worn to any occasion because it doesn't draw a lot of attention to itself.
Velvet used to be avoided by some because people were sometimes afraid of the heaviness and it's upholstery like feel. These days there are many panne velvets and crushed velvets that are lighter and more fluid like  making it easy to wear in a jacket with layers underneath or an evening gown.  If your one who is careful with adding velvet to your wardrobe, start out by wearing velvet accessories such as shoes or scarves and see how you feel in it.  Do try more cotton velvets as opposed to rayon velvets. The cotton velvets are richer, where the rayon velvets tend to be  thin and cheap looking.  The cheaper the velvet the harder it will be to make it classy and believable.  For those who are new to wearing velvets, take baby steps adding velvet to your closet with simple pieces and accessories.
Follow the tips below to make sure your on track when wearing velvet:
Accessorize with classic jewelry pieces and vintage jewelry.  Wearing too many accessories with velvet can overload your entire look.
If you wear a full velvet pant suit, keep your accessories to a minimum.  Let the velvet be the main focal point of your look not your jewelry.
Wear cotton velvets with a silk or satin backing.
If your easing into the idea of wearing velvet and are still new to the idea, start with simple accessories such as necklaces with a velvet ribbon or a velvet scarf to get used to the look and pair them with garments you feel confident in.
Pair your velvet piece with other rich fabrics.  For example, a velvet jacket will look great with a silk button down in a neutral color.
Photo – L'Wren Scott Spring 2011 Ready-to-Wear – taken by Monica Feudi, GoRunway.com