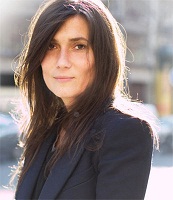 Emmanuelle Alt has recently been named editor-in-chief of Vogue Paris, replacing Carine Roitfeld who recently resigned after ten years of dedication to the company.  Naturally, the fashion world was taken by surprise after Roitfeld announced her resignation.  Many asked questions regarding her reason for leaving and of course who would take her place.
The announcement was made by the president of Conde Nast France, Xavier Romatet, who confirmed Emmannuelle Alt will take over the position starting February 1, 2011.  Alt  is famous for being a fashion stylist world wide and has worked as a fashion director, along side Carine Roitfeld, with Vogue Paris since 2001. Alt has an amazing eye for fashion and an extended resume having worked with several French publications including French Elle, 20 Ans and Mixte.  She is also known for her fabulous styling techniques for runway shows and ad campaigns for Balenciaga and Giuseppe Zanotti.
At age 45, this talented and incredibly smart fashionista is sure to take Vogue to new heights.  We can't wait to read the April issue of French Vogue which will be under her leadership and no doubt an exciting issue.
Photo – Emmanuelle Alt, Courtesy of blogs.timeslive.co.za