The 2011 SAG Awards brought several leading ladies out onto the red carpet on the evening of January 30, 2011, but this time, there were more hits than misses to say the least.  Check out these conversational photos and decide which gowns you prefer most.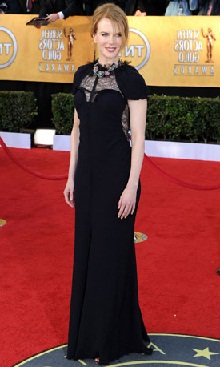 Photo – Courtesy of fabsugar.com
Nicole Kidman wore a sleek Nina Ricci gown with a see-through lace back . A floor length gown always looks fab on Nicole's long and lanky frame but we're a little unsure what was going on at the top of this one.  Usually Nicole is one of our favorites with her classic style but this time we're not sure what she was thinking when she layered a pink and grey Fred Leighton jeweled necklace over the gowns ruffled neckline.  The necklace was unnecessary and a gown with a little less confusion on top would have been a better choice in our opinion.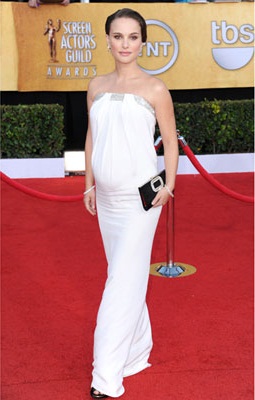 Photo – Courtesy of Jeff Shearer/wireimage.com
Natalie Portman, a first time nominee and winner for female lead actress in a motion picture, looked stunning wearing a white strapless column gown with jeweled embellishments across the top.  The dress was designed by Azzaro and is worth 2 million dollars which showed off her baby bump perfectly and came with it's own security guard.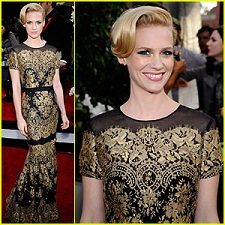 Photo – Courtesy of justjared.buzznet.com
January Jones dressed in lace from head to toe by Carolina Herrerra has us frowning. As her first time wearing this designer, it's too bad she couldn't have picked more of a daring number.  This dress is definitely safe and the only thing it accentuates is her small frame leaving the rest for your imagination.  Although leaving something for every one's imagination isn't a bad idea, for this event, a little more skin, less lace and a more dramatic neckline would have been more flattering on such a beautiful woman.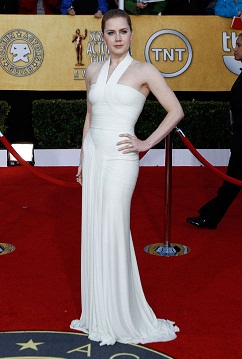 Photo – Courtesy of Matt Sayles/ontheredcarpet.com
Amy Adams wore a Herve Leroux column gown with a halter neckline that seemed to be a little too tight.  A beautiful redhead with gorgeous skin, Adams could have benefited from wearing this dress one size bigger to celebrate her fit frame instead of squeezing her curves into the unforgiving design causing unnecessary bulges.  Even the most fit of women can look out of shape when they wear clothes that are too small.  In this case we felt this dress did not compliment her beautiful natural curves like it could have.   

Photo – Courtesy of huffingtonpost.com
Sophia Vergara was every one's favorite on the SAG Awards red carpet.  It seems Vergara knows exactly how to dress for these type of events and did so even better than the last time. Even then, she made our best dressed list. It just keeps getting better and better with this curvaceous beauty.  Vergara wore a striking blue dress by Roberto Cavalli along with Stuart Weitzman shoes.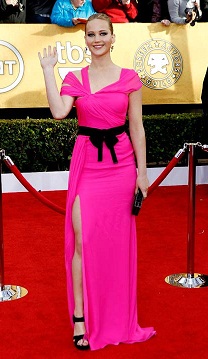 Photo – Courtesy of Matt Sayles/ontheredcarpet.com
Jennifer Lawrence is a little too early to follow Spring's bright colors trend.  This near florescent floor length pink dress is pretty close to being all wrong.  Aside from the color being too bright and out of season, the black belt is too much of  a statement accessory making her waist not look smaller but thicker since the thickness of the belt hides the smallest part of her waist.  The shoe choice is all wrong too.  The thick black strap around the ankle  cuts her legs shorter and makes her ankles look thicker than they really are.  Sorry Jennifer…this whole look is one we want to forget.