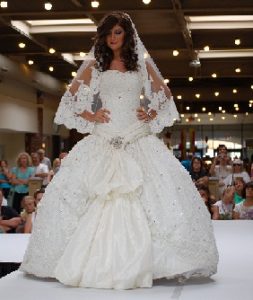 Award-winning gown designer Katerina , of Detroit, Michigan,  is looking for models to represent her high fashion bridal collection. Katerina has showcased her designs in several New York Fashion week shows and has dressed top celebrities such as Fergie, Aretha Franklin, and Miss Universe.  
The open casting call is for those who are  looking for a once in a lifetime opportunity to get involved in the world of high fashion runway modeling.  Models must audition Wednesday, May 4, 2011 from 5:00 p.m. – 7:00 p.m. at the Katerina Bocci Design Studio in Shelby Twp, Michigan.  Models are asked to arrive camera ready and will be asked to walk for Katerina Bocci herself and possibly try on one of her fanbulous designs. Filming in Detroit/ JR Galactic Productions will be filming the casting call as part of a new reality TV pilot so please be sure to arrive on time. Models chosen will be asked to model for Katerina in a fashion show on May 19, 2011 in Grosse Point, Michigan an and several upcoming shows in Toronto, Michigan and New York Fashion Week.
Katerina Bocci Design Studio is located at 14239 Rick Dr.  Shelby Twp, Mi.
Photo – A Katerina Bocci wedding gown at the Buy Michigan Now Show, taken by Shannon Lazovski, Glamorousmoms.com