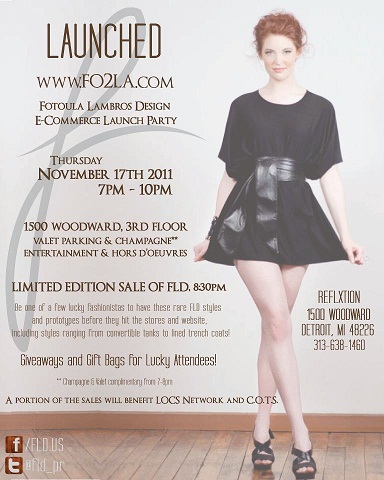 Local Detroit designer Fotoula Lambros of Fotoula Lambros Design is launching an E Commerce site for all the fashionistas out there that love the idea of natural fiber clothing with a realistic and stylish flair.  The event will take place Thursday,  November 17, 2011 at Reflxtion from 7:00 p.m. to 10:00 p.m.  Guests are invited to enjoy an evening of exclusive shopping, hors d'oeuvres, entertainment, giveaways and an opportunity to meet the designer, Fotoula Lambros, herself. Valet and champagne are complimentary from 7:00 p.m. – 8:00 p.m.
Guests who attend will also have the opportunity to purchase rare FLD styles and prototypes before they hit the website and are carried in stores. Styles available for purchase range from convertible tanks to lined trench coats. The Limited edition sale of Fotoula Lambros Design will begin at 8:30 p.m.  A portion of all sales will benefit LOCS Network and C.O.T.S
Glamorous Moms' readers are welcome  to enter in the LAUNCHED GIVEAWAY to have a chance at winning a Fotoula Lambros Design Convertible Tank. Click here to enter.
Reflxtion is located at 1500 Woodward, Detroit, MI.

Shannon Lazovski is the Founder & Editor of Detroit Fashion News.  Find out more about one of Detroit's top fashion bloggers here!