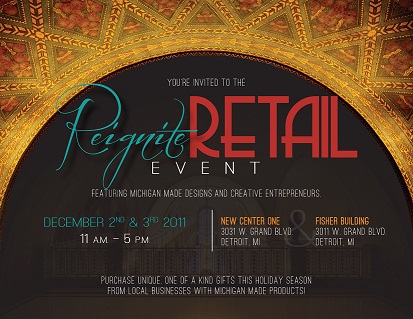 The Farbman Group is launching a new initiative to showcase area talent and is looking for local artists and artisans to help "Reignite Retail" in Detroit. The event, Reigniting Retail, will allow local retailers, designers and artists to showcase their products from 11:00 a.m. to 5:00 p.m. on Friday, Dec. 2, 2011 and Saturday, Dec. 3, 2011 in the lobby of the Farbman-owned Fisher Building.
Metro Detroit has become a haven for art and innovation and entails many talented individuals that have a lot to offer the community. Farbman Group recognizes this and wants to highlight the growth of the market for their creative and unique output. The event is a perfect option for shoppers to fulfill their Holiday shopping needs by supporting local retailers. The event will not only include Detroit talent but the event will also include live music and entertainment in tune with the season and is free to the public.
"Reigniting Retail will make a statement about the quality of goods dreamed up, created and sold right here, but we need local talent to embrace it and make it a success," said Andrew V. Farbman, CEO of Farbman Group. "Farbman Group supports local talent and the larger goal of making Detroit a retail destination, fed by Michigan vendors and Michigan-made products. Mixed in with the excitement will be the beauty of one of Detroit's grandest landmarks: The Fisher Building's iconic art deco lobby will be the event's backdrop."
Interested local vendors including designers, artists and craftspeople should contact Judy Smith at 248-351-4381 or smith@farbman.com. Reservations must be made by  Nov. 23, 2011.

Shannon Lazovski is the Founder & Editor of Detroit Fashion News.  Find out more about one of Detroit's top fashion bloggers here