Fashion in Detroit put a definite spotlight on Detroit's fashion scene by turning the Motor City into Fashion City on Saturday, March 10, 2012. The annual event brought hundreds of attendees to Detroit's Motor City Casino and Sound Board.  Several members of the media, models, fashion designers, design students, and spectators from around the world all joined in to celebrate up and coming talent, such as student designers from the International Academy of Design Detroit and well-known national talent such as Peter Soronen, the famous designer who is known for dressing the first lady.
The event was co-hosted by Project Runway's Joe Faris and Ambassador Magazine publisher and jewelry designer, Denise Ilitch.  The two Metro Detroiters are both business leaders in Michigan and advocates of Detroit's urban renewal. They have a strong commitment for the city's growing fashion community as well as a drive to support the revitalization of the city and their plan to bring the house down so to speak, was a complete success.
The ten runway shows ran from noon to 6:00 p.m. with 20-40 minute breaks in between each show allowing guests to shop the Market Detroit pop up shops and meet and greet the designers. An opportunity guests didn't have the two previous years, the Market Detroit pop up shop was an excellent idea for both the spectators, the designers and businesses involved.
Starting the show were two sets of student designers. You may have already read about them in our earlier post titled, "Student designs debut at Fashion in Detroit" . One group of students represented  International Academy of Design and Technology of Detroit and the other named Amantes de La Moda were taught and represented by designer and educator, Dana Keaton.  Each student displayed their own creative ensembles using finer fabrics and recyclable items such as tea bags and water bottle labels.
On the runway next were exquisite feminine designs from Natalia Villafana.  Focusing on ready-to-wear couture pieces, Villafana wowed the crowd with beautiful fabrics in colors of olive, pale green, red, yellow, black and white.  Villafana's designs were tender and unique.  Each piece had it's own character whether  being a sheer light weight fabric that laid against the skin in a soft sensual way or a garment accentuated with over-sized flower appliques.  Either way, the femininity of each piece intriqued spectators and gave the women in the crowd something to whisper about.
Brightly Twisted graced the runway after designer Natalia Villafana.  The hand dyed collection proudly made in Michigan showed beautifully in hues of aqua, blue, tangerine, pink and purple.  The ensembles were breezy and light and resembled attire perfect for a carribbean cruise or a relaxing day at the pool.
Homeslice Clothing debuted in Detroit for the first time at Fashion in Detroit.  Designer, Emily Thornhill, recently branched away from Femilia Couture and created a unique collection for the first time on her own.  Emily stands by her "shop local buy sustainable" beliefs and prepared clothing for the show rich in creativity with a youthful feel.
House of Martini Retro displayed hot clothes resembling looks from the 1970's.  The looks were stiff with butterfly collars and high-waisted wide leg pants in true colors of blue, green and red.  The shirts looked very retro with evocative deep V's and silk prints. Clearly if you've seen John Travolta in "Staying Alive" then you've seen Martini Retro type of clothing before. The vintage collection brought back hip memories for many of the fans as they remembered what it was like to dress during that era.
Morada Blue livened up the show with a little skin and a few bright colors.  Opening the show with model, Tika,  in a bright pink bikini was a fiery way to wake up the crowd.  One piece swimsuits and two piece suits were in the show and were also sold in the Market Detroit pop up shop in the adjacent banquet room.  Models in Morada Blue bikinis also walked through the crowd during the other shows catching the eyes of many.
Bachrach displayed sophisticated wearable styles for men.  Bachrach specializes in dressing a man from head to toe in style with flat front slacks, two and three button blazers, ties and sport shirts.  Local businessmen Richard Pink of Elive Entertainment and Dr. David Bradley of Studio 32 made a surprise appearence on the runway showing that Detroit businessmen have what it takes to be successful and look great doing so.
Peter Soronen dresses were sophisticated and smooth to say the least. It was nice to see the Farmington Hills native come back for a second time around of Fashion in Detroit.  Soronen, well-known for dressing A-list celebrities for the red carpet and the first lady, Michelle Obama, graced our Detroit runway three years ago at the Detroit Zoo the first year Fashion in Detroit was introduced. His style is fresh and whimsical and his dresses are made to make everyone who wears them feel like royalty.
Rodeo Drive meets Miami chic best describes the Neiman Marcus show. The collection flourished in Spring trends such as fun color blocking in bright colors, cool accessories, and metallics.  The luxurious department store committed to high fashion and merchandising leadership brought a unique type of richness to the event.  Each look carried a current trend and was accessorized with over the top statement accessories.
Denise Ilitch Designs and Joe Faris finished the Fashion in Detroit show with their own designs.  Denim by Joe Faris and shirts, dresses, accessories and jewelry by Denise Ilitch Designs were more day-to-day attire perfect for the Metro Detroiter that loves to wear denim of all kinds and printed t-shirts.  A rugged yet realistic look, our prediction, Motor City Blues will most likely be adored more by the midwest. Ilitch and Faris not only style well together but obviously work well together.  Being this is their first year running the show together, all in all the Motor City was successfully transformed into Fashion City, at least for the day. Thanks to them keeping the Fashion in Detroit idea alive, many eyes are open to the city of Detroit and it's creative, hard-working talent. We are looking forward to the event getting bigger and better each year as our accomplished fashion community grows.
Photos – Tatijana Kunik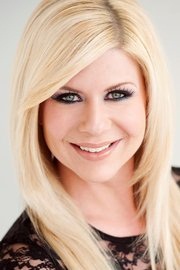 Shannon Lazovski is the Founder & Editor of Detroit Fashion News.  Find out more about one of Detroit's top fashion bloggers here!