It's always a special day when I hear about a new collection at Tiffany & Co.  There's no other jewelry company in the world that makes me feel warm and fuzzy inside.  Just holding the tiffany blue box accented with a white ribbon makes me feel like a little girl on Christmas day.  I don't know what it is, but Tiffany & Co has a special hold over me. If you're like me, then you'll be happy to hear that the world-premier jeweler, debuts its 2013 collections with a treasure trove of color-saturated gemstones and diamonds that reflect the exhilarating spirit and grandeur of the sea. As you already know, each new piece comes in that special little blue box and white ribbon but most importantly each piece has a significant story behind it making it even more special and unique than the rest.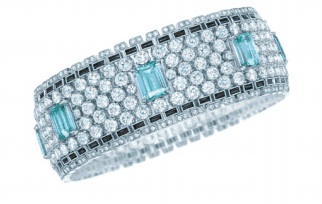 Tiffany's master designers and artisans explore the endless blue of the ocean and beyond (and they have for years) creating a wealth of jewels that infuse fashion with glorious color and romantic allure. A bracelet of aquamarines and diamonds mirrors pristine pools shimmering in the moonlight. The stones smoothly transition from emerald-cut aquamarines to brilliant-cut diamonds.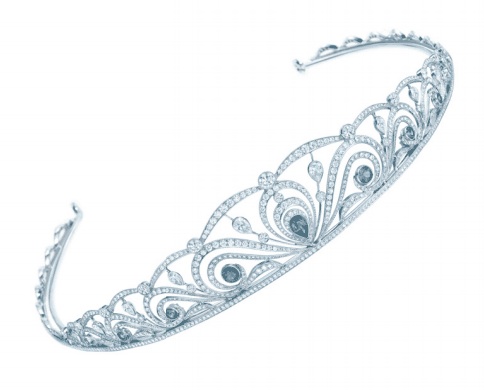 Such grace and fluidity is echoed in a diamond tiara that celebrates the sea's majesty with Montana sapphires set in a scroll design unfurling between a narrow platinum band and ribbon motif.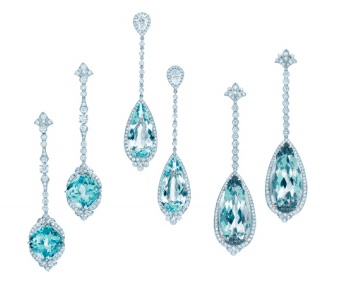 Dramatic drop earrings with green and blue tourmalines embody the ocean's mysterious depths; and opera-length necklaces of diamonds and sapphires evoke the boundless blue of the horizon.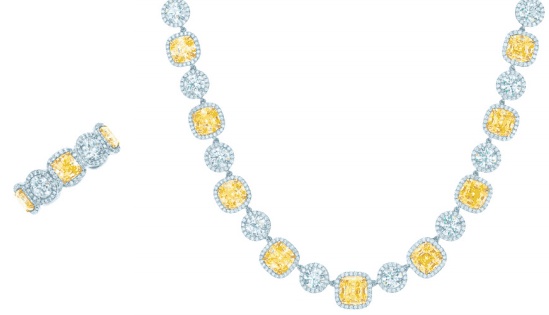 Tiffany's diamond heritage includes the rarest fancy color diamonds. Their color saturation and intensity places them among the world's most sought-after stones. The collection features pink and green diamonds blossoming in rings and earrings; and Tiffany Yellow Diamonds revealing all their natural brilliance in jewels that sparkle like sunlight dancing on the water.
One of Tiffany's and the world's greatest designers, Jean Schlumberger is acclaimed for bejeweled creations inspired by the natural world. Schlumberger captured the translucent waters surrounding his Caribbean retreat with the Tassels necklace of lustrous turquoise stones lashed with 18 karat gold 'ropes' and diamonds; and lavish bracelets of hand-carved lapis lazuli, turquoise and pearls. Tiffany followed every detail of Schlumberger's original designs, exquisitely handcrafting the jewels that are his legacy to art and fashion.
Every one a Tiffany masterpiece—beckon collectors and connoisseurs to explore the ultimate in glamour and style.

Shannon Lazovski is the CEO of SoGlam Media & Founder/Editor of Detroit Fashion News.  Find out more about Shannon here.