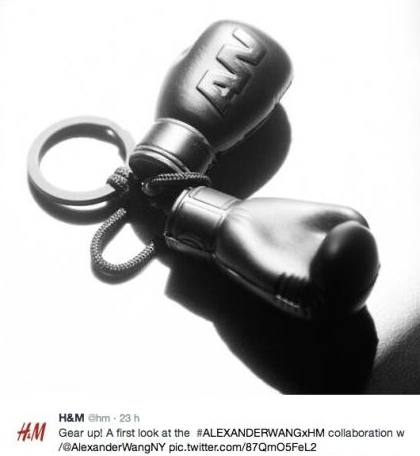 You may remember a previous post here on DFN regading the collaboration between H&M and Alexander Wang.  We mentioned Alexander Wang's collection for H&M is scheduled to launch later this year. Since then, no one has had an idea of what the designer had in store for H&M's clientele. We've been waiting to hear something new on the collection, or even a sneak peak for quite some time and finally our payers have been answered.  Well sort of.   Last Monday, H&M decided to reveal the first image of the much anticipated collection on Twitter. The image shows a keychain with miniature boxing gloves. So there's our teaser.  Could this be an indication of a sports theme? Or is it just a small detail of a related print?
Eager to shop the collection in stores a few months from now, fashion fans are already having heavy conversations on Twitter.  Will they figure out the true meaning of the teaser?  Time will only tell.
The capsule collection of women's and men's pieces will be available in 250 H&M stores worldwide and online, from November 6, 2014.
Photo – H&M Twitter page