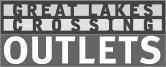 To help customize the shopping and dining experience for Michigan shoppers, Great Lakes Crossing Outlets and Twelve Oaks recently announced the launch of an industry-first mobile app. The free app, available for both Android and iPhone, will offer consumers first-of-its-kind indoor navigation technology and a host of other shopper-friendly functions.
The app, developed in partnership with Meredith Xcelerated Marketing and SPREO, delivers step-by-step navigation and location-based marketing through Bluetooth and Wi-Fi technology. Shoppers using the app can quickly and efficiently: Map It: Locate stores, restaurants and entertainment options as they shop, Plan It: Plan a shopping trip in advance to navigate the mall quickly and easily, Love It: Use the robust functionality to save favorite stores, receive real-time event, sales and promotion information and view seasonal fashion trends.
"Today's shoppers are all about convenience and personalization," said Melissa Morang, marketing and sponsorship director, Great Lakes Crossing Outlets. "With our new app, we are combining tech-savvy amenities with premium retail offers to provide an unmatched, easy shopping and dining experience during the holidays and all year long."
The intuitive app is powered by scalable technology and gives shoppers instant access and navigation to their favorite stores within the malls. Customers also have the option to map their route to shop a group of their favorite stores. The 'Plan It' functionality creates the most accessible route by listing selected stores in the shortest distance from a current location for quick and convenient shopping, perfect for shoppers in a hurry or mom's on the go!

*Twelve Oaks Mall is located at 27500 Novi Rd, Novi, Michigan 48377. Phone – 248-348-9400.
*Great Lakes Crossing Outlets are located at 4000 Baldwin Road, Auburn Hills, MI 48326.  Phone 248-454-5000





*Disclosure – This post may contain affiliate links. By clicking and shopping, you help support our team and allow us to keep reporting on all things fashionable.