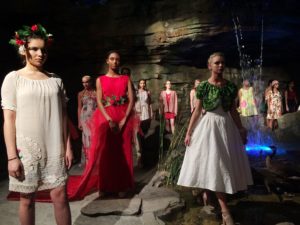 The Fashion Massacre is not your average fashion show. The annual event, which shines light on local designers through a series of innovative fashion presentations, celebrated its seventh year with a weekend full of art and creativity.
Seeing as how seven is considered a lucky number amongst many, Fashion Massacre guests were definitely in for a treat this year. In the past, the Fashion Massacre was a one-day presentation, typically held at an art gallery. This time around, the event lasted from Friday, May 6 to Sunday, May 8, at a different location each night.
Fashion Massacre Producer Tyna "Fance" Logan has been the genius behind each and every show. Logan's previous experience within the realm of fashion, as well as her creativity, were two of the main forces that drove her to take the entrepreneurial leap almost a decade ago.
"I went to numerous fashion events [in Detroit] seven years ago, and I felt like there was something missing within these events," Logan said. "I traveled to New York Fashion Week, and when I went there, I was moved. I was wowed by the creativity, the professionalism, the art — everything was just amazing to me. So I started the Fashion Massacre…to shine light on an industry that I felt was missing the creative approach to things."
Like with any successful project, the Massacre has improved each year since its debut. In order to keep up with the ever-changing ways of the fashion industry, Logan said that every detail, from music to hair and makeup, mattered. She wanted each supporter to see and feel all of the hard work that went into planning the event.
"Eventually I want [the Fashion Massacre] to be like Fashion Week; I want it to be seven days," Logan said. "So I'm kind of taking my baby steps until that seven-day mark."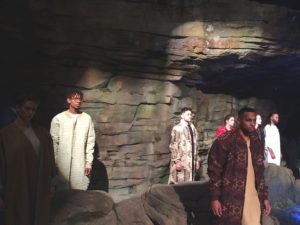 Each night of the Massacre had a different theme, and in order to embody the visions that Logan was going for, she knew that she had to find the perfect locations.
The opening night of this year's Massacre was entitled "Forest," and was held at the DNR Adventure Center in downtown Detroit from 8-10 p.m.
"I think I was on the River Walk or just randomly driving, and I said, 'Wow, I definitely want to go in this place and see what it looks like inside,'" Logan recalled of the event space. "When I went [inside], I immediately knew it was a Massacre location. It's just a feeling you have."
As ethereal music played, models walked out into the woodland-esque space, complete with an indoor waterfall. Guests were encouraged to interact with the garments, and to, of course, document their experiences on social media using the hashtag #FashionMassacre7.
The second night, held inside of Detroit's Electric Studio, was given the name "Orchestra." The white and black décor of the venue served as a blank slate for designers, as some of them incorporated visuals, props and even machine-made fog into their presentations. Exhilarating string music was heard throughout the night to accomplish the classical vibe that Logan was going for.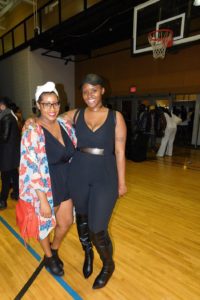 The third and final night was called "Gymnasium." Models did their best catwalks across the floor of the gym inside of the YMCA of Metropolitan Detroit while sporting trendy athletic and casual wear. The runway show was a change of pace from the previous two nights, and was a solid conclusion to the event as a whole.
With participation from 21 designers and 70 models, and the support of hundreds of guests, the Fashion Massacre 7 proved itself to be a success.
Michigan State University junior and first-time Fashion Massacre model Mia Elzy said that her experience brought out a newfound confidence in herself.
"It was very exciting to model for the Fashion Massacre 7," Elzy said. "Just being around so many people involved in fashion and feeding off their energy really motivated me."
Now that Logan has seven Massacres under her belt, there's no telling what she'll do next. But no matter how creative she decides to get with her next event, she will always make the effort to stay true to her original objective.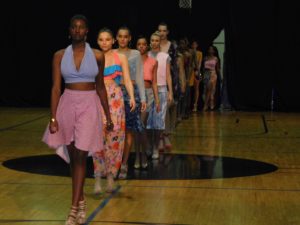 "My prayer is that I touch the culture in a way where they look at the Massacre in a light of fashion as they would look at the Auto Show," Logan said. "So, each year, my plan is…just really creating this culture of professionalism in the next level of fashion and the way it's supposed to be presented."
Photos
Photo 1 -C. Creations by Cheryl Zemke featured during Day 1 of the Fashion Massacre.
Photo 2 – Draped silhouettes and geometric patterns by Out of Stock caught the eyes of many during Day 1 of the Fashion Massacre.
Photo 3 – Tyna "Fance" Logan and I at the conclusion of the Fashion Massacre 7 event. Photo by Godfried Aryee.
Photo 4 – Vibrantly-colored designs from the House of Armelle collection were featured during Day 3 of the Fashion Massacre. Photo by Godfried Aryee.
Written by Evann Webb
*Disclosure – This post may contain affiliate links. By clicking and shopping, you help support our team and allow us to keep reporting on all things fashionable.