RuvaAfricWear is one of the hottest African fashion lines at the moment. We had the honor of interviewing Sylvester Ndhlovu, the founder of RuvaAfricWear.
DFN: How would you describe your style?
Ndhlovu: My personal fashion style is sporty and natural since I prefer to wear soccer jerseys, sweatpants or basic jeans. I'll have to say my style has also been evolving into dramatic and trendy since I have started wearing my designs that tend to be flashy because of the African prints I use.
DFN: How would you describe the style of RuvaAfricWear?
Ndhlovu: RuvaAfricWear emphasizes on everyday functional clothing with an African flair, it's sort of a hybrid between western and African styles. Most African designs tend to be very loud and colorful so people feel like they can only wear them to an event. RuvaAfricWear designs are meant to be functional and to add just a bit of African flair to everyday wear. My goal for the brand is to have people wearing African clothing at the gym, at work, church, beach/pool etc. (pretty much everywhere and doing anything).
DFN: What was your background before you opened RuvaAfricWear?
Ndhlovu: My undergraduate degrees are in Business and Economics and I also have an MBA. Over the past five years, I have been working in Finance for a hospital in Minnesota. I'm a self-taught designer who is still learning the craft, but my business acumen comes in very handy.
DFN: What was the hardest part about opening RuvaAfricWear?
Ndhlovu: The hardest part has been building brand awareness and generate enough web traffic to the website. Marketing has become so different now and because I also do most of my business online it's hard to get web traffic without putting in some work into SEO (search engine optimization).
DFN: Where do you see yourself and RuvaAfricWear in the next five years?
Ndhlovu: In the next 5 years, I'll have multiple boutiques and retail store buyer accounts offering RuvaAfricWear in their stores. RuvaAfricWear will have a respectable brand awareness in the USA and I'll be working to expand the brand internationally. I also see myself traveling to many different African countries to source for African prints and get inspiration for seasonal collections. RuvaAfricWear will also be contributing to building self-sufficient and sustainable African communities through supplier relationships or expanding manufacturing in Africa.
DFN: What do you love the most about RuvaAfricWear?
Ndhlovu: Seeing the end product of my designs and how they look on real people instead of mannequins.
DFN: What made you want to open RuvaAfricWear?
Ndhlovu: I love African art and fashion so my partners and I decided to start an online store to share all the exquisite and well-crafted African art and fashion from various countries. The website was launched late last year and the first RuvaAfricWear clothing line collection was released in February.
DFN: How did you get started opening RuvaAfricWear?
Ndhlovu: RuvaAfricWear is an online store only and I don't plan on owning any brick and mortar store, so starting it was a bit easier than a physical store. I did spend a lot of sleepless hours building the website and adding products in the first three months. The great thing about e-commerce now is that there are so many platforms that offer templates, so at least I didn't have to do everything from scratch or need extensive coding knowledge.
DFN: We support everyone wearing African fashion no matter their background! However, like a lot of people, I do not appreciate the cultural appropriation and stereotyping that has occurred with a few popular fashion companies and designers. What is your opinion on cultural appropriation and the like?
Ndhlovu: We grow as people when we embrace our differences and celebrate each other's cultures, so I'm very supportive of everyone wearing African fashion regardless of their background and race as long as they're not mocking it or doing it in bad taste. I intentionally work with a diverse group of models, MUA and photographers so I can showcase my clothing to everyone not just Africans or African Americans. Fashion is just like any other work of art so if we alienate a group of people we're just burning a bridge that could have brought us closer. If you have been to a Hip-Hop concert lately you'll notice that it's very diverse because people come together when they have something in common to celebrate, so I hope African fashion can be just as diverse in the future.
DFN: What advice would you give to future designers and entrepreneurs? 
Ndhlovu: My advice to future designers is to design clothes that people want to wear. As designers, sometimes we focus on esthetics and neglect the functionality of the end product. If your goal is to sell your collection to the masses then you have to design something functional, in demand and trendy. The general advice I'll give to entrepreneurs is to find your niche, be patient and be willing to put in the work.
DFN: How did you come up with the name RuvaAfricWear?
Ndhlovu: RuvaAfricWear is obviously a combination of three words, Ruva, African, and Wear. Ruva is the name of my second daughter and it means flower in Shona (Zimbabwe) and just like RuvaAfricWear.com, she was also born in 2015. Ruva or "Flower" symbolizes beauty, passion, humility, lasting friendship, compassion, fascination, thankfulness, royalty, and many others positive symbolisms we associate with Africa and the RuvaAfricWear brand.
DFN: How has it been like to work with Zuvaa?
Ndhlovu: Working with Zuvaa has been great and I'm so thrilled that RuvaAfricWear is available to Zuvaa customers both online and in the city to city Pop Up tours. The biggest thing when trying to sell a collection or build brand awareness is to have great marketing that reaches the desired target market, so Zuvaa allows me to build this brand awareness which would probably take me a few years on my own.
DFN: Even though you are from Zimbabwe, I noticed that your clothing has influences from several African nations, such as Ethiopia. I love this because I feel that it makes your line more unique.  A lot of African designers will get their styles from only one nation or region of Africa. What inspired you to design your collection this way? 
Ndhlovu: I went to an international high school in Ghana where I had a great opportunity to interact with many students from different parts of Africa.  When I think about it now, it gives me great joy to have lived in this wonderful environment that had a fusion of cultures and fashion. I want my collection and RuvaAfricWear to connect with all Africans and everyone who's into African culture, art, and fashion. In order to do that, I have to design clothes that have African prints or styles from different parts of Africa, just like how my website sells items from different African countries. My collection is still new and expanding so I'd say right now there is a lot of influence from Zimbabwe, Ethiopia, and Ghana, but the goals are to showcase as many African countries in future collections. I'm actually working on a collection that has lots of influence from East Africa, I'm using vibrant Maasai prints so stay tuned for that.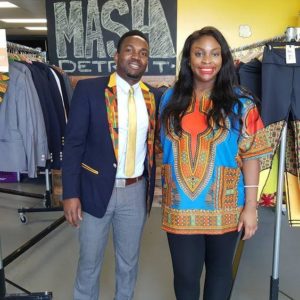 RuvaAfricWear made an appearance in Detroit at Zuvaa's pop-up tour. If you were not able to attend the event, then please read "Zuvaa Pop Up Tour: Detroit."
Header Photo: Gavin Beckford Photography
Written by Kelechi Uchendu
Disclosure – This post may contain affiliate links. By clicking and shopping, you help support Detroit Fashion News and allow us to keep reporting on all things fashionable.