Kheris Rogers is a confident, young entrepreneur! Yes, Rogers is a ten-year-old business mogul. Rogers created, Flexin' In My Complexion which promotes feeling amazing in the skin one is in. Detroit Fashion News thanks Rogers and her sister Taylor Pollard for agreeing to share this heartwarming and inspiring story with us and our readers.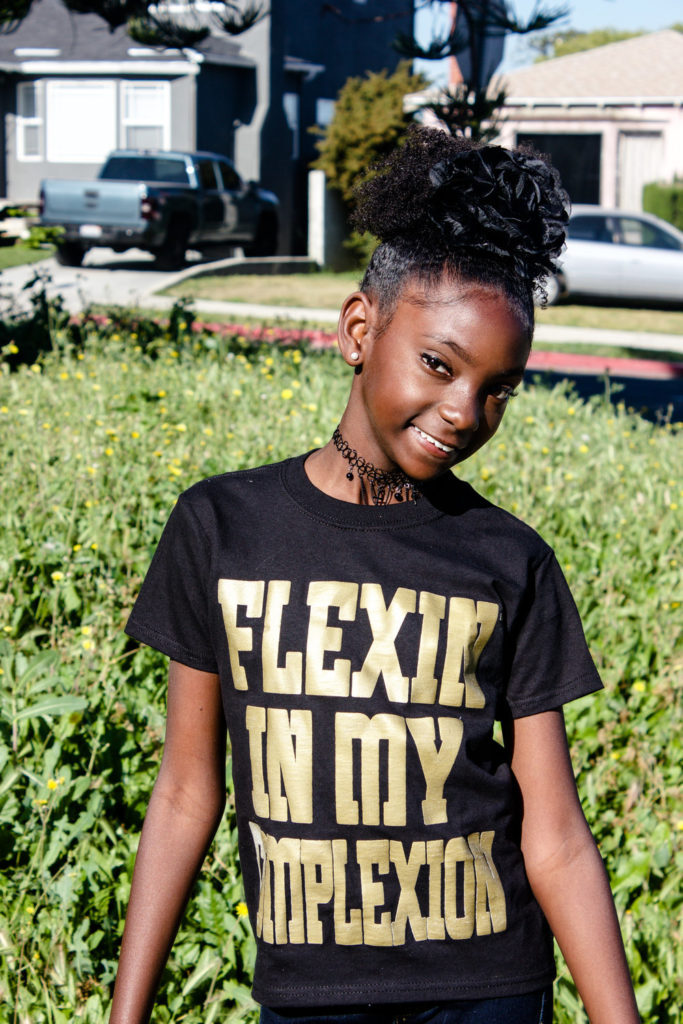 DFN: How would you describe Flexin' In My Complexion?
Rogers: "Flexin' In My Complexion" means being proud of your skin, no matter what shade you are.
DFN: What made you want to launch Flexin' In My Complexion and how did you get started? 
Rogers: Originally, I had a picture go viral on Twitter. My sister posted my picture using the hashtag #FlexinInHerComplexion. Then, I was interviewed by Buzzfeed and CBS because they were interested in my story of how I learned to "flex in my complexion." After doing those interviews, a lot of people began reaching out to me to tell me how they had similar colorism experiences growing up or were still facing colorism today. This inspired me to launch my company because I wanted to help others feel confident in their skin. This is also why we chose such a bold font on our shirts. Our message of inspiring people to flex in their complexion is just as bold as our shirts.
DFN: What was the hardest part about launching Flexin' In My Complexion?
Rogers: When you are motivated to do something, you just do it. The hardest part about starting something is definitely pushing yourself to start. But, once you get started you will be fine.
DFN: Where do you see yourself and Flexin' In My Complexion in the next five years?
Rogers: In the next five years, I hope to see "Flexin'In My Complexion" in stores. I hope to continue to inspire people to become comfortable in their skin and let them know that there is beauty in their melanin.
DFN: What do you love the most about Flexin' In My Complexion?
Rogers: What I love most about "Flexin' In My Complexion" is that it has allowed me to have my own business at the age of ten. Even though the profits are going to a savings account for my college education, the thought of having my own business is exciting!
DFN: What advice would you give to future entrepreneurs?
Rogers: I would tell future entrepreneurs to just get up and do it. Stop making excuses as to why you can't take a chance on yourself.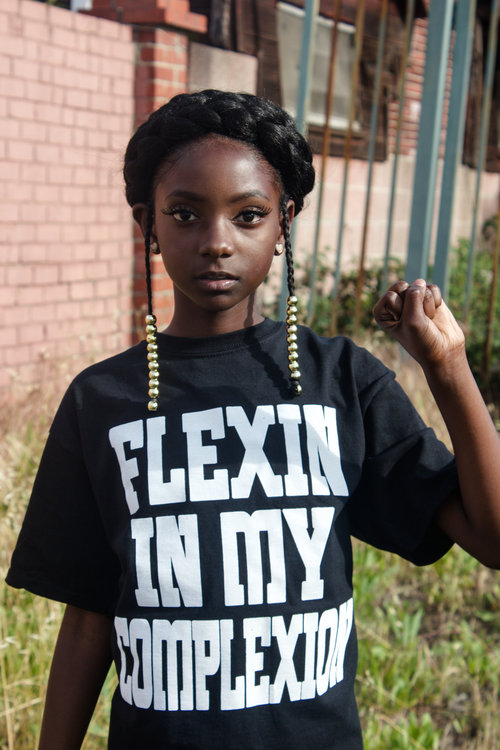 Photos of Rogers: Photos taken by Taylor Pollard.
Written by Kelechi Uchendu
Disclosure – This post may contain affiliate links. By clicking and shopping, you help support Detroit Fashion News and allow us to keep reporting on all things fashionable.