Rachelle Romanowski Willnus Creates Unforgettable Derby Hats
She designs fascinators for Kentucky Derby regulars and local celebrities including news anchors, top business women and influencers and we still haven't seen two designs exactly the same. Willnus is a designer, yes, but a creator and a leader in the Detroit fashion scene and anyone who is anyone is dying to put one of her fascinators on their heads for the next big event. Rachelle Romanowski Willnus took some time away from creating and answered a few fun questions just for you.  Here's what she had to say…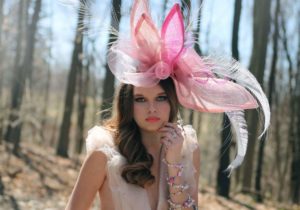 DFN: Tell us about your brand, Derby Hats by Rachelle.
Willnus: I have an educated background in Communications and Instructional Systems Design. I worked at Ford Motor Company for many years designing training programs for engineers before leaving that life to start a family. Once we had children and they became involved in activities like theater, I became involved in costume design. I was hooked!!! I would assist with costume making and hat making. Hat making I enjoyed best so it was an easy fit to start a business…That, combined with all the feedback I was receiving about my hat designs and creations.
I started my business in 2009 after attending my first Kentucky Derby. I received many compliments while at a closed event at the Citation Room at Churchill Downs. I also met celebrity stylist and tv personality, Andy Paige, in the Citation Room. We chatted and she became one of my very first clients. My brand is very much influenced by English style and design. I use English sinamay in my fascinator creations. I get my sinamay from England, Australia, and The Netherlands.
I use only the finest quality sinamay to make my creations. Sinamay is a lightweight material made from an Abaca plant which is similar to a banana plant. Sinamay is a stiffened organic material made from these plant fibers.
Once I realized that hat making was something I had natural talent for (no formal training). I decided to use my gift to experiment with various materials. I first started just decorating straw hats with various accoutrements. A few years later I was introduced to a material called sinamay. I taught myself to steam the material and hand-shape it into various styles. The inspiration for my designs come from Tim Burton's and Philip Treacy's works. The unique heartfelt artistry of their creations both on-screen and in photos, inspired me to create my own unique pieces. To trust the ideas I had in my own head and made them a reality. I thought if they can do it, so can I!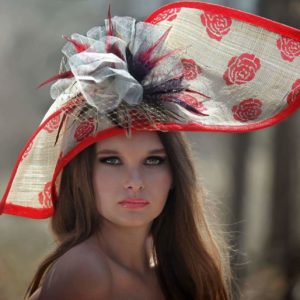 DFN: Who do you make your Derby hats for?
Willnus: I make my Derby hats for women attending tea parties, church functions, weddings, Derby parties, and the Kentucky Derby in Louisville. My brand is for the sophisticated woman who doesn't want to look like everyone else attending the same event. My client will stand out in a good way. She will be the woman noticed and everyone will want to know her. Each of my pieces are couture…I never make two pieces the same. Each piece is hand-crafted and designed by me. I follow color trends each season and create pieces based on the season's latest color schemes. I create unique color combinations in my fascinators…Using colors that complement each other…Colors that people might not think to put together, but play exceptionally well together. I enjoy setting trends in headwear. I know what I like and I know what women should wear for each new season. My client is beautiful inside and out and is most importantly, confident! She knows who she is!
DFN: We definitely know a few women like that here in Detroit! When is your busiest season?
Willnus: My busiest season is spring. My busiest time is March through May.
DFN: We've seen some local celebrities and news anchors wear your designs at local charity events and luncheons. Who is the most influential person you've designed for?
Willnus: I have designed pieces for news anchor, Rhonda Walker. I have also designed for RGA Model Management founder, Renee Godin. I have created pieces for fashion and styling expert Suzen Ross Kingston and celebrity designer, Bonnie Foley. I have also created pieces for local known stylists Raffaella Moda, Hoda Salameh Winkler, and Grace Liang.
DFN: What is the secret to making a memorable and well structured fascinator?
Willnus: The secret is paying attention to the details. The details to me are – how it's sewn, the shape of the piece and the type of woman I see wearing it, the angle of each piece and which face type it will compliment, and envisioning where the client would wear this piece…Will it stand out? Will she stand out? I have also created my own design for headband fascinators that allows them to securely slide from side to side on the headband. This way the wearer can get multiple looks from one piece. I also create pieces that look great from every angle…Meaning that from front to back the wearer will look amazing. My pieces can also be flipped so that the front becomes the back creating an entirely new look for the wearer. Any single pieces can have up to four or five looks depending on how it is styled.
DFN: How does one buy your designs?
Willnus: My designs can be bought directly from me at 810.623.4926. I do not currently have a website. My pieces sell out each season by word of mouth. I only create a select number of pieces each season to keep each collection special to those who purchase them. I list pieces for sale on my Facebook page Derby Hats by Rachelle. I accept credit, PayPal, check, and cash. I ship within the US and abroad. I am also on Instagram @derbyhatsbyrachelle . I frequently post photos of the pieces I have for sale on Facebook and Instagram.
DFN: Do you have any big projects or shows coming up?
Willnus: I always have something going on…I can say this is a blessing. I work with many great people and am thankful for these opportunities. I never take these opportunities or the people I work with for granted. For Kentucky Derby I have three events. I will be posting these events and details on my pages. I can have anywhere from five to ten events a year depending on my schedule. I always post details on my pages if these events are open to the public.
DFN: Tell us something unique about yourself. Something no one else knows.
Willnus: I have no formal training as a fashion designer and no formal millinery training. I sometimes find it funny that I attended eight years of college for Communication and Instructional Systems Design only to make hats. The millinery art chose me; I did not choose it….and yet I cannot imagine doing anything else because I love it so much. I sleep very little from March to May. I often create non-stop for several hours because the designs just keep popping up in my head and they must be created. I cannot stop some days until the designs have fully cycled through my mind or have at least been sketched or described in my Derby journal.
DFN: Where do you see your brand in 5 years? 
Willnus: I would like to have a store-front one day; after my girls are done with college. A lot can change in five years but a store-front would be exciting. I like to stay on the cutting edge of fashion so I see that continuing each year. I would like to grow my business with charities…each year adding a new charity to support locally. I believe it is important to give back and that to whom much is given; much is expected….and I feel that I have been blessed!
DFN: How do you feel about being a Michigan designer and do you see yourself staying here in the mitten?
Willnus: I love being a Michigan designer and see myself staying in the mitten. I enjoy the four seasons of our state and the client base I have built over the past few years. I feel my craft is appreciated here and plan to continue the growth of my business
here in Michigan.
DFN: We are so happy to hear that! Talented and dedicated designers like yourself make up our impressive fashion community here in Detroit. Who are some other designers you admire and support here in Michigan? 
Willnus: Wow…That's a tough one. A few questions back I mentioned my biggest influencers as Janna Coumoundouros of Lilacpop Studio who is a brilliant photographer and wonderful designer of jewelry and Inteva automotive dresses. Cheryl Zemke is also a major influencer with her brand C. Creations Custom Sewing & Design and her new fashion magazine 'Dedicated'. She makes amazing women's fashions and supports her community through many charitable fashion shows. Both of these women give back to their communities and are very passionate about their craft.
Both of these designers have included me in their shows, events, and ventures. I am grateful to them for their belief in my talent. Matthew Richmond of The Paper Dress Code and Mila Pershyna of MP FashionUSA have also been an important part of my fashion tribe. Mila included my designs in her show at New York Fashion Week giving me another platform to showcase my work with hers. Matthew and I have an amazing friendship and respect for each other's work. There are so many I could put on this list and I can honestly say that the level of design talent in this state is beyond incredible. I look forward to working with more Michigan artists in the years to come. Collaborating is something I truly enjoy.
DFN: Thank you Rachel.  We appreciate you taking the time to answer questions for our readers.
Willnus: Thank you!
Disclosure – This post may contain affiliate links. By clicking and shopping, you help support Detroit Fashion News and allow us to keep reporting on all things fashionable.