Shoes Metro-Detroiter's Are Wearing
Shoes, shoes, shoes! All ladies like them and want a closet full of them. They need them in all kinds, shapes, styles, and colors. Shoes help us to "Step Out in Style."
Sometimes when we purchase a new pair of shoes, we wear them the first time and no matter how much we love them, they just don't wear like they did for the few moments we tried them on in the store. Have you ever found shoes are too tight in a specific spot, they blister your heels or cause your feet to sweat, or you did the unmentionable – scuff them up the first time you wore them? How about care? Do you need a few tips to keep them in pristine condition? Here are DFN's Top Ten Life Hacks for shoes to help you out.
DFN Top 10 Life Hacks for Shoes
To stretch a pair of tight shoes: Wear thick socks while blow-drying the tight area.
To absorb sweat: Put panty liners in your shoes to absorb sweat, or spray dry shampoo into shoes.
For blistered feet: Soak feet in warm black tea to reduce infection.
To keep the shape of tall boots: Insert a pool noodle into the boot to keep them standing straight and stop bend lines. (One noodle can be cut in half to use for both boots.)
Scuff marks: Remove scuffs on patent leather shoes with Vaseline, Windex or rubbing alcohol.
Suede shoe care: Buff away tough dirt stains on suede shoes with a suede shoe brush or a nail file. Be gentle.
Foot slipping out of heel: Spray your feet with hairspray to prevent them from sliding down or slipping out of heels. (This is a popular hack for runway models.)
Wet boots: Don't just toss them aside when you come in from the rain or snow, because they might lose their shape. Instead, take a couple of empty bottles and fit the boots on them to dry out upside down. (Heels in the air)
Heels slippery: You can either file down the first layer of the bottom of the shoe or grab a glue gun and make some patterns. Let it dry before wearing.
Keeping the rubber on your tennis shoes white: Just a little squeeze of white (no color additives) toothpaste on a cloth to help polish away any scuffs or marks. Wipe off any residue with a damp cloth afterward.
Here are just a few of the people and shoes we found "Stepping Out" around town. Tell us what your personal go to shoe is.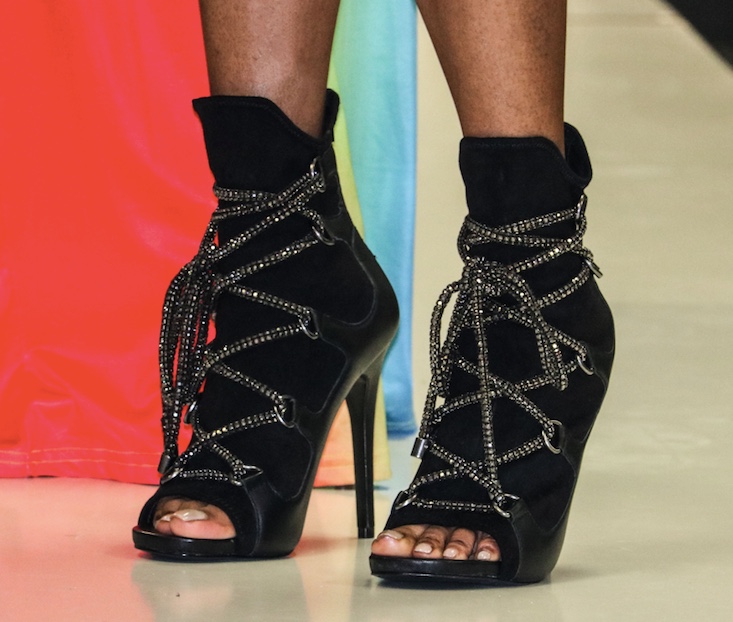 Christa Newton-Ferry wore these black heels with silver metallic laces when she co-hosted the recent Fashion Against Bullying show at Genesee Valley Center.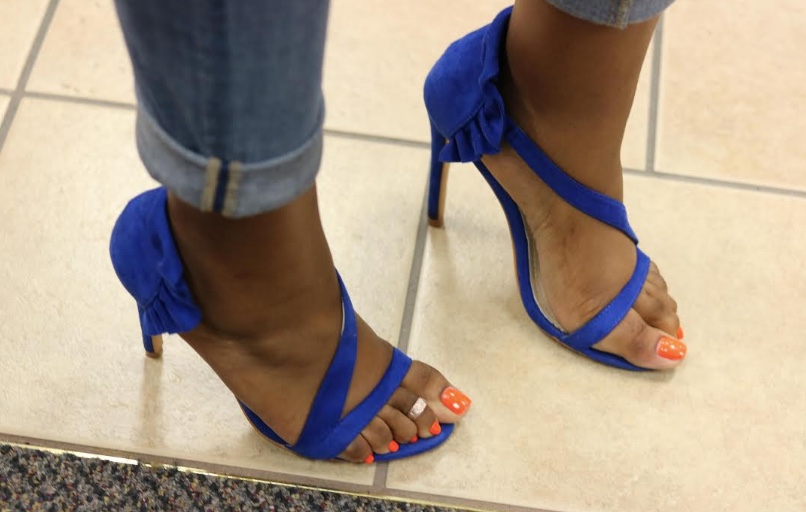 We absolutely love the royal blue color and flirty ruffle on these strappy heels worn by Ashlei Wells (Flint).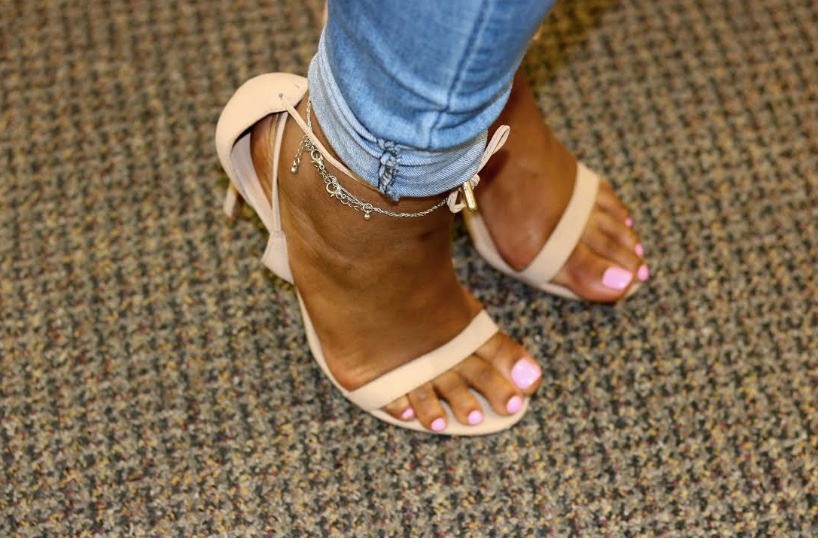 Tatianna Shelton (Flint) had the perfect pair of neutral heels, which looked even more feminine with her silver ankle bracelet and light pink nail polish.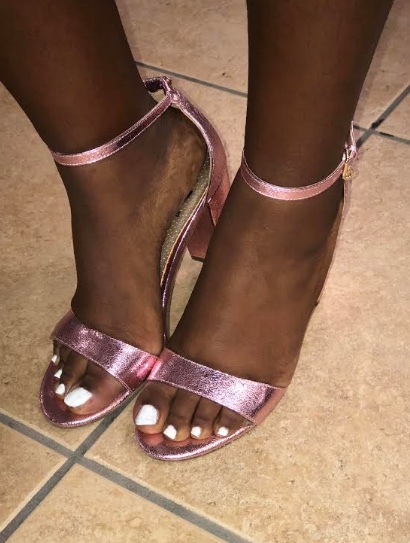 Pink metallic strapped heels purchased at Macy's and worn by Euni-Cha Hernderson (Flint)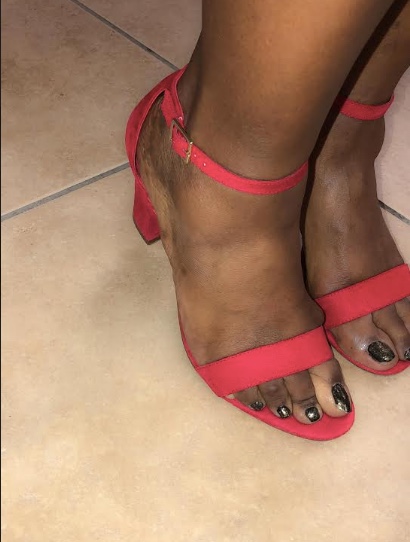 Karen Owens (Flint) found these red heels at J.C. Penney's. They are a perfect color to wear with just about anything.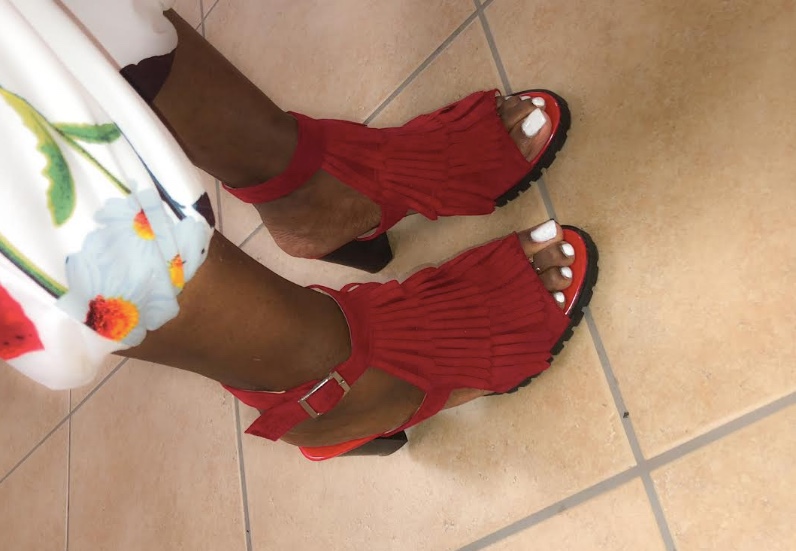 Gwenny Sanders (Grand Blanc) wearing a pear of red suede fringe heels.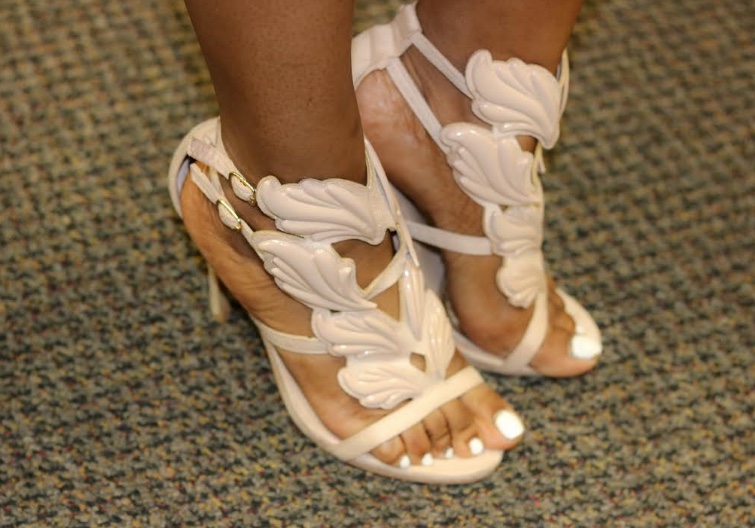 We all love to pull out those statement heels from time to time. Nora Mitchell (Flint) did just that with this unique pair of shoes with scroll design.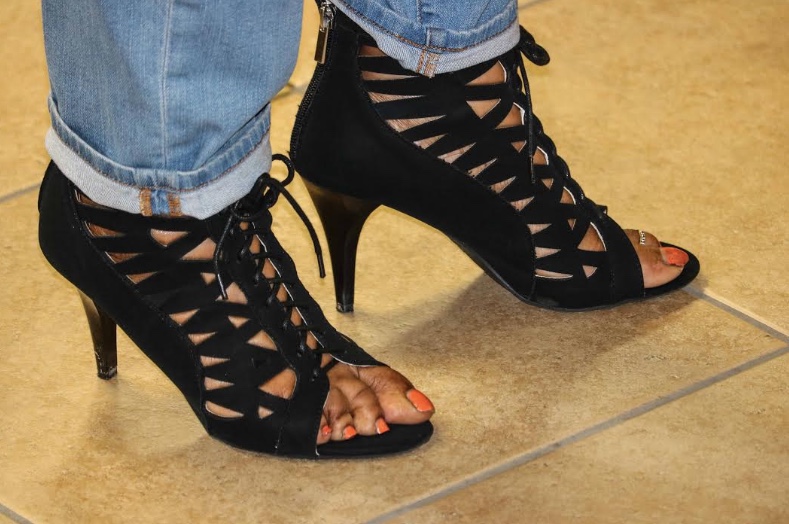 We spotted these great black cutout shoes from across the room worn by Kissa Harden (Flint).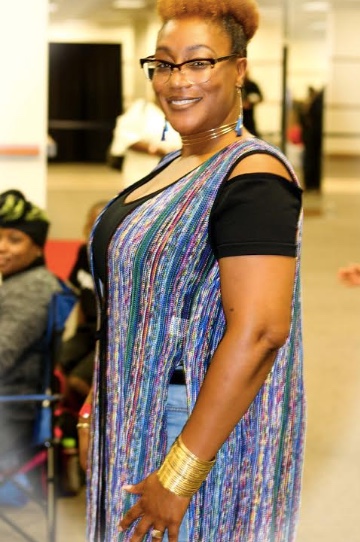 To pair with the shoes, Kissa had on a great pair of denim, a long colorful vest, a black cold shoulder top, a choker necklace and the trend of the season, fringe earrings.
Thanks Metro Detroit for being so fashionable. We see you and are following your Street Style and trends. Until next time, "Step out in Style," and go ahead buy that extra pair of shoes you love!
Disclosure – This post may contain affiliate links. By clicking and shopping, you help support Detroit Fashion News and allow us to keep reporting on all things fashionable.