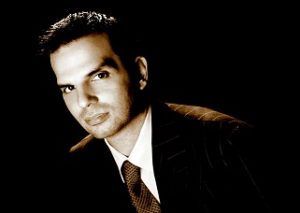 George Zaharoff is a talented designer with a dynamic personality.  He has a passion for creating and designing for the "Modern Classic Gentleman".  This  Chicago based menswear designer took a moment to interview with us.  Before you read the interview below, we need to caution you. He's very charming, you just might get sucked in!
DFN – Thank you George for taking time out for this interview.  We are excited to have you here on Detroit Fashion News.
Zaharoff – I'm excited that you are giving me the chance to speak to your readers through DFN, thank you!
DFN – Your menswear designs are so scrumptious, do you think most men need to step it up a bit, hence your cuff links with encrusted stones and your pinstripe suits?
Zaharoff – I wish in the inner depths of my heart that men's fashion could somehow change its course.  We think a shirt with a design on the under cuff flipped showing takes the place of a sports jacket.  We think it is acceptable to wear shorts and flip-flops on an airplane (and I'm the one they usually sit next to!).  It's just sad.  We think well when we look good and our personalities change when we present ourselves as gentlemen and gentlewomen, not to mention what it does to society as a whole.
We hear this generation is the rudest in history because of people like Simon Cowell and reality shows.  It seems acceptable to state exactly what's on our mind regardless of its effects.  I'm hoping that there is a swing of the pendulum.  I don't want it to go to the other extreme, but a little bit would be nice.
I think we can all step it up a bit, not only for us as individuals, but also for society as a whole.
DFN – What type of man wears George Zaharoff designs? Do they resemble the real George Zaharoff?
Zaharoff – This is such a great question.  Do you ever see a talk show where they do a makeover and all the guests look like the person who did the makeover?  Instead of taking an individual's personality and their lifestyle, they use their own tastes; it presents a huge disconnect.
This is why traveling is so important to the creative process, looking at different people and how they use their clothing.  What I try to do is take classic items and add a small twist to it.  So who is the "Zaharoff Man"?  I call him the Modern Classic Gentleman, he is a doctor, lawyer, business executive – the guy is moving and shaking in the world.  I want to enhance their lives.
George Zaharoff is a little bit more out there personally.  For myself, I take risks when it comes to mixing and matching patterns and a little bit bolder with my colours.  The Zaharoff Man is a little bit more understated.  But we are similar in that we want to stand out, but only a little bit. 
DFN –  What made you think of the "logo dropping" within your suits?
Zarahoff – You must be referring to the pinstripe suit with "Zaharoff" script as the pinstripes (where did you find that?).  You can actually order fabric with your name on it.  It's very expensive, but doable.  It was a gift from the manufacturer who makes the fabric and I made it into a suit for myself.  I have yet to wear it because….well, it seems more of a novelty than anything else.  Even if it was woven from gold, it just seems a little tacky but catchy…it got your attention.
DFN – Since women's fashion changes more frequently than men's fashions, how do you keep your designs up to date?
Zaharoff – It may seem that men's fashion does not change as much as women's, but it actually does, more so in the past ten years than ever before.  Take a look and you will notice neck wear, shirts, suits, trousers, shoes – all have drastically changed since 2000.  Keeping designs up to date isn't as difficult as it seems.  I design fabrics a year in advance and my silhouette gets adjusted twice a year, the adjustments come from having a pulse on the trends.  Keep in mind the Zaharoff gentleman is more classic than trendy.
DFN – Since the 90's, your fragrances have been extremely successful. Do you ever think about making a women's fragrance?
Zaharoff – I think about it every single day.
DFN – What type of undertones do you think would be the most sensual for a women's fragrance?
Zaharoff – It would be a floral oriental – calm confidence and true luxury, for a modern, yet classic woman, think jasmine and sandalwood with a touch of Bulgarian Rose.  Just beautiful.
DFN – As an author, blogger, violinist and designer, are there any other hidden talents your fans do not know about you? Please share.
Zaharoff – I wish I could tell you I sing opera, but I don't.  One thing I wish I could do is sing.  Very few people know that I speak fluent Greek and French.  Oprah got me hooked on Scrabble on my iPhone.  I'm an aviation geek as well.
DFN – We've noticed you have travelled around the world and back, visiting some of the most luxurious places many only dream about – which country or city inspires you the most?
Zaharoff – This is a difficult one, as one is influenced by their life's experiences.  There are so many incredible places on earth, magnificent cultures, and beautiful people.  St. Petersburg, Russia is probably the number one city I find the most inspiration from anywhere else I have traveled in the world.  The city rivals Paris, Prague, Vienna – all the former capitals of kingdoms long gone.  But there is something so over the top about St. Petersburg – so much calculated beauty all in one place.  
I was asked this question by a group of high school seniors just yesterday.  The raw act of designing – when the idea initially "hits" or develops over time.  I go into some other trance, I can't explain it.  I feel like I am back in my childhood dreaming.
I also realized just writing this, when I see a pattern somewhere that can translate into a design, like a neckwear, it gets me excited…like a natural high.
DFN – Do you have any tricks up your sleeve that we can expect in the near future?
Zaharoff – It all depends what you mean by "tricks" – yes, actually I do.  It's a material I found in Italy I would like to make into accessories like handbags and messenger bags.  We are working on it right now.
DFN – How exciting! We can't wait to see the collection once it's finished.  Thank you so much for your time George. It has been a pleasure.
Zaharoff – Thank you! xox

Shannon Lazovski is the Founder & Editor of Detroit Fashion News.  Find out more about one of Detroit's top fashion/mom bloggers here!