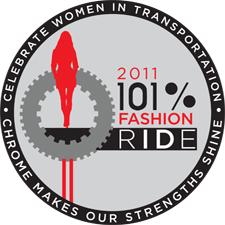 Presented by Presence II Productions, 101% Fashion Ride is an event celebrating women in transportation.  The intent of the event is to bring together a motorcycle world of women, interactive art and fashion under one roof to celebrate edgy trends, a passion for the community and motorcycle safety.
Guests will enjoy food from some of Detroit's top restaurants, a signature drink, an automobile & motorcycle exhibit and a fashion show featuring designs from Cynthia LaMaide, Sarah Jane Sarah Jane, La 'Vie, and Fotoula Lambros. The event will take place on October 1, 2011 at 8 pm at The Crofoot Ballroom in Pontiac, Michigan. Premier tickets are $75 per person; general admission tickets are $25 per person.  A portion of the proceeds from the event will benefit the Pink Fund Fund.
For more info visit 101fashionride.com.  Tickets can be purchased at TheCrofoot.com.
The CroFoot Ballroom is located at 1 South Saginaw, Pontiac, Michigan.