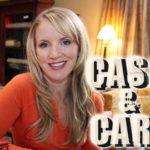 HGTV star Cari Cucksey of the hit TV show "Cash & Cari" is teaming up with Goodwill Industries of Greater Detroit to support Detroit area jobs. Cucksey will be donating several pieces of her repurposed furniture and home accessories to be sold during the Goodwill Industries of Greater Detroit Fall Fashion Show which will take place Saturday, October 1, 2011 at the Goodwill flagship upscale retail store in Canton.
Models ages 6-26 will be wearing outfits consisting of items donated to the upscale resale store. Proceeds from the event will support local employment, training and job placement programs within Metro Detroit.
Cucksey and a Goodwill representative will be emceeing the fashion show while music from acclaimed local DJ Raheim D'Andre entertains the event guests. Model hair services provided back stage will be by Kris Endreszl of Novi's Sweet and Sassy Salon. After the show, Cuskell will be available to meet and greet guests and sign autographs.
For those interested in shopping after the show, the store will have a "Fashion Show Special" on October 1st with all red-tagged items on sale for 99 cents.
Proceeds from Goodwill's Fall Fashion Show support Goodwill Industries of Greater Detroit employment education, training and placement programs that help unemployed Metro Detroiters earn jobs. Within the last two years, Goodwill Industries has helped nearly 2,400 individuals find jobs and events such as this one will hopefully help more people who are in need of work.
Show begins at 11:00 a.m. The Goodwill Flagship Upscale Resale Store is located at 41937 Ford Road, Canton, Mi.