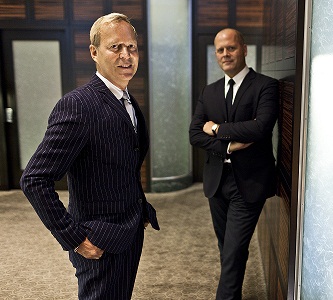 After creating and designing for ten years, business partners Richard Lambertson and John Truex have teamed up to bring America's traditional style to a whole new level by creating a timeless leather collection for Tiffany & Co.  Without a doubt, Lambertson & Truex have created a collection so spectacular, even you will be hypnotized by each delicious piece. The Tiffany Leather Collection was created under the direction of Lambertson and Truex with a strong focus on fine craftmanship and infallible details.
DFN –   Lambertson Truex designs have always been known to be luxurious, clean and sophisticated which are also three perfect words that describe Tiffany & Co.'s leather collection. How does the collection resemble your personal taste and means of perfection?  
Lambertson & Truex – As a design team working together for 10 years, we are of course influenced by past collections. That said, our new Tiffany assortment is unique and special to this luxury brand.  Naturally, our design aesthetic and vocabulary remains the same, it is what brought us to Tiffany.  Now however, by understanding and learning the true meaning of Tiffany style, the pieces are seen through a new lens thus creating a perfect marriage in keeping with Tiffany's long tradition of great American design and style.
DFN:  What inspired the designs and colors for the Fall collection?
Lambertson & Truex –  The Fall 2011 collection is a visual experience. We might start with a particular color or silhouette and then draw from Tiffany's world of beauty and sophistication to make a new design. The result is something unique, yet unmistakably Tiffany.
There are many important trends in the collection.  Leopard Print, studded nappa and lean shapes anchor the collection.  They may be a trend for the season; however, we always design with a timeless objective.
DFN – There are so many rich colors within the collection.  Which colors are your favorite and why?
Lambertson & Truex – It is very difficult to pick a favorite color amongst the variety of hues that are being introduced this season.  Burgundy tends to be a stand-out accent color that epitomizes the Fall and Holiday seasons while the light walnut is a new twist on a classic, neutral color wave fit for every wardrobe.
DFN- Opera length gloves and clean line clutches, these concepts are classic and will stand the test of time.  Does the collection resemble pieces from a particular era in your opinion?
Lambertson & Truex – This collection complements the more precise cut and drape that we saw on the runway this season. Our handbags are the sophisticated equivalent of meticulous tailoring and clean silhouettes that are very elegant and feminine in form. For Fall 2011 we drew from the inspirational feelings of the 50's…when shape was slightly geometric and the patterns were filled with excitement.
DFN –  What type of customer do you design for?
Lambertson & Truex – We design for the woman that we see every day….on the street, in Detroit, in Chicago, in New York…and every city in between.  This is where we live so we cannot help from being influenced by people that surround us on a daily basis.  We expect to appeal to customers who are interested in fashion and quality and those who are exploring their individual style.
DFN – Why do you think handbags/clutches are important to a woman's wardrobe?
Lambertson & Truex –  Accessories are something luxurious that people will not only be able to incorporate as a staple into their everyday wardrobe but will also be able to pass on to their loved ones as a timeless heirloom, much like their Tiffany jewelry.
DFN –  What makes your handbags and leather accessories at Tiffany & Co. so functional and versatile?
Lambertson & Truex –  Our design philosophy has always included the twin set concept.  Larger bag for day, with a clutch inside it for night.  Less is more; however, you can always carry more without looking so weighed down.  We pay attention to the details…the interior is as important as the exterior, the weight of a bag.  We spend quality time with each design from start to finish.
DFN – Thank you
Lambertson & Truex – Thank you
The Tiffany Leather Collection can be found at Tiffany.com and at Tiffany & Co., Somerset Collection, 2801 W. Big Beaver Rd, Troy, Mi.  To find a location near you please visit the list of store locations here.
Photo – Byran Derballa

Shannon Lazovski is the Founder & Editor of Detroit Fashion News.  Find out more about one of Detroit's top fashion bloggers here!