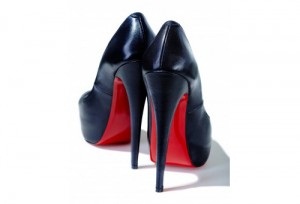 Back in 2008, Christian Louboutin trademarked his infamous high heel red-soled look after much attention was raised through popular T.V. shows and the wearing of red carpet divas.  Recently, the designer tried to put a stop to the sales of red-soled shoes by Yves Saint Laurent.  Louboutin filed a lawsuit back in April against the Paris based designer that has been creating red-soled shoes since the early 1970's.  Louboutin argued that his red-soled shoes are equal to his signature and all competitors, including Yves Saint Laurent, should not be allowed to manufacture them.
Experts say Louboutin's claim is very specific and he is worried consumers will get confused. He is worried his brand reputation will be compromised. In the beginning stages of the fight, the judge assigned to the case didn't quite see things Christian Louboutin's way.  Back in August, the judge ruled against Louboutin's request for a preliminary injunction.  When that happened,  the door was left wide open for the trademark to be changed.
Both sides have been asked to file their briefs by the end of 2011.  A decision on the pretentious legal battle will hopefully be made at the beginning of next year.
Photo – trademarkem.com

Shannon Lazovski is the Founder & Editor of Detroit Fashion News.  Find out more about one of Detroit's top fashion bloggers here!