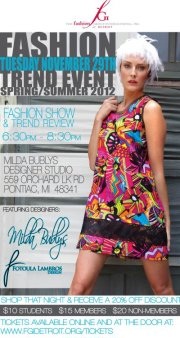 If you have an all around love for fashion and would like to learn what trends are coming this Spring, mark your calendars for Fashion Group International's Detroit chapter Trend Event.  The Spring/Summer 2012 Trend Event will showcase Spring trends and fashionable highlights for the Spring/Summer 2012 season.
This event is open to students, FGI members and non-members. Guests who attend will enjoy wine & hors d'oeuvres, a fashion show, as well as a trend review for Spring/Summer 2012. Guests will also be able to enjoy shopping from the latest collections from Milda Bublys Designer Studio and Fotoula Lambros Design at 20% off.
The event will take place, November 29, 2011, 6:30 p.m. to 8:30 p.m. at Milda Bublys Designer Studio located at 559 Orchard Lake Rd, Pontiac, Michigan.
To ensure a spot is promised in your name be sure to RSVP to RSVP@fgidetroit.org.Tickets for the event are available online (http://www.fgidetroit.org/tickets) and at the door.  Ticket prices are as follows:
Students: $10.00
Members: $15.00
Non-Members: $20.00

Shannon Lazovski is the Founder & Editor of Detroit Fashion News.  Find out more about one of Detroit's top fashion bloggers here!