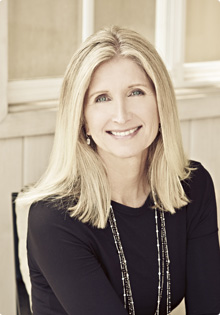 Karen Kane, a well-respected designer in the world of women's fashion, has a knack for designing collections that entail sophistication, style and comfort.  She is a woman who understands what other women want and is able to bring her visions alive through drive and determination.  After starting her business in her garage nearly 30 years ago, Karen Kane has created a succesful brand that easily sets the standards high in terms of longevity and luxury in women's apparel.
DFN – Hello Karen, thank you for taking time out of your busy schedule to answer a few questions for your fans in Detroit today.  As a self-starter who launched her first collection from her garage over 30 years ago, what was your biggest fear during the early days of your career?
Kane – When we first started, we had no guarantee that the line would be a success. I think the scariest part was deciding to take the initial plunge. We left our jobs and went out on a limb without any sort of backup plan in mind. Some of our family and friends helped support us in the early days, but many more thought we were crazy for doing what we did.
DFN –   Did you always know your designs would be loved by so many?
Kane – Not at all! We had no idea if our line would be successful in the beginning and decided to take a shot, not knowing what would happen. Over time, we've learned what works and what doesn't work, but when we started, it was a lot of guessing and risk-taking.
DFN –  Do you have any advice for the designers out there who are just starting out?
Kane – Go with your gut. If you are passionate about your vision and believe in yourself, you're already off to a better start than most people in this industry. It's all about drive and motivation – how much do you want it? The most successful designers always seem to share a genuine love of fashion and have no problem working tirelessly for it.
DFN – What is your vision with your collections/brand and have you always had the same vision?
Kane – It's changed over time, as trends and pop culture have changed. We've always maintained the philosophy that style should be simple, not complicated. Life is already hectic as it is, why make dressing an additional challenge every day? If you have the right basics, you can add in a few fashion pieces each season to keep evolving your style…it's about gradual change and adaptation to what's coming next that drives fashion forward.
DFN – The Karen Kane brand carries a women's line, seasonal collections and the Karen by Karen Kane Collection.   All equally successful, do you enjoy creating one line more than the other?
Kane – I enjoy them all! Each presents me with a different set of challenges and allows me to express a part of myself in a different way. People always ask if I have a favorite item each season. That's the hardest question to answer, because each piece is equally important to me! It's the same with the divisions of Karen Kane – they all focus on different parts of the fashion industry, so they keep me busy in fun and different ways.
DFN – Your clothes are feminine, comfortable and realistic for the modern-day woman.  What inspires you to create your designs and different collections?
Kane – It varies by season. Sometimes it's a color that inspires me. Sometimes it's a place. Our family took a trip to Southern France a few years back, and I can vividly remember the fields of lavender having a big influence on me after I got back. I'm from Santa Barbara, so we travel up the coast to get away from Los Angeles as often as we can. I think the California coast and all the beauty in the hills around Santa Barbara have always had a huge influence on me.
DFN – Has your audience or type of buyer changed throughout the years as your company has grown?
Kane – Yes and no. I love meeting customers who tell me they've been buying Karen Kane for decades…it makes me feel wonderful knowing I've been able to share my vision with them for so long and they've trusted me along the way.  At the same time, I love meeting new customers who just learned about the brand and have totally different philosophies on fashion. With the internet, I think our line has become accessible to so many people who weren't able to experience it before…it's been a really exciting time for us.
DFN – When designing, do you find it important to keep up with current trends?  Why or why not?
Kane – It varies by season. Some trends come and go, but others become staples. Skinny jeans took a while to catch on, but now I think it's hard to imagine a store that doesn't carry them. I think some more recent trends, like bold colors, color-blocking, and flare leg jeans may be similar trends with staying power.
DFN –  Is there anything you would like to do that you haven't had a chance to do yet in your career?
Kane – Great question! We're always looking for what's next. This year we started selling on our website, which was very exciting. Next year, we're working on a bunch of new projects that will be rolling out later in the year. It's hard to say what you want to do next in fashion, because things can change so rapidly. The Karen by Karen Kane and Women's divisions both were a result of the time and customer demand…we'll see what customers decide they want next!
DFN – If you could describe yourself in five words what would they be?
Kane – A mom, a business-owner, a wife, passionate, and happy
DFN – What can we expect next from Karen Kane?
Kane – Spring 2012! Lots of bold, bright colors, a new essentials program, fun new dresses, graphic prints, and classic beauty!
DFN – Thank you Karen.
Kane – Thank you
The Karen Kane collection can be found in department stores and specialty boutiques nationwide and online at karenkane.com.

Shannon Lazovski is the Founder & Editor of Detroit Fashion News.  Find out more about one of Detroit's top fashion bloggers here!