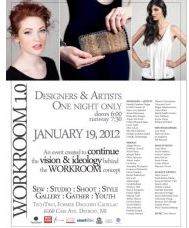 Several members of Detroit's fashion industry are coming together to bring a creative and  hip, pop up fashion event to your Thursday night. Supported by Workroom; a creative retail gallery that is inspired by art, design, function, and community, will present the coolest pop up ever to hit the city.  With over twelve designers and artists and nearly 35 gorgeous Detroit models, Workroom 1.0 Pop Up will celebrate combined creative designs of numerous talented individuals in Detroit today.
Designer Line Up
Fotoula Lambros Design
b. VAIN Couture II
Peace Love Spandex
Wound Menswear
Kinky Kitty Designs
Always the Forest
Urban Pheasant Glass
Lorne Lubin
Olive m'Lou
Mio Dio Collection
Designs by RebeccaMich
Camille LaMontange
The event will take place Thursday, January 19, 2011 at TechTwo (former Dagliesh Cadillac) at 6160 Cass Avenue, Detroit.  Doors open at 6:00 pm, the runway show will begin at 7:30 pm. Music will be provided by Tour Detroit. Admittance is free.

Shannon Lazovski is the Founder & Editor of Detroit Fashion News.  Find out more about one of Detroit's top fashion bloggers 
here
!