C
olor blocking is not only a big trend for women this Spring but also for men too.  Men can enjoy a new updated look by choosing brighter colors  when  selecting  new wardrobe pieces.  The great thing about the trends during Spring 2012, is that two particular colors don't necessarily have to match, they just have to make sense. It's also important to wear colors that make you feel confident and strong and to focus on wearing the right size. It's always crucial to select items that fit properly.  Once the fit is decided upon, selecting a shirt, sweater, jacket, shorts and pants in colors that compliment one's personal style is key.
If you're a guy who is new to this fun and colorful trend and are a little unsure of how to go about it, think about pairing neutrals with bright saturated blues and greens.  For example, grey pants with a red shirt and a white belt will work. Always remember to wear two to three colors at the same time.  Adding neutrals will allow you to take your time and ease into brighter color options much like our photo.
Colors such as blue, yellow, tangerine and green are all on trend and can easily be worn together.  Color blocking is meant to be fun and vibrant. We encourage you to try a little color this Spring guys and see how quickly you'll turn heads.
Photo – Neiman Marcus clothing for Fashion in Detroit. Photo taken by Tatijana Kunik.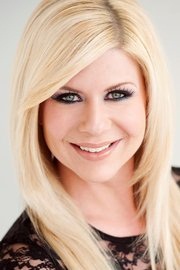 Shannon Lazovski is the Founder & Editor of Detroit Fashion News.  Find out more about one of Detroit's top fashion bloggers here!