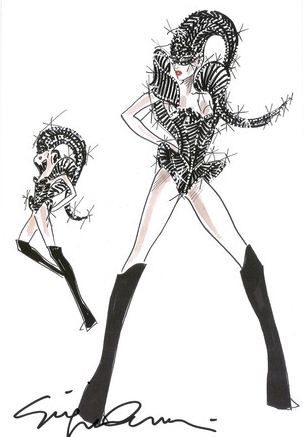 Giorgio Armani recently started a collaboration with the very popular Lady Gaga. The Italian designer created new looks for her Born This Way Ball tour which is on the calendar to begin  April 27, 2012 in Seoul, Korea.
Lady Gaga's custom Armani wardrobe includes gloves with mirrored nails, a black bodice made with Plexiglas, skin tone latex, black crystals and studs in an abstract composition of guitars, fringe, and spikes.
Armani has worked with Lady Gaga several times before.  He has created outfits for the Monster Ball Tour and has dressed the superstar for several social events including prominent red carpet events.
"Collaborating with Lady Gaga is always an exciting experience for me. I admire the way she uses fashion as a scenic element and as a means to build a character," says Giorgio Armani.
The two have been a perfect match before and it's no question they are going to rock our world again.  Once worn during the tour, we are certain Armani's creative outfits are going to give us something more to talk about!
Photo – Armani Sketch for Lady Gaga's Born This Way Ball Tour

Shannon Lazovski is the Founder & Editor of Detroit Fashion News.  Find out more about one of Detroit's top fashion bloggers here!