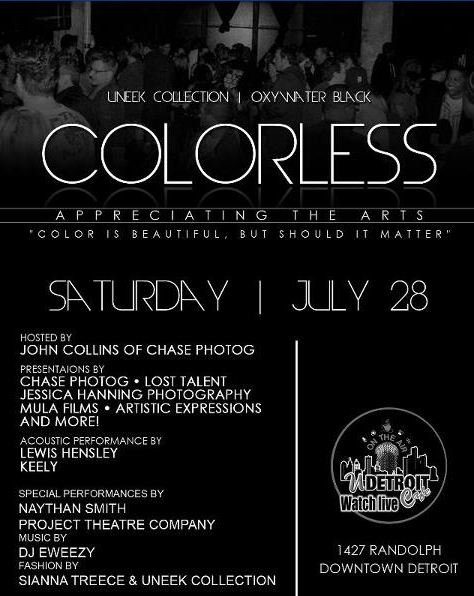 Uneek Collection will be sharing its appreciation for the arts by hosting an upcoming event open to the public, at UDetroit Cafe.  The event will be centered around photography, paintings, theatre, videos, and fashion.  Titled, Colorless, the event is geared towards identifying the core values of Detroit's own UNEEK Collection and their mission to unify nationalities. The flyers of the event celebrate the quote, "Color is beautiful, but should it matter?" The answer is no, and that is why Colorless will be a successful, celebrative event.  One people will be talking about for years to come.
Each creative entry will be done in black & white to allow those lost in the art to only think of people the same, with no color barrier.  Throughout the evening, each participant will have an opportunity to speak on behalf of their company and products.  Each participant will have their 11×16 paintings, photographs, videos & sit on easels at the event.  Each will also have clips of their work rotating on the television screen throughout the night.  There will be a runway show featuring Detroit's own UNEEK Collection as well as the Sianna Treece Collection.
The event will take place Saturday July 28, 2012 starting at 8 p.m.  Live music by Lewis Hensley will entertain guests. Dress to impress and get ready to support Detroit talent, not to mention a colorless outlook on the arts and the many talented individuals attending.
UDetroit Cafe is located at 1427 Randolph, Detroit, Michigan.

Shannon Lazovski s the Founder & Editor of Detroit Fashion News.  Find out more about one of Detroit's leading fashion bloggers here!