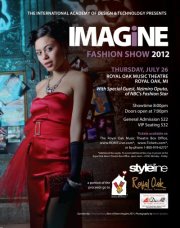 The International Academy of Design & Technology (IADT) will be hosting its student fashion show, Imagine, July 26, 2012 at the Royal Oak Music Theatre.  Imagine is an annual fashion show, now in its eighth year, featuring original designs by students in the Fashion Design and Fashion Design and Merchandising programs at IADT's Detroit (Troy) campus. The fashion show will be co-hosted by StyleLine Editor Karen Buscemi.
Doors open at 7:00 p.m. Tickets are $22 and $32 and can be purchased at the Royal Oak Music Theatre Box Office, 
www.ROMTLive.com
,
 www.Tickets.com
, or by phone 1-800-919-6272.  A portion of the proceeds will go to the Ronald McDonald House of Southeast Michigan as well as the Career Education Scholarship Fund (CESF).
"We're pleased to be able to help support families with seriously ill children who stay at the Ronald McDonald House near Children's Hospital and to support future designers through college scholarships,"
 said Cynthia Bechill, president of IADT-Detroit. "We hope that this event not only inspires future fashion designers but also encourages Metro Detroiters to contribute to organizations like the Ronald McDonald Houseof Southeast Michigan and college scholarship funds like CESF to support future designers.
""On behalf of the Ronald McDonald House of Southeast Michigan, thank you to IADT-Detroit for their volunteering and financial support," said Jennifer Litomisky, executive director of Ronald McDonald House of Southeast Michigan. "We couldn't do the things we do without the support of organizations like IADT-Detroit."
The Royal Oak Music Theatre is located at 318 W. Fourth St., Royal Oak, Mi.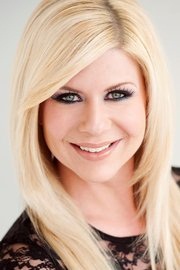 Shannon Lazovski is the owner of SoGlam Media which is the parent company to Detroit Fashion News.  Find out more about Shannon
here
!