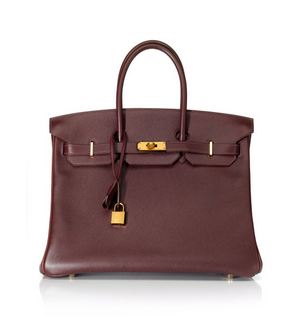 When it comes to shopping and splurging there are a few must haves that we will break the bank for. Sometimes scrimping and saving is not an easy task but when there is a great pair of shoes or a "to die for" handbag, we'll find a way to go there.  One fantasy luxury label that many of us scrimp for is Hermès.
Many who try to buy their favorite Birkin dream bag while shopping online tend to get caught in a shady URL web confused by questionable vendors and pretend stores. But now,  Moda Operandi  has made it possible to purchase the real thing, legally and online.

During the auction set to end August 27, at 11 p.m., shoppers are invited to shop exclusively with MO heritage auctions.  The bags available during the auction range from classic black croc to vibrant hues.   Birkin bags may not be wardrobe necessities, especially with five- and six-figure price tags. But, there are many fashionistas out there that will spend their money on something that will stand the test of time and the Birkin bag will certainly do that.  If you are one of those fashionistas, you now have a chance to purchase your dream bag from home.  Will you be shopping the auction?

Shannon Lazovski is the CEO of SoGlam Media & Founder/Editor of Detroit Fashion News.  Find out more about Shannon here!