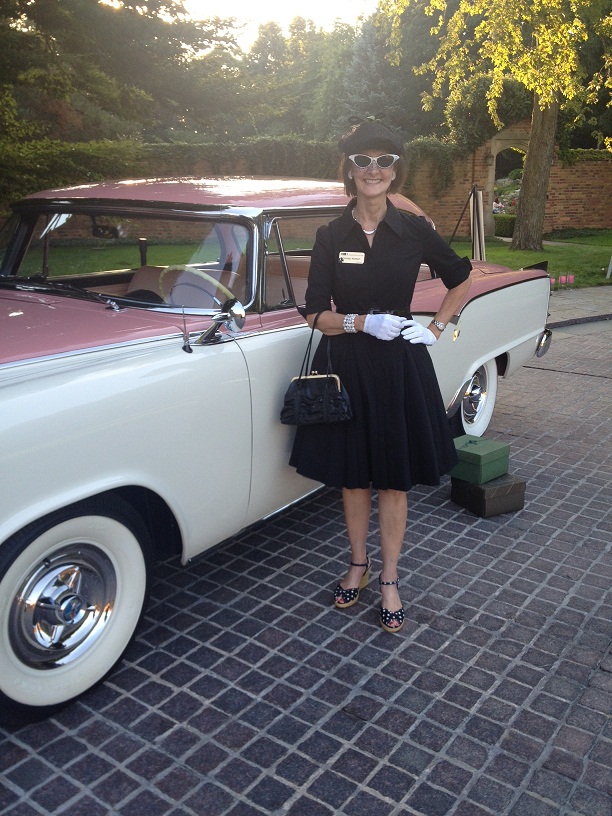 The Village of Rochester Hills La Femme Fall Fashion Show was held last Thursday at Meadow Brook Hall.  Shelleen McHale, Director of Marketing at The Village and representatives of Meadow Brook Hall have been working for months pulling the event together planning Chanel makeovers, menu options, the show layout and the event schedule.   Retailer managers were responsible for pulling items and styling their own models back stage.
You may remember we helped the Village of Rochester Hills host a model casting call for the show in early August and needless to say, we out did ourselves by bringing local beauties both professional and non-professional to the runway. As we choose the models for the event, myself along with Shelleen McHale were eager to find men, women and children that were a good representation of The Village and the retailers involved in the show.  If you were one who attended, I'm certain you would agree the models chosen were perfect and were quite relate-able to the audience. The men, women and children featured in the show wore new fall clothing and accessories specific to each retailer. Here's what each retailer displayed during the La Femme fashion event.
Chico's: Chico's opened the show with three models, each wearing their new fall denim and fringe pieces.  Fringe skirts, suede dusters with fringe, slimming bootcut jeans and their slim leg denim were all displayed.  Scoop neck tees, animal print tanks and statement jewelry in a variety of colors and bold metals were also shown.
Francesca's: Francesca's is known for their affordable accessories and fun & youthful looks.  During the show, Francesca's displayed cowboy boots with day dresses, lace tops,  sheer button downs, pleated skirts and colored denim.  Hints of neon and cross body purses with chain accents accessorized each outfit.
Buckle: Buckle is well-known for their wide variety of denim.  Dark denim was a big hit during the show by all the retailers and Buckle was right on target with their dark denim.  Each jean was a perfect fit and all a darker wash which was not only youthful and fun but classic too.  Buckle models wore  mix matched printed tops, scarves with stripes and floral prints, layered tops and trendy boots. One jean that stood out during their show was a teal skinny jean which is a color and style that is also big this fall.
Ann Taylor: Perfect for a day at work or an afternoon tea, Ann Taylor's classic designs featured pretty bows, zipper detailed day dresses, calf hair cross body purses and bangles, cropped pants and tweed blazers.  All of Ann Taylor's looks this fall are classic and timeless.
Apricot Lane: Apricot Lane featured a mix of dressy and casual designs both for day and evening.  Top features from this retailer were hi low hem dresses, embellished tops & day dresses, faux fur vests with pockets, dark denim and snake skin prints.
Eddie Bauer: Eddie Bauer is known for their casual looks but you'll find they have added quite a bit of preppiness mixed with sporty styles this season too.  Their new fall collection  is great for an active lifestyle and for parents on the go.  Top clothing items featured in the show were cardigan sweaters, soft-shell jackets, twill shirts, straight leg jeans and down shirts.
Gap: The Gap line up began with a model wearing dark wash skinny jeans, a white button down and a red belt and red ballet flats to match.  The "boyfriend" shirt is a fan favorite and Gap did an excellent job creating a comfy yet feminine design for the ladies. Many of their looks consisted of dark denim in different cuts and styles, slim khaki's, blazers and warm cord fabrics saturated in color.  Gap Kids collections were also featured in the show.  Gap Kids offers lots of color including hints of pink, brown, grey, leopard print and plenty of blue and white from their uniform collection.  Other collections consisted of the Icon Collection, Casual Collection, Bryant Park Collection and the Sapphire Collection.
Banana Republic: Banana Republic  featured great "work" styles perfect for those fresh out of college and those well into their career.  Pencil skirts are hot for most retailers and Banana Republic has the perfect design when it comes to the pencil skirt.  Great for both work and date night, their pencil skirt was one of the most versatile pieces featured in the show. Dark straight leg jeans andslim fit non-iron button downs for the guys and trench coats with leather trim for the ladies were both featured and were crowd favorites.  Also new is the Banana Republic tailored fit suit for men.
Parisian: Parisian carries many different designers but Karen Kane was their main focus for the La Femme fashion show.  Debuting her new prints and colors for fall, the new Karen Kane collection featured a very sophisticated peacock print, stripes, and a mix of fall colors including rust, camel, burnt red and deep orange. Karen Kane carries the same color scheme throughout most of her fall collection.
At the end of the show, a finale of pink looks were featured from each retailer to celebrate the show's La Femme theme. Guests were then invited to mingle and network while enjoying hors d'oeuvres, Femme Fatale signature drinks and Chanel makeovers provided by Parisian.   In the photo above, show attendee, Denise Warren, dressed the part and posed for us next to the 1955 La Femme car provided by the Walter P. Chrysler Museum.
Photo – Belongs to SoGlam Media

Shannon Lazovski is the CEO of SoGlam Media & Founder/Editor of Detroit Fashion News.  Find out more about Shannon here!