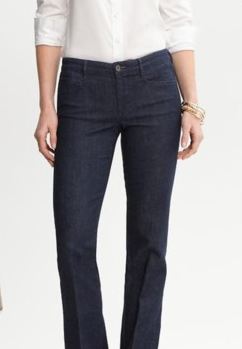 Dark wash denim is easy to transition from day to-night and holds a classic look no matter the occasion. For the ladies, high-waisted jeans, wide leg jeans and skinnies are three styles that are quite popular for fall.  For the guys, a dark straight leg denim is the popular choice and is a cut that can be worn with many looks.
It's true that a darker denim is more versatile and is acceptable when worn to a variety of places and events. A darker denim can easily be dressed up with a pair of patent leather heels and a blazer or they can be worn casually with a pair of ballet flats and an embellished t-shirt for the ladies.  The same versatility holds true for the guys. Wearing a blazer with a button down and a pair of dark wash jeans is certainly appropriate.  For the bad boys, there's nothing wrong with wearing your favorite t-shirt under your leather jacket or you can go simple and just wear a t-shirt alone.  Whichever you prefer, dark denim is a must have not only for fall but also year round.  Even if you are one that doesn't wear denim on a regular basis, it's good idea to have a pair on hand just in case you find yourself needing them. Denim is important for one's wardrobe.  Choose a dark wash and watch the possibilities unfold.

Shannon Lazovski is the CEO of SoGlam Media & Founder/Editor of Detroit Fashion News.  Find out more about Shannon here.