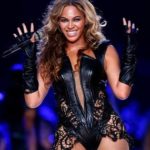 Beyonce fans certainly got what they asked for at last night's Super Bowl. The singer stunned the crowd with a fierce half time show and a hot little leather number that fans are still tweeting about. It didn't take long for her alter ego Sasha Fierce to take over and work the stage. It took oh about 3 minutes before we saw that look in ther eye when the transition was made!
But Beyonce's performance wasn't the only thing causing a stir. Her half time show outfit was designed by New York-based designer Rubin Singer,  who also designed the costumes for her 120 backup dancers and Michelle Williams (Kelly Rowland wore a bodysuit by Emilio Pucci).   Beyonce's costume was based off the designer's upcoming fall 2013 collection entitled 'Valkyrie's Dominion', a nod to Norse mythology's dominant female warriors. The mouth dropping ensemble was made of Python, paneled iguana, trapunto-pick stitched leather, metal, plastic,  nylon and silk.
According to a press release from Rubin Singer:
Over the next two months there were no less than five fittings and well over 200-man hours with a team of 14 dedicated to creating the final look at the designer's New York City atelier. One full week leading up to the event in daily dress rehearsals at the Superdome was also required to make sure everything was perfect for the big night.
We always adore Beyonce in leather but this costume was exceptionally hot.  What did you think?

Shannon Lazovski is the CEO of SoGlam Media & Founder/Editor of Detroit Fashion News.  Find out more about Shannon click  here.