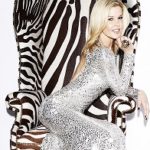 We are pleased to announce Mary Alice Stephenson will soon be coming to Metro Detroit.  She will be coming back for the Grace Centers of Hope;  Women Helping Women Fashion Show & Luncheon planned for May 4, 2013 at the Royal Park Hotel in Rochester, Mi.
Mary Alice is a celebrity stylist, beauty expert and the founder of GLAM4GOOD.  She has served as fashion editor and director of many top fashion magazines including Allure, Marie Claire and Harper's Bazaar.  She has also worked with Hollywood's top celebrity's including Beyonce, Sarah Jessica Parker, and Halle Berry.  Mary Alice is a leading role model in the fashion industry and has taken pride in being featured as a  fashion commentator on hit TV shows like Dr. Oz,  Rachel Ray and Good Morning America.  She currently serves as the National Fashion Ambassador for Make-A-Wish foundation where she has granted countless fashion wishes for young girls struggling with life threathening illnesses.
Mary Alice recently launched GLAM4GOOD  which focuses on life changing makeovers,  unforgettable giveaways and fashion transformations to everyday heroes.  She is a role model to many and is the usual host to the Women Helping Women Fashion Show and Luncheon where she styles each Detroit model and Grace Centers member in the show.  She is also the host of the memorable event.
To purchase tickets for the Grace Centers of Hope; Women Helping Women Fashion Show and Luncheon where Mary Alice will be making her appearence, please click here. Tickets are $100 each.  The silent auction preview is at 10:00 a.m. and the luncheon & fashion show begins at 10:30 a.m.

Shannon Lazovski is the CEO of SoGlam Media & Founder/Editor of Detroit Fashion News.  Find out more about Shannon here.