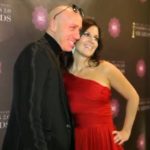 The 4th annual Fashion 2.0 Awards were held at the SVA theater in New York on March 13, 2013.  The event included some of our favorite designers and their tech savvy teams.  Otherwise known as the "Digital Oscars," Fashion 2.0 was hosted by Simon Doonan and Robert Verdi and it was an event that proved even the biggest fashion designers take social media seriously.
Some of the evening's top winners were Diane von Furstenberg, Gilt Group and Anthropologie for their Twitter, Pinterest and online videos.  Marc Jacobs and Saks Fifth Avenue took two honors each and the winner of the "Best Twitter" for their fourth year running was DKNY.
We've listed a few of the winners below.  Which one do you follow?

Best Facebook: Marc Jacobs
Best Twitter: @DKNY
Best Pinterest (new category): Anthropologie

Best Blog by a Fashion Brand: Saks POV

Best Website: Saks Fifth Avenue

Best Mobile App: Gilt on the Go

Best Online Video: DVF [Through the Glass]

Best Fashion Startup: Of a Kind

Top Innovator: Marc Jacobs

Annual Fashion 2.0 Visionary Award: Rent the Runway
Photo – Robert Verdi and Fashion 2.0 Founder, Yuli Ziv

Shannon Lazovski is the CEO of SoGlam Media & Founder/Editor of Detroit Fashion News.  Find out more about Shannon here.