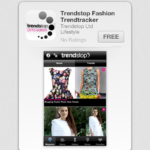 If you have an iPhone, then you probably already have a few favorite apps you like to use on a daily basis.  I know I do.  Aside from the obvious apps we all tend to use, I enjoy shopping with my phone, researching with my phone and biding my free time with unforgettable fashion photos and stories.  Being a fashion junkie, this is how I love to spend my spare time.  With that being said, I thought I'd share some of my favorite apps with all of you.  If your favorite is NOT on this list, please share yours in the comments section below.  I'd love to learn about more!
1. Hautelook
The app named one of Instyle's 'Best of the Web', is a Nordstrom company offering access to fashion and lifestyle brands to anyone with a fashion craving 24/7.  All items are 50% – 75% off with new events and deals that start daily.  Makes purchases from your phone quick and easy!
2. Polyvore
This app allows you to view sets created by others and allows you to create sets of your own.  It also allows you to find your favorite items in clothing, accessories, shoes, and decor for the home.
3. Style.com
Style.com allows the viewer to view the latest and greatest featured in top runway shows from several locations around the world. Slideshows and videos are available to view as well as reviews for each designer featured.
4. Trendstop Fashion Trendtracker
If you're wondering how others learn about trends months before you do, maybe they have the Trendstop Trendtracker app.  This app allows you to find out the next trend before it's even out on the streets. Many trends featured are ideas from the biggest names in fashion. This is the perfect place to see new "trends" and ideas that may never make it into the industry such as oversized fabric chains and/or shoes with extraordinary heels and designs.  I know a few local designers that enjoy this app for inspiration.
5. Target
If you're a Target shopper, this app is perfect for you. The Target app allows you to browse through Target products and find out what aisle products are in and whether or not they are available online or in-store. The app also allows you to scan barcodes while shopping in the store as well.
6. Gilt on the Go
Gilt on the Go  is the #1 rated app providing designer brands at insider prices. Fashions on the app are available for men, women, children, kids and home and are available for up to 60% off.  The app also provides fun city deals and exclusive mobile only offers.
7. Sartorialist
This is my obssession.  I have loved the Sartorialist for years and can't live without him.  The Sartorialist has a talent for photographing  well-dressed people from all over the world.  The app shares these photos for inspiration. It's not easy to avoid the addiction.  Trust me.
8. Pose
Pose is an app where you can see fashion choices by the world's most fashionable trendsetters.  This is a fun app that teaches you what to wear and how to wear it.  Once you join, you'll be allowed to share your favorite outfits with friends, organize personal collections and view what top celebrities are wearing now.
9. Elle
Elle has always been a favorite of mine and being the social media buff that I am, I am always a big fan of what they do socially. The Elle Shopping Guide shares stores to shop in 10 major U.S. cities.  The shopping guide is useful, handy and lots of fun!
10. Poshmark
Poshmark is a fun app that allows you to  buy and sell fashion from the closets of fashionistas across America.  You can even sell your clothes too!

Shannon Lazovski is the CEO of SoGlam Media & Founder/Editor of Detroit Fashion News.  Find out more about Shannon here.