Fashion's biggest night – the Met Gala – has come and gone for another year.  This time, telling a 'Punk Chaos to Couture' story.  As the complete opposite of your typical punk myself, I can't promise to offer you an accurate assessment of who best donned the evening's theme.  Instead, I highlight my five favorite looks from the evening and a few honorable mentions below.
Five – Jessica Biel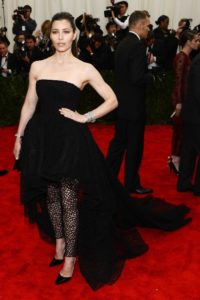 While not a fan of Biel or many of her red carpet looks, here, the Giambattista Valli is what stood out on the red carpet with Jessica simply the body for this masterpiece to be displayed upon.  The high-low skirt with train were ever so on trend for 2013.  What won me over from the start were the perfect fabric and webbed leggings.
Four – Cara Delevingne
Lady Delevingne was absolutely smoldering on this year's red carpet.  From the perfect faux side shave hairstyle to the accessories to the Burberry spikes, Cara was, like always, leading the pack with her model style.  Few had the punk look down better.
Three – Allison Williams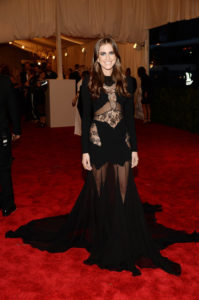 Though I can't say I am a fan of the Girls phenom or this actress in particular, here, Williams was a definite show stopper in Altuzarra.  This piece had the perfect mix of sheer, lace fabrics, providing just the right amount of coverage.  I liked the chic, glam vibe of Williams's shiny hair and perfect makeup allowing her to address the evening's theme while maintaining a red carpet elegance.
Two – Marion Cotillard
Ms. Cotillard is always a favorite of mine and this year's Met Gala was no exception.  Ever perfect in Dior, I loved the mix of fabrics and angles, with a flash of yellow peeking out from the underside of her skirt.  For me, Cotillard represented a high fashion version of the girlfriend of a token punk boy that you'd find in a 90s high school classroom.  This is one red carpet lady who never needs to be over the top to be noticed.
One – Sarah Jessica Parker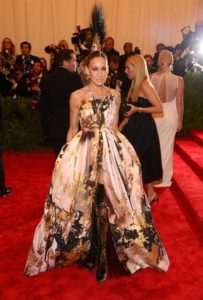 Little wonder, SJP owned the red carpet in an overwhelming Giles Deacon dress, Philip Treacy headpiece, and Louis Vuitton boots.  She had me at the gold and black faux-hawk.  And that dress!  I absolutely loved it's many shapes and angles with a perfect pattern, just the right amount of tulle, and a slit up the front to reveal those plaid thigh-high boots and perfect pins!  The former Carrie Bradshaw will obviously never disappoint us on a night like this!
The Queen of the Night – Gwen Stefani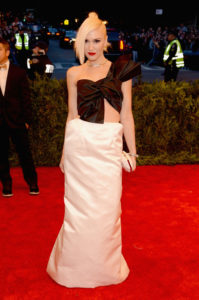 Dressed in Maison Martin Margiela, Gwen was effortlessly spot on.  This was without a doubt THE Met Ball for her and husband Gavin Rosdale to shine in their element.  Paired with the type of funky updo she is known for, a signature red lip, and matching nails, Gwen was easily right at home on the red carpet that left so many others out of place.
Honourable Mentions – Sienna Miller, Kate Bosworth, Jourdan Dunn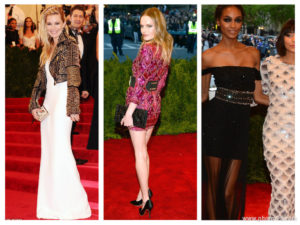 I was absolutely taken with Sienna Miller's (all Burberry) studded jacket and punky accessories though I can't say the simple white dress had the same effect on me.  Kate Bosworth was a perfect candidate to rock a metallic Balmain number and her figure looked fabulous.  Finally, Jourdan Dunn, though not one of my usual go-to style icons, had a great look with her sheer-skirted Topshop dress and I was disappointed not to find more photos of her on the red carpet.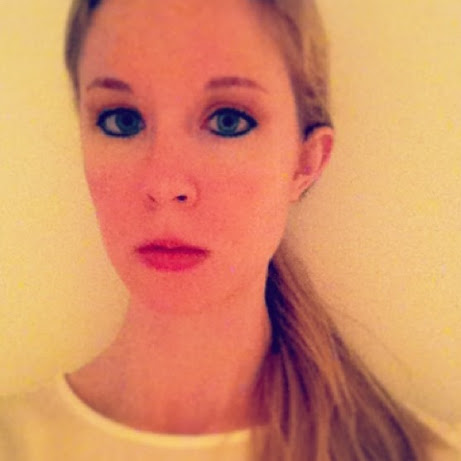 Meaghan Elizabeth is a fashion stylist and blogger interested in high fashion, personal style, trends, designer collaborations and shopping adventures.  Read more about Meaghan here.