Designers were at their best for Fall/Winter 2014 presentations in New York last week making it exceptionally difficult to identify the best collections.  Below are ten of the best Fall/Winter 2014 collections seen at New York Fashion Week.
Ten – Michael Kors
Images, style.com
Newly-crowned billionaire Michael Kors offered up a collection with the perfect fall to winter transition in front of an A-list FROW of guests.  Set to a classical version of California Dreaming, models stepped onto the runway in a number of hippie-esque dresses in sheer, flowing fabrics paired with chunky belts and slouchy boots or sandals – creating a perfect autumn vision.  Also present were a number of polar vortex-worthy looks to take us from warm September afternoons into the colder winter months.  Models sported loose, pretty up-dos.  The palette was kept simple with muted greys, black, and, like Tory Burch, snakeskin prints.  Thick-knit, fringed sweaters and bags, fur scarves, and wool coats were in abundance – a necessity for those of us who can only dream of a SoCal winter. With a widely appealing and functional collection like this, it is little wonder the value of Michael Kors Holdings continues to rise.
Nine –  Milly
Images, style.com
Composed entirely of looks in black and neutral tones Michelle Smith presented a collection epitomizing the fashion-savvy yet practical New York woman.  Ranging from simpler dresses, skirts, and trousers perfect for work attire, to metallic silver skirts and jackets, to sheer, lace, and heavily textured evening wear, Smith debuted a set of staples for the Fall/Winter 2014 closets of every stylishly composed city girl.
Eight – Jenny Packham
Images, style.com
British fashion designer and Duchess of Cambridge favourite Jenny Packham designed a set of Fall/Winter looks worthy of only the most prestigious social affairs for which fresh-faced Kate would make the perfect model later this year.  Reds, blues, and creams formed the canvas for stunning silky evening wear complemented with embellishments and feather accessories.
Seven – Ralph Lauren
Images, style.com
Not typically one of my top choices when it comes to inspiration for seasonal looks, Ralph Lauren was an unexpected favourite of mine this week.  The models were fresh-faced and beautiful with neutral toned nails, wearing a set of looks done entirely in pastels – mainly pink – and soft greys and creams.  Thigh-high suede boots provided the perfect companion for capes, ponchos, and meticulously conceptualized dresses reminiscent of 1920s flapper style.  Absent were the winter blues, replaced by soft, welcoming winter pinks found on perfect pieces for both young fashionistsas and stylish women of older generations.

Six – Prabal Gurung
Images, style.com
Known for the influence of his Nepalese roots,  Prabal Gurung made another successful foray in the bringing together of high fashion and his personal heritage.  His vision of Buddhist monks was blended into chunky knit sweaters paired with wrapped and ruched fabrics taking the shape of sarong-like skirts and heavy textiles wound into Bedouin capes.  Traditional red and orange were carried through the entire collection while fur jackets and embellished sandals added to the nomadic mirage.  Unlike Fall/Winter 2013 – which, bolstered by an intense final walk, was hailed across the board as the metaphor for the strength of women worldwide – the Fall/Winter 2014 finale was much simpler, perhaps reflecting the passive peacefulness of Buddhist teachings.  Models quietly took their final walk looping around the giant brass gongs which set the stage.  And despite THAT streaker hoping to garner his own few minutes of fame, the allure of Gurung's designs had him forgotten moments later.
Five –  Badgley Mischka
Images, style.com
Transporting us to "turn-of-the century Vienna, [with particular interest] in artist Gustav Klimt and architect Josef Hoffmann," (style.com) Mark Badgley and James Mischka created a beautiful dream complete with models in looks perfect for snowy streets full of beautiful old buildings.  Like many others this season, gold was the focal point for the designers.  Giant European-style fur hats and tubular scarves made the perfect pairing as cold weather essential accessories for one of the most impressive work and evening wear collections of the week.
Four – Tory Burch
Images, style.com
Last year's Fall/Winter presentation left many of us with the feeling that Tory Burch was on a mission to brag about her success following a bitter lawsuit with former husband J. Christopher Burch.  The venue and collection were dripping in her newly acquired billions.  This season's looks, while still oozing wealth, allowed Burch's elitist mood to take a back seat to her genius as a designer of luxe yet practical womenswear.  Knee socks and intricately designed muffs were staple accessories to the rich embellished fabrics, patterns, and knits of Fall/Winter 2014.  In sum, Burch offered up a beautiful, versatile collection featuring a good mix of daytime casual and professional chic.
Three – Alexandre Herchcovitch
Images, style.com
The Fall/Winter collection from Alexandre Herchcovitch was one of two stand-out surprises for me at this round of New York Fashion Week shows (the former being Ralph Lauren).  Herchcovitch's frizzy-haired models walked the runway in a collection set in neutrals – beige, brown, black – with a splash of red.  All ruffles and disheveled layers, the first half of Herchcovitch's collection – paired with retro, hippie-like sunglasses – won me over despite feeling like something I would much rather be sporting for the upcoming spring season instead of in the frigid cold temperatures of Fall/Winter.  The reds and blacks of the latter half of the collection were a perfect match for the set of cold weather looks found in statement coats and unique dresses.
Two – Marchesa
Images, style.com
Marchesa's Keren Craig and Georgina Chapman reminded us yet again why their collections set the evening wear benchmark far above all else.  While Badgley Mischka took us to Vienna with their presentation, designers Craig and Chapman described their vision of the Marchesa muse as a  "Scottish woman who's a little bit more disheveled in winter, with this static hair like she's running through the fields in the Highlands" (style.com).  Do not let this description fool you, though.  Messy hair aside, Craig and Chapman's Scottish fantasy looked much more like a member of a noble family on her way to a regal ball than a girl racing through dewy pastures.  Textiles ranged from lace and sheer fabrics to feathers to richly coloured blue and gold silks, creating an unparalleled set of looks fit for royalty.
One – Marc Jacobs
Images, style.com
Set to a peaceful and dreamy narration of Jessica Lange telling us "happy days are here again," bare-faced looking models debuted Jacobs's first collection since his departure from Louis Vuitton, perhaps the metaphor for his fresh and renewed focus on his namesake label.  *Does anyone else find their mind's eye filled with visions of Jacobs shrugging the extra weight of his LV responsibilities from his shoulders?*  Ralph Lauren wasn't the only designer boldly opting for spring-like pastels this season.  Jacobs's palette consisted of neutral tones, pastels, and an ombre combination of both found in furry bomber jackets – certainly one of the best cold weather accessories at New York Fashion Week, ruffled gowns, and an array of beautifully simple dresses, tunics, and slim fitting tights and pants.  Models sported cropped wigs with pin-straight hair in unique blonde and reddish brown hues.  Francois Nars explains that his vision was for "models to look like Greek statues, with no lashes and brows at all."  *Intriguingly noted: With the exception of nails, Jacobs opted for Nars instead of his own recently released Marc Jacobs Beauty line.*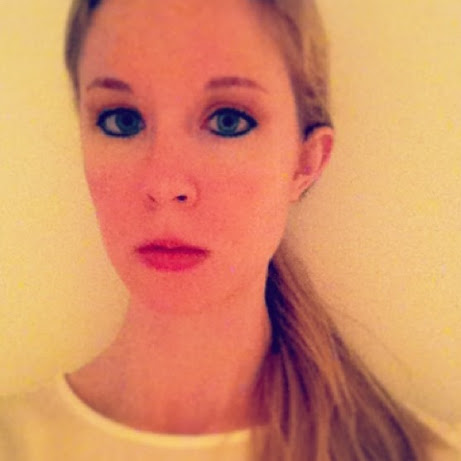 Meaghan Elizabeth
Meaghan Elizabeth is a fashion stylist and blogger interested in high fashion, personal style, trends, designer collaborations and shopping adventures.  Read more about Meaghan here.