If you're a guy who needs some insight on which belt to buy, let us help so you're confident with your next shopping trip. You may think belts are just needed to do a job – hold up your pants, but honestly, belts are a reflection of your personal style. Okay yes, they hold up your pants, but they do so much more for your wardrobe too.
When shopping for the right belt, keep in mind they fall into two main categories: Dress and Casual. Dress belts should be worn with suits, tailored slacks and business casual pants. Always remember, if you choose to wear dress shoes, a dress belt is a must. In this case the leather of the belt and shoe should match.  Dress belts are the thinner belts on the rack and are typically 1-1/2 inches wide. They are usually leather with sleeker/thinner belt buckles.
Casual belts are an option for casual pants like shorts, jeans, chinos, and khakis. They are typically wider and come in several types of leathers, braided leather, fabric or a combination of fabrics. Buckles of casual belts come in a variety of sizes and shapes and tend to be more fun to shop for and are fun to mix and match with your clothes.
Now that you are educated on dress and casual belts, here are three types of belts every guy must have in his closet.
1. The Dress Belt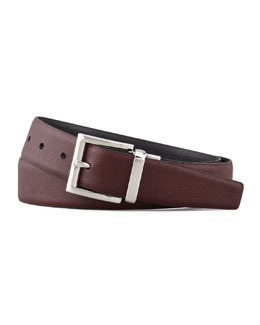 Prada Reversible Saffiano Belt, $450, Neiman Marcus
Remember, your dress belt should match the color of your dress shoes. Black belts are to be worn with black shoes and brown belts are to be worn with brown shoes. You'll find that black is easier to match up than brown. There are over 50 shades of brown when it comes down to finding the right shade. Don't give in to any shade of brown, be patient and find the exact same shade to match your shoes. It may be a good idea to buy your brown belt and shoes on the same day so you can match them up before you make your purchase. If you can find a reversible brown/black belt with the correct shade of brown, your shopping is over with a success story you can share!
2. The Casual Leather Belt
Bally Suede Belt, $250, Saks Fifth Avenue
A casual leather belt is typically thicker and/or wider. It's the perfect option to wear with your favorite casual jeans, shorts, or pants. Casual belts finish the look when worn with boat shoes, leather walking or tennis shoes, and leather loafers.
3. The Casual Fabric Belt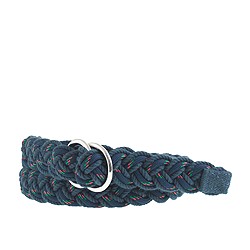 Mountaineer D-Ring Belt, $39.50 on sale now for $29.50, J. Crew
I bet you thought we were done here but one can't just stop at leather belts. A guy must always have a fabric belt or two to spice up their casual ensemble. This is especially true when wearing tennis shoes, sandles, beach shoes, fabric loafers or boat shoes. Casual fabric belts can be found in fun braided cotton blends, fabric and leather combinations or suede. These types of belts don't need to "match" perfectly in terms of color— they just need to coordinate with your outfit. The focus here is not to be matchy matchy but to add a finishing touch that leaves you walking away feeling cool and stylish.