Let's Speak Fashion
On Thursday, October 16th, Fashion and business-minded people from all around came for Detroit's second FashionSpeak conference, presented by Taubman and Detroit Garment Group. The event consisted of six different presenters including Malina Gilchrist of T Magazine and fashion designer Tracy Reese.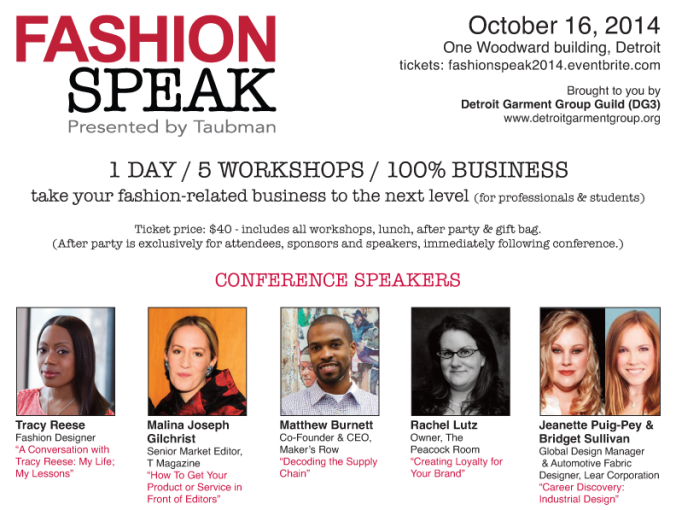 Each presentation represented a different side of the industry that the audience could relate to. As bloggers, audience members, and sponsors jotted down notes, tweeted a quote, or shared a photo, each takeaway brought inspiration and motivation towards one's brand or company. Here are some takeaways from the presenters themselves…
"Think of brand loyalty as a marriage and not a fling." -Rachel Lutz
"Cultivate loyalty from consistency, uniqueness, attributes, authenticity, having defined values, validation, engagement, and service." – Rachel Lutz
"Find a need [in the industry] and then fill it." -Rachel Lutz
"The closer you are to your manufacturer, the more control you have over the production of that product." -Matthew Burnett
"Do one thing and do it really well." -Malina Gilchrist
"How do you present yourself to everyone as a designer? You need a point of view." -Malina Gilchrist
"You have to devote everything to your brand in order to be successful." -Tracy Reese
"Give yourself the chance to gain experience and get a salary. You don't want to make all your mistakes on your own dime." -Tracy Reese
"You have to start in the beginning, gain connections, build a customer, and understanding who that customer is" -Tracy Reese
Disclosure – This post may contain affiliate links. By clicking and shopping, you help support Detroit Fashion News and allow us to keep reporting on all things fashionable.