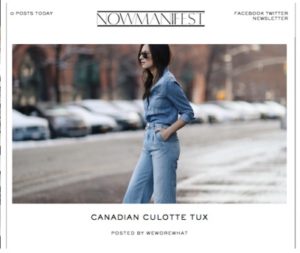 Big news is hitting the fashion blog world and it isn't pretty for some.  We've been told, Condé Nast-owned blog portal NowManifest that is known for hosting fashion bloggers including Anna Dello Russo, Susie Bubble and our favorite BryanBoy, has been shut down. If you're a fashion blogger or a reader of fashion blogs then you know, NowManifest hosted some of fashion's most prominent blogs and has made celebrities out of their writers.
The bloggers that used the platform, including Susie Bubble, Anna Dello Russo, Derek Blasberg, BryanBoy and Fashion Toast, were given notice of its termination last November so this isn't new news. Now that the time has come, the mentioned bloggers are expected to continue to blog independently.  This means, if they would like to continue they must from their own websites and take control without the help of NowManifest and Condé Nast.  They will now be in charge of their advertising partnerships, content creation, photos & professional relationships.
The reason for change is simply because Condé Nast plans to put more focus on their leading site, Style.com. Last Summer, Condé Nast sold the company to Penske Media Corporation, but retained ownership of NowManifest and Style.com. Reorganization of their digital space and their social media efforts are in full force now.
Are we worried about these bloggers?  Absolutely not.  They currently have a great following and the status to succeed, now it's simply up to them to hold their own. The NowManifest website's last post went live on Monday and was a street style shot by WeWoreWhat.  The post shows the bloggers in denim, on a New York City street. A grand last hurrah!  Now we will watch these talented individuals soar on their own.  Will you give them your support?