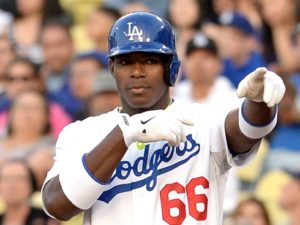 Los Angeles Dodger, Yasiel Puig has been off the field for some time now with a tight hamstring, but he's still able to think about his fashion sense.  Puig has been doing shoots for the recent Starter ad campaign.  Starter is an athletic clothing brand that was established in 1971.
Puig wears a classical-looking royal blue Dodger jacket for the clothing line's "Jackets Required" campaign which will run approximately $80.
When WWD asked the 24 yr old what type of clothes he wore growing up in Cuba, this was his reply,  "I didn't have clothes," describing his personal style as a child as "barefoot and no clothes."
Puig once played for the Cuban national baseball team in the 2008 World Junior Baseball Championship, winning a bronze medal. There is no report as of yet when he will fully recover to play this season.
Photo – Canyon News