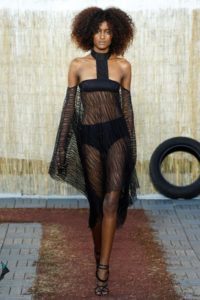 Natural elegance has been the theme for many of the Spring collections during
London Fashion Week. The looks are sophisticated and chic and most models are embracing their natural hair. Not only are they embracing it, the designers are encouraging it.  Naturally curly hair is beautiful but it requires products to help maintane bounce and definition. Curls are a vibrant and eclectic hair trend that compliments all women. And we all know, natural is in.
Camille Rose Naturals Curl Definer is an all-natural beauty product that aids in enhancing natural curls. The Curl Definer is available for $22.00 per 12 ounces and is made to help achieve defined, shiny and manageable curls. Camille Rose Naturals Curl Definer is made with pomegranate seed oil, marshmallow and agave leaf extracts. Once applied, the hair will have amazing curl definition, bounce and moisture, perfect for styling and easy for busy moms and ladies who are on the go.
Naturals Hair and Body Collections are available at Camille Rose Naturals and Target.