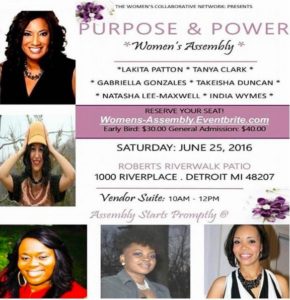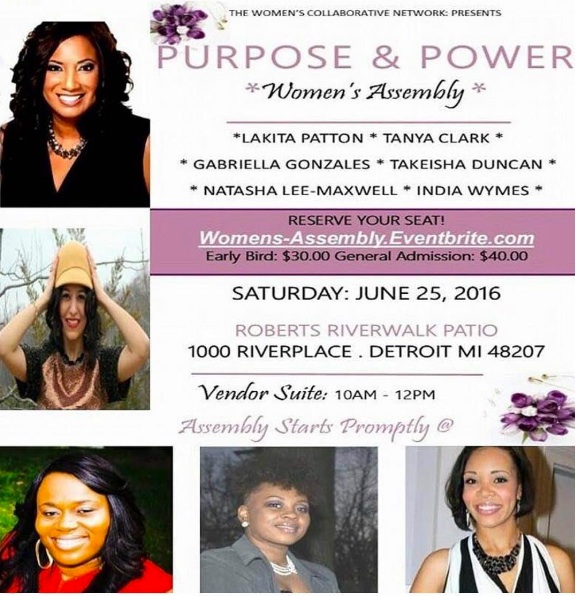 Women who are looking to grow both their personal and professional networks are welcome to join the Purpose and Power Women's Assembly this Saturday, June 25, 2016 at 10am.  The event will be held at the Robert's RiverWalk Hotel and Residence located at 1000 Riverplace Drive downtown Detroit.
The assembly, put on by the Women's Colaborative Network will host a lovely brunch and five impressive speakers including; Author/Poet Lakita Patton, CEO/Founder of Vision Expansion Consulting Tanya Clark, Designer Gabriella Gonzales, CEO/Founder of Hollywoodz Fab Boutique Takeisha Duncan, and CEO/Founder of Make Your Dreams Come True Natasha Lee-Maxell speaking on their experiences and helping in how to navigate your purpose!
Tickets range from $25 – $50.  Click here to purchase your tickets via EventBrite
Want to have some fun the day before the event? Michigan Fashion Designer, Gabriella Gonzales, who will be a guest speaker at this assembly will have a pop-up shop to showcase her new looks the day before, Friday, June 24th, 2016. The pop-up shop will be at the Detroit Garment Group Incubator at Tech Town in Detroit, located at 440 Burroughs, St. The shop will be open from 11am-2pm.