Roslyn Chats with Detroit Fashion News
Détroit is the New Black is one of the hottest stores in Detroit right now. We had the honor of interviewing Roslyn Karamoko, the genius behind this vision.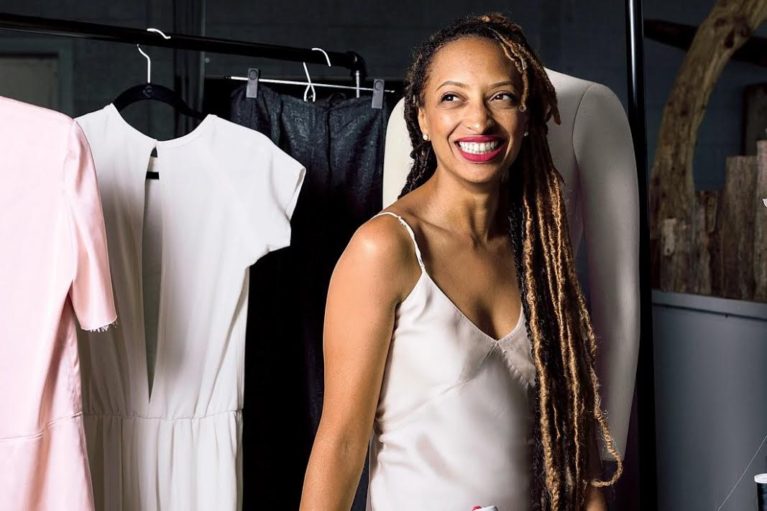 DFN: How would you describe your fashion style? 
Karamoko: Elegant and casual (if that's even a thing). Something comfortable for sure, but with a little luxe to it; classic and easy.
DFN: What was your background before you opened Détroit is the New Black?
Karamoko: I went to university for fashion merchandising and worked in New York and abroad as a buyer.  I moved to Detroit in 2013 and started my t-shirt label. I was then able to use my buying background to develop a lifestyle store around local brand incubation and art curation.
DFN: How would you describe the style of Détroit is the New Black?
Karamoko: It feels classic like a uniform, and it's not over-thought but intentional. I also would hope that it feels sensible and relatable while being minimal aesthetic and monochromatic.
DFN: What was the hardest part about opening Détroit is the New Black?
Karamoko: Probably just mentally getting the courage to do it. It's a huge undertaking so it comes with its challenges. Learning and growing as the business grows is probably the most difficult part.
DFN: Where do you see yourself and Détroit is the New Black in the next five years? Do you hope to open more stores around the nation?
Karamoko: We will see! I think it's an interesting time in Detroit and in America. I think the brand will be wherever the need is for the message and the store experience.
DFN: What do you love the most about Détroit is the New Black? 
Karamoko: I love all of it. It is like all the things I love: interesting people, brands, art, fashion, and energy, it's all love.
DFN: I love how you carry Detroit brands like The Lip bar. Do you consciously only carry Detroit brands in your store? Why or why not?
Karamoko: I try to stay Detroit focused, but I will be introducing a New York designer trunk show in October. It is also about providing a space for outside designers to showcase their work to Detroit's fashion clientele.
DFN: You moved to Detroit several years ago. What do you like the most about the "Motor City."
Karamoko:  Belle Isle, it's one of the most beautiful places on earth.
DFN: How did you come up with the name for Détroit is the New Black?
Karamoko: I wanted to participate in the city pride tee's but wanted one with a bit more cosmopolitan feeling. I loved the French history of the city and thought the Détroit spelling really lent itself to fashion. "The New Black" portion of the store name meant that the new hip certainly resonated with Detroit. In addition, there was also this conversation around the new Detroit, gentrification and the inclusivity of the future Detroit. Therefore, I felt the name really captured a few different facets of the city's renaissance.
DFN: What made you want to open Détroit is the New Black?
Karamoko: I felt there needed to be a space for small brands and artists to have a retail platform.
DFN: How did you get started opening Détroit is the New Black?
Karamoko: I started selling the tees at Eastern Market, Dally in the Alley and other local festivals. After that, I opened a store in midtown and I was there for a year and a half. Then, I opened a production facility in Corktown. Finally, we moved into our current retail space in July of this year.
DFN: You are very successful and you are an inspiration to many people including myself. Is all of your success overwhelming? 
Karamoko: Totally.
DFN: What advice would you give to future designers and entrepreneurs?  
Karamoko: Just keep going!
DFN: I love the Tracy Reese pop up boutique at Détroit is the New Black! How did this come about? 
Karamoko: She is a mentor of mine and it just seemed natural to offer her collection in our shop. We are so happy to have her!
DFN: Many of our readers do not live in Detroit and I highly recommend that anyone who is in the Detroit area visits Détroit is the New Black. Everyone (including myself) who has visited Detroit is the New Black is at a loss for words when they describe how chic and stylish it is. How did you come up with the store's design?
Karamoko: I was completely overwhelmed with the space, so I called in my artist friend Leon Dickey who is a magician. His stunning pieces have made it a complete fairytale. I wanted it to have an openness and gallery-like feel, with the retail display feeling almost like artwork.
Keep an eye out for our Detroit Fashion News Field trip post.  We had the pleasure of shopping and touring Détroit is the New Black as a team and we can't wait to share our experience with you!
Photos of our experience can also be found on Instagram @glamorousmoms @DetFashionNews and on Facebook via the Detroit Fashion News Facebook page.
Header Photo—Peter Baker
Written by: Kelechi Uchendu
Disclosure – This is a collaborative post and may contain affiliate links. By clicking and shopping, you help support Detroit Fashion News and allow us to keep reporting on all things fashionable.