The Natural Market founder Victoria Roby has made a vow to sell brotherhood like she sells soap.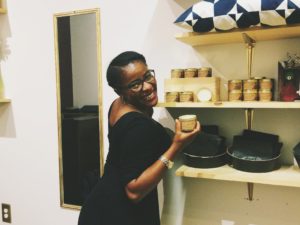 Roby, 30, creates locally-sourced, handmade natural skincare, beauty and home items to satisfy the everyday indulgence. Since starting her business in 2011 (which was originally called the Natural Hair Market), Roby has experienced much success. Her products are some of the most sought after in the metro Detroit area, and she has faithful clients that will attest to that.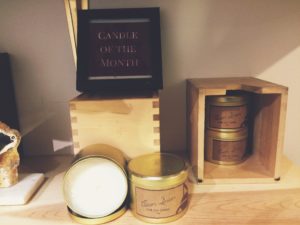 This summer was a busy one for the Natural Market. Between hosting a pop-up shop in the Grandmont-Rosedale area since January, vending at different events in the city, and becoming one of Hatch Detroit's 2016 top 10 semi-finalists, there was rarely a dull moment.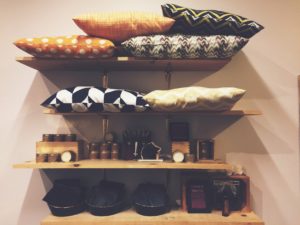 Now that the fall has arrived, Roby will be moving into a new storefront location in downtown Detroit. Detroit Fashion News had the opportunity to have a sit-down with the business owner during the last days of her pop-up, and got the inside scoop about her products, her next big move, and how it all began.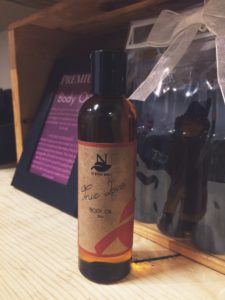 DFN: What inspired you to create a line of natural products?
VICTORIA ROBY: When I first started, it was just me coming into consciousness about myself and my hair. I used to wear these extravagant weaves, and I was like, "This isn't what the Lord is calling me to do." I just went ahead and started wearing my real hair, so I was encouraged to go natural, and that's what I did! I had to start this business because no one was talking about natural hair; it wasn't popular back then, it wasn't a trend. Now it is. Back then, people did it for other reasons besides fashion. For me, it was like, an evolution of my personal consciousness.
DFN: After you started with the hair products, what made you want to venture out into the other stuff?
Roby: I wanted to make the things myself and be in control of the scents. When you do natural stuff, vendors are fighting for shelf space and it's just a mess. I was like, "Let me do my own thing here."
DFN: Did you have a business plan before you started?
Roby: Nope. When I got my first store, I started it in three days. I had money in the bank at the time. I found out about the location on a Friday, and then I opened my store up on a Monday. In 2012, I was looking at all the hotspots which are [Grandmont-Rosedale], West Village and downtown. I ended up going with the downtown location, but I'm here now!
DFN: They should just let you stay!
Roby: I thought the same thing! But the blessing in that, is that I'm moving to 1,400 sq. feet. I went from 130 sq. feet, to 300 sq. feet, to 1,400 sq. feet in like, three or four years. I barely have a plan now! I didn't start doing my business plan until about 2014 or 2015.
DFN: When you started doing your business plan did you have to call in people to help you?
Roby: No, I didn't — but I needed to! That's where I'm at right now. That's an advantage to funding your own business. You don't have to answer to anybody, you just get to do what you want. It's been good. There's definitely been a lot of fumbles and learning lessons.
DFN: What were the first set of products that you created?
Roby: The first set of products I put out were for my hair, which are the body butters. I needed to make something that was going to keep my hair moisturized. I pretty much use my own shea butter as grease. I only use my own products.
DFN: What's in your body butters?
Roby: Shea butter, cocoa butter, almond oil, apricot oil, jojoba oil, olive oil, coconut oil and fragrance.
DFN: And you can use them anywhere on your body?
Roby: Honey, I bathe in it!
DFN: How long does it take you to make them?
Roby: A day. It depends on how I cool it. In the wintertime, I cool it over ice. It's a temperature thing. In the summertime, I use the sun to heat my oils so that they'll be soft. I like to use the sun a lot. That's why the products are the way they are.
DFN: What are the benefits of using natural products as opposed to buying items from the stores?
Roby: I want people to use the Natural Market as an everyday indulgence because it's natural, your products are going to last longer, and it is going to improve your skin over time. My stuff is a little bit higher than CVS brands, but over time it costs you less. If you use Bath & Body Works lotion, you're going to keep buying that. But if you use shea butter, that's going to be a deeper moisture; it's not going to dry you out. Lotions are water-based. My products are oil-based, so they don't expire.
DFN: What would you recommend for someone that's having issues with dry skin?
Roby: I recommend them the unscented everything. I'm creating a facial line and a beautiful milk bath. It's going to be a luxury bath that's going to cleanse you and help you. One of the cool things about my business is that I customize. If a customer tells me what's going on, I just make [products] for them.
DFN: What would you say is the most popular of your products?
Roby: The sandalwood soap. Sandalwood anything, people go crazy over. My analytics tell me what's most popular for the week, but I would say all the smoky scents.
DFN: Do you have a fall or winter beauty routine that you suggest to people?
For me, personally, I have an internal and external routine. I go vegan for a couple weeks, then I start doing the sea-salt cleanse….which is nothing but a bottle of water with two tablespoons of sea salt. You wake up at like, 5 a.m., hurry up and drink it, and it will flush your system.
Then, I switch over to my castor oil routine. If I don't have any Juices and Berries by Oyin, I'm doing water, all the argan oil, shaking that up with some rosemary, and I braid my hair in the back. In the winter, I'll use castor oil before I wash my hair, and then I'll use a lighter shampoo, or I'll make [the shampoo] myself.
DFN: What other things can people expect to see from you aside from your new storefront?
Roby: I'm going to be writing a book. I'm one of those people where if I say I'm going to do something, it has to happen. The book is going to be called "365 Days to Hustle." I think it's going to be phenomenal.
DFN: What advice would you give to others that are looking to start their own business?
Roby: Don't talk to people who are pessimists. Everybody is not about to understand what you're trying to do. People think that because I have my own business, I just do whatever I want; they don't understand that I work five times as hard as them.
Stay up-to-date with all things natural by signing up for the Natural Market's newsletter on their website, www.thenaturalmarketonline.com! You can also follow them on Instagram @thenaturalmarket, and "Like" them on Facebook at www.facebook.com/thenaturalmarketonline.
Written by Evann Webb
*Disclosure – This post may contain affiliate links. By clicking and shopping, you help support Detroit Fashion News and allow us to keep reporting on all things fashionable.