DFN Meets Ade Hassan: Nubian Skin
A nude bra is an essential part of any woman's wardrobe. However, if you are a woman of color then you know the struggle of finding a "nude" bra for your skin tone. Thankfully, Ade Hassan (founder of Nubian Skin) has changed the game. Nubian Skin designs nude undergarments in various shades for women of color! This company has been such a global hit, that even Beyonce is a fan!
DFN: What was your background before you opened Nubian Skin?
Hassan: My background is actually very un-fashiony! I studied English and Economics. My career prior to Nubian Skin has been very finance-focused, although I did take a fifteen-month break from work several years ago when I took sewing and pattern cutting classes. I have always wanted to be an entrepreneur and I have always wanted my business to be fashion related, so when I first thought of the concept out of my own frustration of not being able to find my own "nude" – I knew that had to be it!
DFN: How did you come up with the name Nubian Skin?
Hassan: I wanted something which really spoke to the history and significance of dark skin, so I chose Nubian. I had originally thought of Nubian Nude, but that can be very tricky when it comes to internet searches, "Skin" just worked.
DFN: How did you get started opening Nubian Skin?
Hassan: It took me much longer than I had expected! It took two years from the concept to creating the company, and another year and a half till it actually launched. The first two years consisted of brainstorming and planning. In addition, finding the perfect shades was also a lengthy process – that alone took about a year from start to finish! At the start, I visited counters in London and New York that had significant offerings for women of color such as Fashion Fair, MAC, Nars, Lancôme and Blackup. I did this in order to find out which of their colors were most popular amongst women with darker skin.
Based on all my findings, I then selected my skin tone Pantone colors, but this was just the first stage.  Matching a skin tone Pantone to a fabric Pantone and making sure to compare the colors under a lightbox was a very good exercise.  By autumn that year, we had an initial set of color samples, but they weren't quite right. In addition, there was a significant amount of back and forth with the factory and dyeing houses.  We didn't actually manage to pin down colors we were satisfied with until May or June 2014.  The task then consisted of matching up samples of each dyed component of a bra (each type of fabric holds dye differently), so they were all uniform.  I finalized the color of the bras by summer, but the tights were a different matter entirely.  You can't simply replicate the color of solid fabric to sheer fabric, so the tights required significantly more time.  Two of the colors we got down pretty quickly, but two have taken a bit more effort. It even involved me boiling some of the colors I wasn't satisfied with massive pots of tea and coffee at various strengths to get the perfect color. Thankfully, we got there in the end!
DFN: What was the hardest part about opening Nubian Skin?
Hassan: One of the biggest obstacles was finding a good quality manufacturer.  As a new and small business, a lot of manufacturers simply didn't respond to queries, and others were looking for incredibly high volumes, so it was tricky.  Once you actually secure a manufacturer, it's always a battle to manage expectations.  When I first decided on a manufacturer, I thought I'd be able to start selling in a few months. However, Nubian Skin actually launched a year later than I had expected.
DFN: Where do you see yourself and Nubian Skin in the next five years?
Hassan: I would absolutely love it if Nubian Skin was a household name and the go-to brand for all women of color. I can't wait for the day that any woman can walk into her local store and pick up a pair of Nubian Skin tights or that perfect nude bra!
DFN: What do you love the most about Nubian Skin?
Hassan: It truly has been amazing to receive the support we have, we really do have an amazing community surrounding us.
DFN: What made you want to open Nubian Skin?
Hassan: I created Nubian Skin because I couldn't find what I was looking for in shops! I wanted nude lingerie and hosiery – but it simply wasn't available. I knew I couldn't be the only one who felt the same way – so I decided to create Nubian Skin!
DFN: There is so much discussion today about a lack of diversity in practically all segments of the fashion industry. Do you believe that this is a reason why we are just seeing "nude clothing" for women of color?  
Hassan: It's a fact that minorities are generally under-represented within the fashion industry.  The most visual manifestation of this is the limited number of minority models in magazines or on the catwalk.  The fashion industry has become more diverse, which is a wonderful thing, but there is still some work to be done. Being able to look at a magazine and see an image that you can relate to is an incredibly empowering thing, so being able to find lingerie in your skin-tone is also incredibly powerful.
When Nubian Skin launched, our brand showed such a glaring gap in the market, that I think we had an out-sized impact given our size.  The influence of what we have done has definitely grown. For example, there are a lot more brands are attempting to enter the space or add a token "mocha" to their collection.  It's a conversation that was a long time coming.
DFN: I love how you are bringing in new band and cup sizes to Nubian Skin. Please tell our readers when they should expect these new sizes. 
Hassan: We are working very hard on getting this ready! We are excited to launch them this spring!
DFN: What advice would you give to future entrepreneurs? 
Hassan: If you have an idea you would like to bring to life, it is really important to research your idea to make sure it is valid. Make sure you really believe in the idea especially if you are working in another job. If you are up at four in the morning or two in the morning working on this, then you want to believe in it. You also need to be willing to work really hard. Everybody who is going to start something anticipates that it is going to be difficult and that it is going to be hard. However, it will be much harder than you ever expected.  Lastly, have faith in yourself!  If you do not believe in yourself, then who will?
DFN: Did you ever imagine that you would become this successful?
Hassan: When we started, we did not have a marketing budget or a marketing plan.  People picked up on our social media and it went viral.  That led to the mainstream media picking it up.  It was a media storm that we could not have imagined or quite frankly have afforded. Therefore, we are so incredibly grateful to everyone who helped spread the word about Nubian Skin.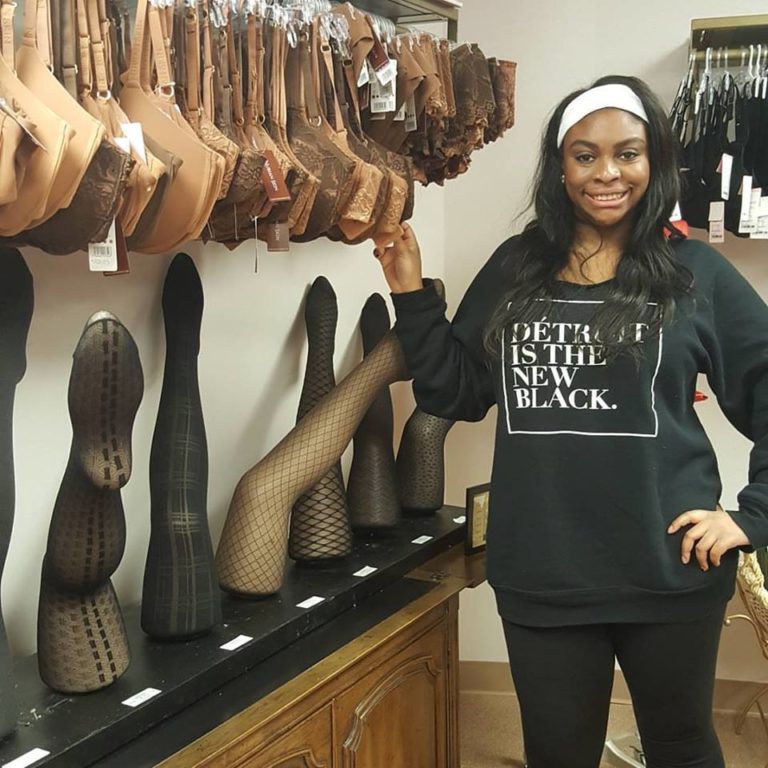 If you are in the Detroit, please stop by the Busted Bra Shop because they are a stockist for Nubian Skin!
Photo of Hassan: David Cromer Photography, Photos of Models: Julia Underwood Photography
Written by Kelechi Uchendu