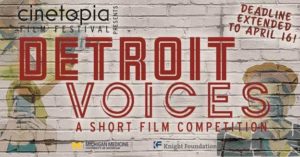 Cinetopia Film Festival's Detroit Voices is proud to announce the 2017 short finalist films. These are the films that will make up the competition phase of the program and premiere at the closing screening of the Sixth Annual Cinetopia Film Festival on Sunday, June 11th. Also, "Detroit Voices Selects", will showcase some noteworthy films, from all entries into the competition. Another highlight will be "Detroit Voices Retrospective", which will bring former finalists and winners back to the Cinetopia stage to share their latest work.
What should you wear?  This is an event where we recommend coming as you do to gently impress.  Choosing denim and heels? A sport coat with loafers? How about a sexy backless romper and a vintage clutch?  Yes, yes and yes. Arrive how you would like to arrive but arrive with support for your fellow Detroiters!
Detroit Voices provides an opportunity for Michigan-based filmmakers to share their talent and Michigan perspective with a larger audience and win cash awards, up to $6,000, courtesy of the Knight Foundation and the Michigan Film and Digital Media Office.
The 2017 Detroit Voices Competition ran for nine weeks for all Michigan filmmakers who chose to submit their short film of any genre. The eighteen finalist films, selected from more than a hundred entries for the competition, range in length from 1 minute to 17 minutes.  The outcome was amazing and the variety impressive.  The finalists shared struggles of a Middle Eastern student making their way in the US, a 2D animated film based on the Native American legend of Sleeping Bear, a grieving 11-year-old boy on the east side of Detroit, an investigation of the road that separates Detroit from Grosse Pointe, and a dramatization of Shakespeare's 65th sonnet, produced in cooperation with Shakespeare in Detroit.
The Detroit Voices Competition program will take place on the closing night of the festival, Sunday, June 11, at 7:30 PM at the Charles H. Wright Museum of African American History downtown Detroit. A closing night party will follow. To purchase tickets or for more information, please visit www.cinetopiafestival.org
Can't make the June 11th event? The Detroit Voices Selects program will feature films that didn't qualify for the competition phase, but are noteworthy to be featured. The six selected films include a sci-fi western set in the not-too-distant future and an intimate look at discrimination. Detroit Voices Selects will screen during the Cinetopia Drinks x Design event at Cinema Detroit on Thursday, June 8th from 6-8 pm.  This event is FREE and open to the public.
The third event will be the Detroit Voices Retrospective will take place in Ann Arbor on Sunday, June 4 at 3:15 pm. The Retrospective features alumni from Detroit Voices 2014, 2015, and 2016, including Ted Houser (2014's R. Stern), Robert Butler (2015's Within) Jasmine Rivera (2014's Nain Rouge), Christian Davis (2015's Solitude), Tap Peoples (2014's Introspective), and Andrea Claire Morningstar (2014's Chris & Ariel). These alumni will appear in person to share their latest work and reflections on life since taking part in Detroit Voices. Visit www.cinetopiafestival.org for more info.
The Sixth Annual Cinetopia Film Festival will take place on June 1-11, 2017 and will present the best independent films from festivals across the globe. In addition to screenings of a wide variety of films, filmmakers and actors are invited to Southeast Michigan to participate in Q&As and panel discussions. Cinetopia brings more than 60 films to the Detroit, Dearborn and Ann Arbor. The 2017 lineup features more than 60 films, including a record breaking 24 Michigan Premieres and 3 U.S. Premieres.  Cinetopia passes are available on cinetopiafestival.org. and include Festival Passes (offering unlimited film screenings, priority admission, opening night parties and other hospitality events), Movie Passes (unlimited film screenings and priority admission) and a Student Passes for those with valid student identification (unlimited film screenings).
Tickets to individual films are $12 for the general public, while members of the Arab American National Museum, Cinema Detroit, DIA, Charles H. Wright Museum, The Henry Ford, and Michigan Theater can purchase tickets at the member price of $9.  All tickets can be purchased at cinetopiafestival.org.
The complete list of selected films we are eager to celebrate are:
Detroit Voices Finalists 2017
Biodiversity is Unity. Dir. DyShauna Rutherford 3 mins
An exploration of the innate diversity of biology and how it's reflected in our community and environment
About DyShauna Rutherford
DyShauna Rutherford, a 17-year-old film maker from Northern Michigan, has been making videos for four years. Filmmaking hasn't been a passion for long but it has helped her grow closer to my family (my actors) and grow more artistically.
The Phoenix Dir. Bushra Varachia 4 mins
An aspiring photographer sets off on a journey through Detroit to return a golden, car-shaped clock to a mysterious woman in a red coat.
About Bushra Varachia
A third year Cinema Studies student at Oakland University in Rochester, MI. After graduation, she aspires to be a film editor. 
Bombs Over the Undergrad Dir. Mirna Aziz 3 mins
The struggle of a Middle Eastern student arriving in the USA.
About Mirna Aziz
Mirna was born in Baghdad, Iraq. She began singing at age 3, and acting later at 10. In 2009, she moved to the United States with her family. Participating in music and filmmaking activities during her high school years helped furthered her career. She started pursuing music and film at 17 years old.
Makwa  Dir. Stephenie Kandes 3 mins
A 2D animated film based on the Native American legend of Sleeping Bear Dunes in Northern Michigan about a mother and her two children whose island is destroyed by a forest fire.
About Stephenie Kandes
Stephenie Kandes is a twenty-two old Michigan native and a recent graduate from the Savannah College of Art and Design in Savannah, GA. She just completed her B.F.A in Animation with a minor in storyboarding, specializing particularly in 2D and puppet animation. Stephenie is very active; she enjoys playing soccer and volleyball as well as performing through community theater. She has participated in over eighteen productions and has played roles such as Mrs. Potts (Beauty and the Beast), Mme. Thernardier (Les Miserables), and Ursula the Sea Witch (The Little Mermaid Jr.). Other things that she enjoys are writing, reading, and walking on the beach looking for petosky stones and beach glass.
Scrap Dolls. Dir. Aude Cuenod 13 mins
On the east side of Detroit an 11-year-old boy, grieving over the loss of his best friend, encounters an artist who makes art out of abandoned objects.
Black Trust Fund Baby vs Remote Therapy Dir. Josh Gibert 5 mins
A bratty college drop-out distracts himself from his woes with technology but an encounter with his step-sister triggers a supernatural revelation.
About Josh Gibert
Josh Gibert is a 24-year-old, local actor/director and University of Michigan alum. In 2015, he was chosen to participate in the prestigious Sundance Institute's Screenwriter's Intensive: Detroit. Josh is currently producing and starring in his own web series, is developing a Detroit-set pilot, and is working to bring challenging narratives and compelling characters to the screen.
Raghad. Dir. Hadeel Hadidi  11 mins
As a little girl starts kindergarten, she realizes she is perceived as different by the other children and must find a way to hold on to her identity whilst trying to fit in.
About Hadeel Hadidi
Hadeel Hadidi is a writer/director and Michigan native. She holds a BA in Communications from the University of Michigan. She continued her education and received her MFA in Screenwriting & Directing from Columbia College Chicago.  In the last four years, she has worked on numerous commercials, music videos and feature films with many esteemed directors, including The Wachowskis, Michael Bay, Damien Chazelle, Nicolas Winding Refn and Mark Romanek. She currently works in digital at Rhett & Link, Inc and has also produced a segment  for the YouTube duo for VidCon Europe 2017. She is also writing her first feature film, Alaa & the Jinn.
Alter Road. Dir. Julian Carmona 12 mins
We investigate the eponymous road that stands between the Detroit and Grosse Pointe communities, as both a literal and an emotional divide.
About Julian Carmona
Born in Detroit, Julian Carmona began his filmmaking career during his time at the University of Michigan. There, he co-directed his first documentary film, Alter Road. Since then, he has worked on sports and reality shows, all in the Metro Detroit area. His most recent work (in- progress) is a documentary on Detroit's Mexican Town community.
The Corridor. Defended. Dir. Mike Targus 17 mins
A Detroit man with fractured sensibilities, has to decide whether to try and fix his seedy neighborhood, or take a backseat to its chaos.
About Mike Targus
Mike Targus is a Los Angeles based writer and actor originally from Detroit, Michigan. He has a BFA in Theatre from Wayne State University, and he's also completed several programs of study in comedy writing and improv at various theatres. (iO Chicago, The Second City Detroit, and the Upright Citizens Brigade in both LA and New York.)  He also owns and operates Mack Black Productions, which produced the award winning (Best Comedy Ensemble) web-series, "39 to Go," in 2014, and, "THE CORRIDOR. DEFENDED."
Cherish. Dir.  Jason Valentini 2 mins
From a distance, anyone can seem charming. However, opinions may change upon closer inspection.
About Jason Valentini
Together, Jason Valenti and his husband have been creating video shorts for the Detroit improv community for many years.
The Detroit Sonnets: # 65. Dir. Aaron Martin 2 mins
A dramatization of Shakespeare's 65th sonnet, focusing on time, decay and preservation – with a Detroit twist. Produced in cooperation with Shakespeare in Detroit.
About Aaron Martin
Aaron Martin is a producer/director of narrative and documentary films. In the last year, Aaron produced The Ethanol Effect, an hour-long documentary for national PBS examining the political and economic effects of making fuel from corn, and was the producer/director of Beyond the Tap, a half-hour special on the water crisis in Flint, Michigan for PBS WORLD Channel. Aaron has also produced segments for the PBS NewsHour, SciTech Now and Local USA on subjects ranging from a deadly disease affecting bats to underwater archaeology. Aaron is dedicated to telling stories on film, using vintage 35mm and 16mm equipment that dates from the early 1920's to the late 1960's. He is currently at work on three short documentaries – one on the artist Scott Hocking, one on an ancient archaeological site in Ohio, and Better Things, a silent city symphony about the revival of Detroit – and The Detroit Sonnets, a series of short films produced in partnership with Shakespeare in Detroit that dramatize William Shakespeare's poetry in modern-day Detroit. 
Akoma, Dir. Alex Gasparetto 12 mins
a post Civil War Era drama surrounding two courageous young women in a fight for love and freedom that could cost them their lives.
Alex Gasparetto
While attending The Motion Picture Institute of Michigan, writer Lucie Gillespie met director Alex Gasparetto. Their mission as creative partners became to tell powerful, (and at times controversial) female-driven stories. WDIVs Local 4 Second Annual Film Challenge winner, Akomat; is no exception. Shot in the rural woods of Goodells, MI and The Henry Fords Greenfield Village with a diverse group of local talent and crew, Akoma; sparked the interest of Arab American News for a special featured article during its production phase. The film is a reminder to anyone whose faith in humanity is currently being challenged that love can most certainly drive out hate.
A Poem Of Glass & Steel, Dir. Ryan Clancy 5 mins
The intimate documentation of the architecture and culture of an iconic Detroit neighborhood.
About Ryan Clancy
Director Ryan Clancy is a Detroit based filmmaker and M.A. candidate in media studies at Wayne State University. His work examines how modern changes affect established cultures. 
The Ones Who Loved Me Are Gone. Dir. Parisa Ghaderi 1 min
Looking back at my mom's wedding tape, I noticed how all of these people are gone for different reasons, having left a physical or emotional absence in my life.
About Parisa Ghaderi
Parisa Ghaderi (b.1983, Tehran, Iran) is a visual artist/ filmmaker; earned her MFA in Art and Design from the University of Michigan (USA) in 2014. She moved to the U.S. in 2009. Her work has been exhibited nationally and internationally including South Asian Women Collective (Shirin Gallery, NY), the 6th International Media Arts Award (Queensland, Australia), ExperimentoBio, (Spain), A Woman house or a Roaming House? (A.I.R. Gallery, NY), Fadjr International Visual Arts Festival (Tehran, Iran), and the Red bull House of Art (Detroit, MI). Her work is featured in The Huffington Post, The Brooklyn Rail, Video Focus (France), Nineteen Sixty Nine (University of California, Berkeley), the Michigan Daily, Unite Women (online), and the Visual ARTBEAT Magazine (Austria). Ghaderi has made four short films: "Still", "Broken Glass", "The ones who loved me are gone", and "One way". Her short film "Still" has been screened at Women's Independent Film Festival, Santa Monica, California, The International Film Festival for Documentary, Short, and Comedy, Indonesia, and CINEWEST, Sydney, Australia. "Still" won the International Award of Merit Winners, from the International Film Festival for Documentary, Short, and Comedy, Indonesia. "Broken Glass" was screened at Lady's First International Film Festival, Cork city, Ireland. "The ones who loved me are gone" was the winner of The Berlin Flash Film Festival, Berlin, Germany, in 2017. Her films attempt to transform a painful human odyssey into a visceral experience, highlighting the gap between immigration as a set of policies and as a human condition.
Model No Human. Dir. Adam Cooper 11 mins
A man with a mechanical brain believes he once lived as a human. When he meets a familiar young girl, memories of his past are triggered and he fights for her life.
About Adam Cooper
Adam has been interested in filmmaking since the womb. He and his brother were given a camcorder at a young age and they never put it down. Since then, they've made a whole 'lotta shorts that had good festival runs taking them to TIFF, Cannes, the Hamptons and back home to Detroit where they make their films. Model No. Human is one of those films, and was inspired by Adam's fear of robots and artificial intelligence. When he saw the opportunity to do a "Cyberpunk Sci-Fi project with heart," he viewed it as a way to project his paranoia onto others and make them suffer with him. In addition to suffering, Adam hopes the viewers will have an enjoyable experience and come out with a new perspective on AI. The brothers are currently developing their first feature, a Sci-Fi thriller, and are stoked to kick that into motion in the near future!
Road Salt, Street to Stream. Dir. Nick Hayes 6 mins
Tells the story of road salts' massive expansion in America and how it has become one of the great threats to our fresh water systems and the great lakes.
About Nick Hayes
Nick currently lives in Detroit as a full-time producer and director. He has worked for commercial clients including GM, Google, and AAA. Beginning his career in camera, he worked in New Orleans under Michael Lohmann for 3 months, the current DP of "Nashville" on ABC. Nick has also worked under Oscar-nominated documentary director Stephen Kessler. While living in Chicago, Nick had the privilege of working under Emmy Award-winning filmmaker Cam Be during production on his upcoming documentary about renowned International artist Hebru Brantley. Nick is passionate about film as a tool to create empathy, inform, and engage people politically within their community. Road Salt | Street to Stream was the culmination of years of research by Nick Hayes into the topic and was made by possible by a partnership with Detroit Public Television.
Toussaint (A Short). Dir. Naeemah Stewart 9 mins
Toussaint is a young artist who fails to overcome his greatest loss and finds new meaning in his life through art.
Mosquito, The Bite Of Passage. Dir. Brian Vincent Rhodes & Eric Cheng 6 mins
A mother and daughter mosquito go hunting together for the first time, and the daughter is desperately trying to confess that she doesn't like blood.
About Brian Vincent Rhodes & Eric Cheng
Brian Vincent Rhodes grew up in the industrial city of Detroit, Michigan, affectionately known as "The Motor City". Although an acclaimed youth artist and obsessed fan of animation, Rhodes did not see an immediate future in art. Pursuing other interests, he went on to study mechanical engineering and industrial design at the University of Michigan, and designed for companies and organizations such as Apple, Chrysler and NASA. After winning a film competition while working at Apple, Rhodes pursued his first love of cinema. Rhodes now works as a storyboard, character designer and previs artist. His recent projects include storyboarding a feature film for Netflix called True Memoirs of an International Assassin starring Kevin James, lead storyboard and character designer for The Leviathan Project, a virtual reality experience that premiered at the 2016 Sundance New Frontiers Festival, and previs artist for first ever live music video "Make Me Like You" by Gwen Stefani, that premiere at the 2016 Grammys. Rhodes also is an improv actor and a 2016 Diversity Fellow of the Upright Citizen's Brigade comedy theatre. His dream is to write and direct commercials, feature films, television and virtual reality experiences, as well as occasionally perform in them.
 Eric Cheng was born and raised in Beijing, China. In 2009, He made his first 2D animated short The Red in the Communication University of China (CUC) . The Red gained huge popularity on the Internet due to its innovative idea and fine quality. One year later, Eric created his second animated short Happy Anniversary as his graduation project in CUC, which won the Special Award at the 2012 TOKYO Anime Award and several others. Upon his graduation from CUC, Eric was admitted to the University of Southern California (USC), School of Cinematic Art in 2012, where he completed his third animation, Higher Sky. In Higher Sky, Eric demonstrated a deep understanding of the Chinese aesthetics, as well as a unique perspective of the Chinese cultural heritage. Shortly after the release of the animation, he earned an international name through the Student Academy Award.
Detroit Voices Selects
These stand out films were so noteworthy we knew they deserved to be a part of Cinetopia. They will be played at the Drinks By Design event at Cinema Detroit Thursday June 8th 6-8pm.
Sticks and Stones. Dir. Kathi J Moore 8 mins – An intimate look at discrimination.
Wasted Conversation. Dir. Gabe Barden 6 min
Runaway. Dir. Harrison Heller & Tommy Kraft 20 mins
About Harrison Heller & Tommy Kraft
 Goner. Dir. Nick Stumphauzer 9 mins
Tormento. Dir. Gregory Dockery 4 mins
Milton. Dir. Zachary Marsack 7 mins
About Zachary Marsack
Detroit Voices Retrospective Filmmakers
These Alumni return to the festival with new films and reflections on life since they were first included in the Detroit Voices program in 2014, 2015, and 2016.
Ted Houser
2014 R. Stern
2017 Task Force – Small town American deals with the opioid crisis
Robert Butler
2015 Within
2017 Girl On The Mat
Jasmine Rivera
2014 Nain Rouge
2017 American Prophet
Christian Davis
2015 Solitude
Tap Peoples 
2014 Introspective
2015 Bleach
Andrea Claire Morningstar 
2014 Chris & Ariel – Two friends find happiness at a new school.
About Cinetopia Film Festival:
Created for the people of Southeast Michigan, the Cinetopia Film Festival features the best feature-length dramas, comedies, and documentaries from the world's best film festivals (e.g. Sundance, Cannes, Venice, Toronto, Berlin, SXSW, Tribeca, etc.). The extensive festival program is selected exclusively for Cinetopia by a team that includes Indiewire Influencer Russ Collins from the Michigan Theater and the national "dean" of art house programming Elliot Wilhelm, from the Detroit Film Theatre. Cinetopia honors the rich heritage of cinematic culture and Michigan's proud legacy of outstanding cinema artists through special pre- and post-film events, including presentations, discussion panels, and Q&A sessions with directors, writers, and actors.  For more information, visit cinetopiafestival.org.
*Disclosure – This post may contain affiliate links. By clicking and shopping, you help support Detroit Fashion News and allow us to keep reporting on all things fashionable.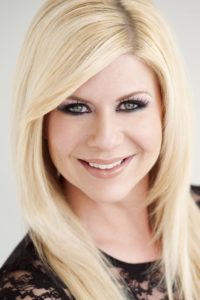 About the Author: Shannon Lazovski
Shannon is one of Detroit's top social media influencers, a fashion leader and a beauty buff who exudes professionalism and knowledge on all three subjects. She is the CEO of The Lazov Agency and the owner of glamorousmoms.com & detroitfashionnews.com. She loves to promote products and brands she adores and is a trusted voice. Shannon has been awarded the Elite 40 under 40 award and has been featured on Fox 2 Detroit, WDIV Channel 4, Styleline Magazine and Metro Parent Magazine. When you meet her, ask her about her handbag and shoe collection!
(Headshot Photo – Dan Lippitt)