A Brand That Uses Its Platform To Make the World A Better Place
"We are about…connections, collaborations, and our stories. We might rub shoulders with you on the subway or at a summer concert. We might dance with you in the rain. We might ask you for directions navigating our way through New York City and scribble your answers on a napkin. We might all have the same coffee place where the man at the counter knows the order without even uttering a word – you've been coming to this coffee shop every morning for 2 years.
Boy Meets Girl®…what a limitless story that beginning can create. Maybe romance, a new friend, and more often than not, a small moment shared that only lasts a few seconds, maybe minutes, but inspires so many more. We create fashion rooted in these connections. Fashion and collaborations that stem from the interesting people we meet, the experiences we share, and the aspirations we strive for.
A young contemporary brand for our girl… she's fun and fearless, wild yet modest, strong but soft. She loves with her entire soul and lives life with wonder, courage, and enthusiasm. Always on the go, her style must be easy and effortless, functional and stunning. She doesn't always have time for a morning bedroom fashion show, but she always has time for style – enters…Boy Meets Girl®."
Boy Meets Girl® is a super successful original athleisure brand that is sold in major retailers, has been worn by celebrities such as Eva Mendes, and has been featured in major media outlets like People Magazine. However, what I love the most about Boy Meets Girl® is that this brand uses its platform to make the world a better place, which is what I am aspiring to do with my brand. The mastermind behind this revolutionary brand is Stacy Igel. Igel (who loves music and New York City's art scene) launched Boy Meets Girl® in 2001. Igel never fails to encourage and motivate people through her brand and this interview was beyond inspiring. This interview will persuade anyone to chase their dreams even when their dreams feel like … a dream. 
DFN: How would you describe your style?
Igel: I like to think that my style is eclectic, edgy, and demure all rolled into one neat little package! Stylistically, I am going to give you my holy trinity of influences. My first influence is Coco Chanel, who famously said "Fashion is not something that exists in dresses only. Fashion is in the sky, in the street, fashion has to do with ideas, the way we live, what is happening." I agree with this statement. I think that is why I am so happy working as hard as I do. My second influence is Kate Moss.  Kate is a beautiful and confident woman, but what I love about her is the way she effortlessly transitions from eclectic vintage to high fashion. She never looks like she is trying to put an outfit together – everything looks like it just naturally belongs on her body. My third influence would be Patti Smith. Patti has stayed true to her edgy stylishness since the seventies. She is unflappable! 
DFN: What was your background before you started Boy Meets Girl®?
Igel: I grew up in Chicago (GO CUBS)! I attended the University of Wisconsin and majored in retailing, with a focus on design and merchandising and I also received a certificate in business. In addition, I studied at the American School in London. Before starting Boy Meets Girl® I worked for Zandra Rhodes, Donna Karan, Elsa Klensch, Elie Tahari and Izod.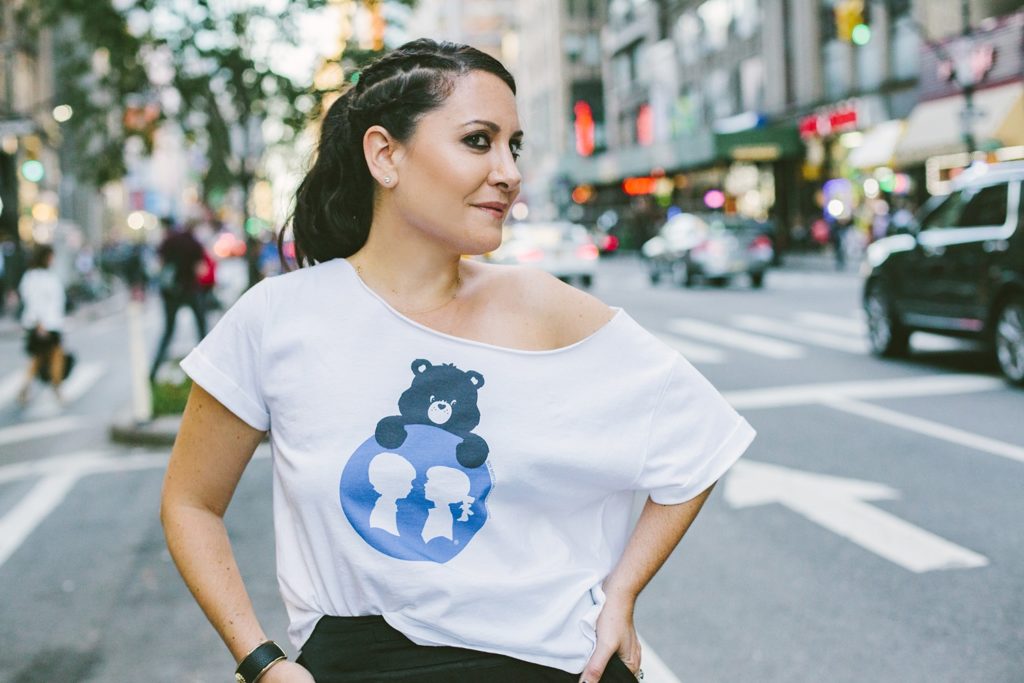 DFN: How would you describe Boy Meets Girl®?
Igel: Boy Meets Girl® is a fun, flirty, and edgy young contemporary brand worn by celebrities such as Rosario Dawson, Rachel Bilson, Nina Dobrev, and Kendall Jenner. Created in 2001 by Fashion Designer and Creative Director, Stacy Igel, the Boy Meets Girl® brand's iconic boy and girl silhouette logo has been featured in publications including InStyle, Teen Vogue, Lucky, Seventeen, Women's Wear Daily, and The New York Times. Boy Meets Girl® is currently sold at Macy's, Nordstrom, and at Colette. Also, Boy Meets Girl® has previously been seen on the racks of department stores such as Bergdorf Goodman and Bloomingdales. Boy Meets Girl® offers a full range of graphics tops and bottoms, as well as jackets, sweaters, and accessories. Boy Meets Girl® takes pride in its involvement with the Young Survival Coalition as well as the National School Climate Center's BullyBust Campaign. Boy Meets Girl® seeks to further the message that confidence and courage are trends that never go out of style.
DFN: How did you get started launching Boy Meets Girl® and what was the hardest part about starting the brand?
Igel: I met my husband's parents for the first time for dinner at their apartment. While they were giving me the tour, I noticed a picture frame containing silhouettes of their three children from when they were younger. My parents had a similar picture of my sister and I,  from when we were about the same age. I thought about us and how we still both had these young, playful, carefree versions of ourselves inside of us and I knew right then and there that my brand would be called Boy Meets Girl® and that I would use our silhouettes for the logo. The logo driven product came first and we have been growing the collection organically from there.
Building a business from scratch is the biggest struggle. You have to put all the pieces of the puzzle together. Being underfinanced in the beginning was hard. I was unable to grow and hire as quickly as I would have loved too against other brands who had major money and capital behind them. I took on every task as I had to be amazing at it all so I could train my team as I grew. Design time became ten percent of my day and business became ninety percent of my day. I struggled to grow my collection season after season because I had to deal with all the components that make for a successful brand. My Husband (DJ Blue Steel), my family and my best friends encouraged me to stay the course. In my darkest moments, I would see the light at the end of the tunnel and this motivated me to keep moving.
I remember pulling a lot of all-nighters in 2005 at the office. Every time I pulled an all-nighter, the next day (without my knowledge) I would be featured in The New York Times or the Wall Street Journal and/or someone would spot a celebrity wearing my clothes on television. So, I told myself that I can keep doing this. I would never trade my experience in this path for anything. Yes, it would have been nice to have had backers at the time when I launched in every major department store across the country. However, I now have the skills to do it all!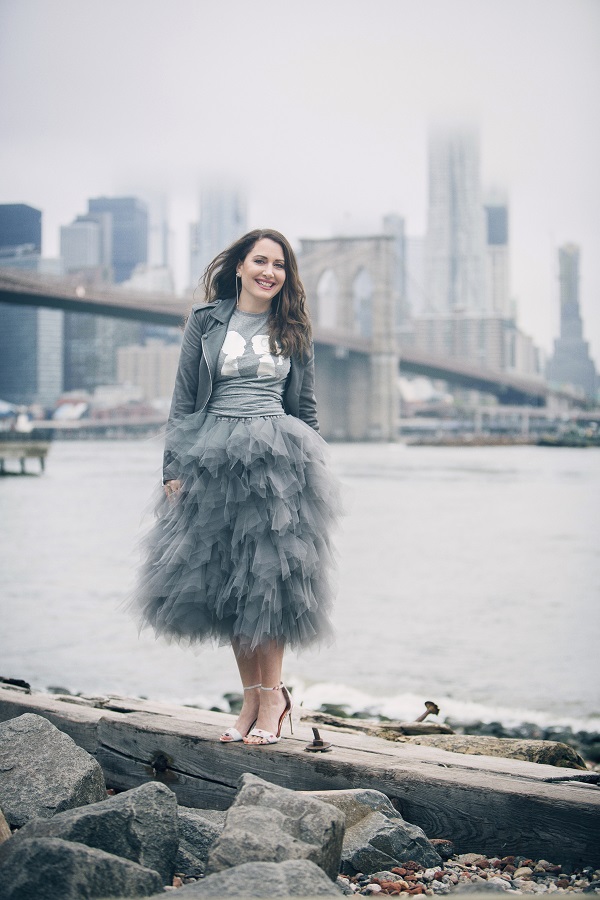 DFN: Something that stands out about Boy Meets Girl® is that the brand blatantly celebrates inclusion, diversity, and being socially aware and conscious of issues affecting our world. For example, Boy Meets Girl® offers clothing that carries strong messages of anti-bullying, anti-racism, and equality. What led you to use your brand and platform in such an amazingly powerful way?
Igel: Giving back is very important to me. Also, contributing to causes that bring conversation has given me a sense of hope that others will follow and continue to show their support. The fashion industry is an extremely fast-paced environment where there is a constant race to catch up. I believe that dedicating myself to other passions of mine such as Bully Bust, Young Survival Coalition, allows me to take a step back and see the big picture. It allows me to slow down for a second to breathe and think about who I can help today. I am very proud of my recent collaboration with  Human Rights Watch. In partnership with Human Rights Watch, Boy Meets Girl® is introducing a t-shirt (illustration on the back of the t-shirt was created by the talented Molly Crabapple) that brings awareness to "defending the rights of people worldwide."  In addition, fifteen percent of the proceeds from this top will go to the Human Rights Watch. We are working together to make the statement that IMMIGRANTS ARE US. We are all equal, and we must stand up for one another, regardless of where we come from. Join the movement. Take a stand! #BMGxHRW #ImmigrantsAreUs.
DFN: You have been featured in Teen Vogue, had Boy Meets Girl® sold in Bloomingdales, and have had your brand worn by many A-list celebrities! What has been the most memorable experience in your career?
Igel: This is a very hard question as there are so many amazing moments in my career. I pinch myself every day when I think of how far I have come in a competitive marketplace. I am so grateful for the appreciation of my brand and my hard work. I love seeing someone walk down the street wearing a piece I made. When I see someone wearing a piece I made, I usually stop and dial my mom's cell phone to tell her the exciting news. Highlights for me also include seeing my product make others feel good. I am also very grateful that I am able to give back through my brand by collaborating with several charities.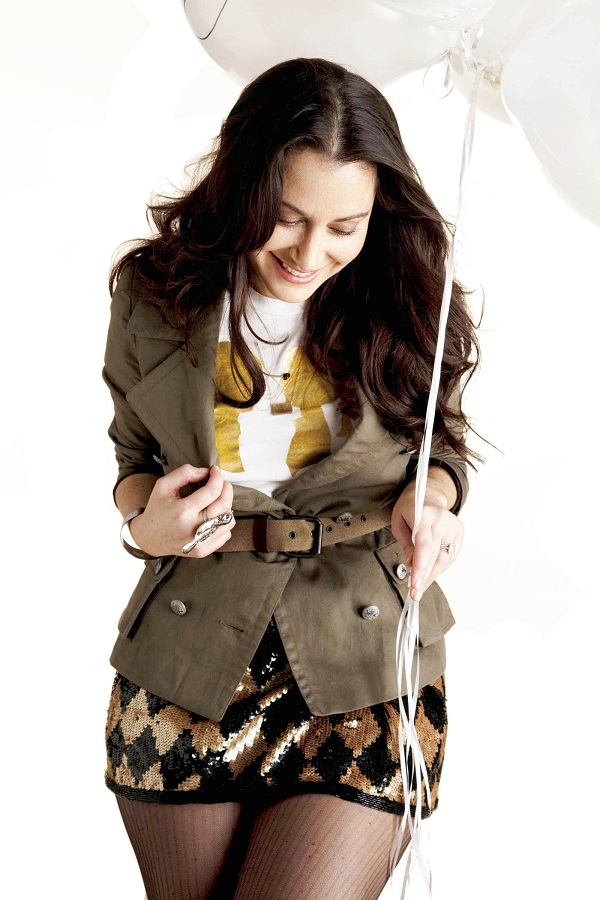 DFN: What do you love most about what you do?
Igel: I love it all. I am a "multi-tasker." I am a designer first, but building a business from scratch has helped me become a great host, producer, stylist, and therapist lol!
DFN: What advice would you give people (especially high school students and college students) who would like to become fashion designers and/or entrepreneurs?
Igel:
Be prepared to work like you have never worked before.
Being a talented designer is not enough. You need to learn how to be an effective marketer, networker, salesperson, service provider, writer, stylist, merchandiser, and psychiatrist as well.
Work with multiple vendors and never stop sourcing potential new ones. It gives you leverage and protects you from catastrophes.
Last, but not least… BELIEVE! I quickly learned the importance of hard work and customer service. There are a lot of amazingly talented people in this world. While you may not always be the most creative, charming or brilliant person in the room, you can be the hardest working and most dedicated. Being the hardest working and most dedicated person is something that is totally within your own control. By working hard, my bosses took notice at my earlier jobs and my employees take notice now. Working hard is a great way to lead by example and it also fosters loyalty and camaraderie.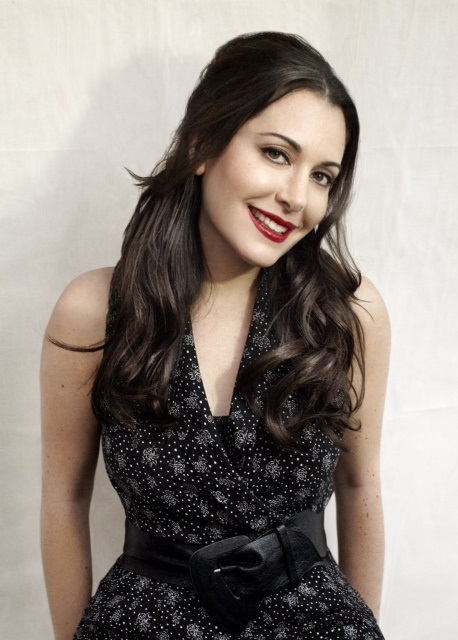 We would like to thank Stacy Igel for taking the time to interview with Detroit Fashion News! Also, Boy Meets Girl® is also featured at the Macy's at Somerset Collection so head down to Somerset to get your shop on! Also, be sure to follow @ boymeetsgirlusa on Instagram, @ BoyMeetsGirlusa on Twitter, and @ BoyMeetsGirlClothing on Facebook. In addition, be sure to follow @ stacyigel on Instagram, @ StacyIgel on Twitter, and @ StacyIgelFan on Facebook.
Featured Photo of Igel: Jennifer Rose Keany
Written by Kelechi Uchendu
Disclosure – This post may contain affiliate links. By clicking and shopping, you help support Detroit Fashion News and allow us to keep reporting on all things fashionable.