Fashion Designer, Museum Owner and Mentor
Leslie Pilling is a staple in the Detroit fashion community and even though we've known her for quite some time, we thought it was time you heard about her too!  We had fun discussing her efforts with her successful brands, her career and exciting news about recent projects during a recent interview and can't wait to share. Enjoy!
DFN – Tell us about your brand BLANK ITTI BLANK.
Pilling – BLANK iTTi BLANK is both an in-house brand and one we offer to select clients who are surface Designers/Fine Artists. We work with them…..Our silhouettes, your brand.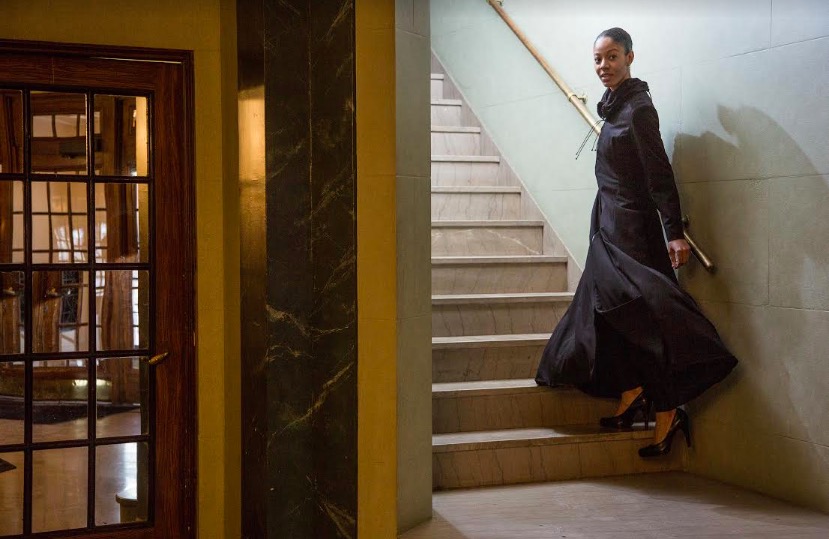 DFN – How did you get started and what inspired you to create this brand and your one-of-a-kind designs.
Pilling – My company Presence II Productions DBA Designs and Constructs our brand BLANK iTTi BLANK , which was started as a happen-stance and result of a another brand my company Presence II Productions DBA owned. The BLANK iTTi BLANK Brand has ready-to-wear, limited edition and one-of-a-kind pieces. We are best known for our Hugglettes. Most of the inspiration comes from years of being on the cutting-edge of the fashion market-share forecasting arena.
DFN – What type of client wears BLANK ITTI BLANK?
Pilling – The client that wears the BLANK iTTi BLANK brand is wide-ranged. The most common thread, is the group of people who appreciate fine fabrics and high-end quality.
DFN – Are there certain fabrics you prefer when creating your couture designs?
Pilling – Absolutely, we use fine fabrics with a particular hand or feel to the textiles.
DFN – You've been a key member of the Detroit fashion scene for years. What has been your favorite show, event or project throughout the years?
Pilling – Yes, I have been part of the Detroit fashion scene, deeply involved for over 10 years, professionally. One of the favorites was the Modern Man Showcase and Best Dressed Contest. The first one was held at Cliff Bells.
DFN – In the past, you've held a chair on the board of Fashion Group International, Detroit. What fashion groups or organizations do you currently belong to?
Pilling – Yes, for years involved on and off with FGI. The two organizations currently involved with are Metropolitan Museum of Design Detroit (MM-O-DD) and Industrial Sewing and Innovation Center (ISAIC). As founder/President of MM-O-DD (pronounced MOD), we have been providing mobile programming to emphasize the Design Industry to all ages. We are a 501C3 and are in the midst of seeking a permanent location in Detroit proper.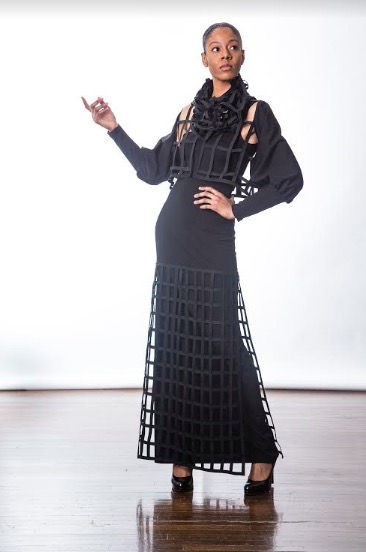 DFN – That's impressive. Tell us more about MM-O-DD,  Metropolitan Museum of Design Detroit.
Pilling – The MM-O-DD culture is Science, Technology, Engineering Art, Mathematics, Edutainment Design or S.T.E.A.M.E.D. based. We outreach to local-to-global connections. The mobile programming is inclusive and open to the public. We partner with various existing iconic Detroit organizations like Global Ties > Detroit, Build Institute (the business of Design) Michigan Science Center, the Detroit Riverfront Conservancy and more.
DFN – It sounds like you definitely filled an empty space in our local fashion scene/community and are filling it well. How did MM-O-DD start and what encouraged you to move forward with this idea?
Pilling – MM-O-DD has been a life-long goal which is essential to pay-it-forward to the next generation of designers. We must highlight the people from the past and who are currently working or are passionate about design. We must open the eyes to the way design can influence our planet and environmental choices.
DFN – We love that you are thinking of the next generation. That has always been something we've admired about you. How do you encourage young designers in Michigan? Do you have any advice for them?
Pilling – We encourage designers to get involved in MM-O-DD and they become encouragement coaches at our Design Dare Challenges. We also go into schools and feature different Design genres and the careers that exist in those genres. Advice we give to anyone of any age that is interested in Design is to find like-minded people who are interested and start a conversation about Design. MM-O-DD provides an extensive platform to accomplish this. We will be attending Mumford High School's Career day to tout this goal this Spring.
DFN – That's terrific! Keep going! Where do you see Detroit's fashion community within the next five years?
Pilling – Detroit's Fashion Community is in a forward motion mode and learning about those who have been here for years but are now coming forth. There are quite a few involved in various brands and blogs that are jump-starting awareness even more. Historically, Detroit was known as the 'Paris of the Mid-West, so we have roots grounded and let just say Detroit has doers and will always have stellar style. In the next five years, more and more brands will be built here from around the globe as a go-to for fashion production.
DFN – Over the last few years, Michigan F.A.S.H. Fest has been one of your successful projects. Why did you start this program and how can someone get more involved if they're interested?
Pilling – Michigan F.A.S.H. FEST was a building block for MM-O-DD. Anyone interested should become a member of MM-O-DD at www.MM-O-DD.org.
DFN – Is there anything new and exciting coming up this Spring / Summer for you or your brands? Please share.
Pilling – In the Spring/ Summer, we will be releasing new collections at one of our main locations of BLANK iTTi BLANK at Orleans + Winder. All other insight, feel free to check at www.BLANKiTTiBLANK.com
DN – Tell us something about the real Leslie Pilling. What is something no one else knows about you?
Pilling – Something real about me… ? As a native Detroit, I have  'Street Loyality' … and if you know me, you know what I mean.
DFN – Yep!  We get it! Thank you for letting us get to know you Leslie. We appreciate you taking the time to speak with us.
Pilling – Thank you!
Blank iTTi Blank can be found on Facebook and they have a presence on Instagram too @blankittiblankdetroit For those interested in Metropolitan Museum of Design Detroit (MM-O-DD), you can learn more by visiting the website by clicking here, please also visit on Instagram @mmoddetroit and on Facebook. To support Leslie Pilling and Presence II Productions on social, like the page on Facebook and also follow on Instagram @presenceiiproductions.
Disclosure – This post may contain affiliate links. By clicking and shopping, you help support Detroit Fashion News and allow us to keep reporting on all things fashionable.