Photographer, Fashion Designer and Jewelry Designer
First, we knew her as a photographer and lately (the last couple of years actually) she's been turning heads with her automotive inspired fashion designs. And also, her jewelry designs. She literally just keeps amazing us. Who is she? Janna Coumoundouros of Lilac Pop. We caught a hole in her busy schedule and snatched it up for a quick interview and we're grateful she had time for us! Read on and be inspired.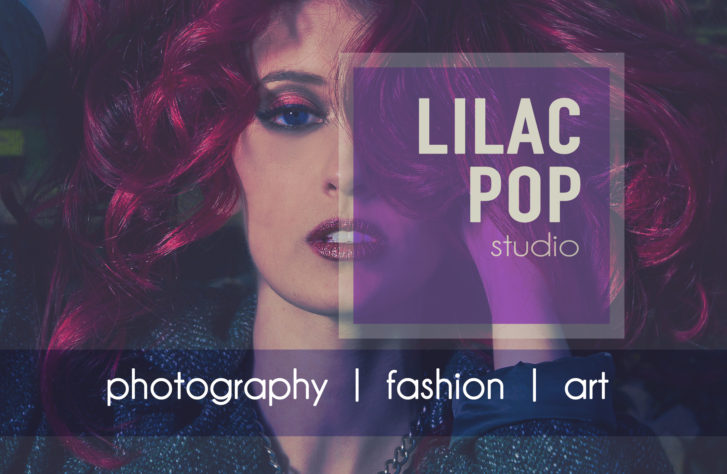 DFN: Janna, for as long as we've known you, you've always been so creative. We started out as fans of your beautiful photography and now we can't get enough of your fashion and jewelry designs. Were you a creative child growing up and did you always know you wanted to design dresses and jewelry?
Coumoundouros: I always wanted to be a fashion designer. Recently, my parents brought an old box of my childhood things and in it were stacks of my fashion drawings from when I was about 11 or 12. I found it interesting that also in that box were my Golden Girl and the Guardians of the Gemstones dolls, my favorites. They were these muscular warriors with crazy colored hair, so different from barbies. I think they may have influenced my work a little bit. The design competition with the samurai exhibit at the DIA also influenced a warrior type of design aesthetic. Add my love of Wonder Woman and there you go! Haha! But seriously, my goal with my work is to be multi layered with a tough exterior, bad ass attitude, yet still feel feminine and beautiful. When someone puts on one of my gowns and tells me they feel beautiful and like a bad ass, I know I achieved my goal.
I used to struggle with what I thought were conflicting themes in my work, using "tough" industrial materials but making them into something someone would actually want to wear. Then I realized, that's actually what makes my work unique and that is the best challenge. The materials themselves force me into unexpected designs. I love that. With all the different forms of art I have done, there is one thing that scares me: mediocrity. I never wanted whatever I made to look like something someone else would do or what was super trendy at the time. While I do pay attention to current styles in fashion, I still try to do my own thing. My customer is someone who appreciates the process, the uniqueness, and wants something one of a kind made by hand by an artist.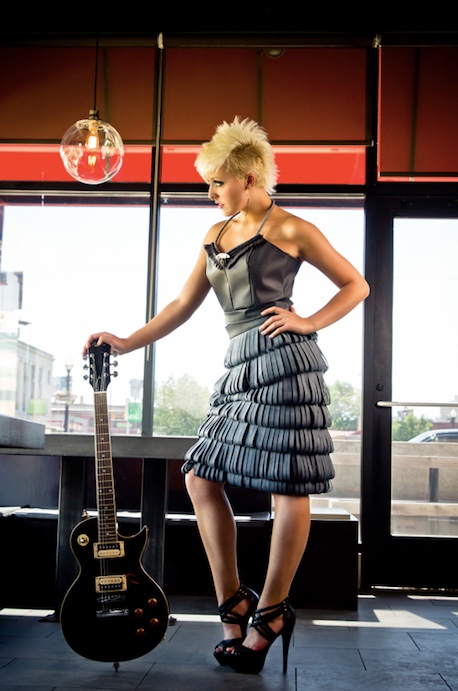 DFN: You've filled a unique space within the fashion community here in Detroit with your automotive inspired dresses. Congratulations! What brought your talents to fashion and how did it all come alive since your drawing days as a child?
Coumoundouros: Thank you! It took me a while to get here. I knew I wanted a career in art but in the late 90's I was told I should get a degree in graphic design if I wanted to find a job. I went to WMU for 3 years and majored in graphic design and I honestly did not enjoy it. I knew it wasn't for me. I took a photography class and realized I've always seen the world as if through a camera lens. I would naturally crop and plan images in my head but never had a good camera to capture it.
My parents got me a 35mm Pentax camera and I switched my major to photography and transferred to U of M in Ann Arbor. Between both schools I took a ton of art classes and learned painting, drawing, sculpture, lithography, mixed media, and even took classes in color theory and how to critique art. I did consider fashion design because my heart was there but I was too scared. I thought fashion was cut-throat and that I had to go to NYC for it and I was battling social anxiety really bad in my early 20's. I didn't know what that was because we just called it shy back then. Now I'm realizing it held me back from pursuing a lot of things. But I loved photography and after graduating I did the wedding photographer thing and learned a lot and then I started shooting virtual tours for real estate. I got back into fashion design with jewelry first. I always loved working with metal but I didn't take any jewelry classes in college, although I took a couple in high school and learned the basics of soldering and casting. I found an old, badly damaged cash register from the 1950's and started taking it apart. I was obsessed with it. So many parts inside and different kinds of metals. Once I shined them up, I knew they had to be jewelry. So I put a little desk in our living room and started doing metal work while I was home with my kids and shot real estate when their dad was home from work with them.
I started selling the pieces in stores and doing art fairs and learning more and slowly buying supplies I needed. Then I got my studio in Ferndale.  I started doing fashion shows with my jewelry designs.  I did one that was at Lawrence Tech University and they turned it into a design challenge and gave us automotive parts. But they didn't give us metal, it was fabric and leather car seats. It was during my slow time with photography and I decided it was time to start sewing again. I broke a lot of needles and had no idea what I was doing with the fabric. At one point I tried balling it up with rubber bands around it and putting it in the dishwasher to try to get it to change it's shape to make a full gown. It sort of worked. One look turned into 3 looks and I ended up winning the contest and the prize was attending Charity Preview with the dress. People went crazy over the dress when they found out what it was made out of. After that I was invited to participate in the Samurai design contest and I knew using the same automotive material would be totally different and unique so I asked the company who makes it, Inteva Products, if I could use it again. They let me use their professional sewing lab and I had help with the product from one of their engineers, Jeff MacGregor. He taught me about the product and how to sew it. I ended up winning the contest and that is what influenced me to keep going with it. I found my style and I really enjoyed working with Inteva. Since then, the company has commissioned me to make gowns out of their product for Charity Preview each year. It's been a wonderful marketing tool for them and great publicity for me.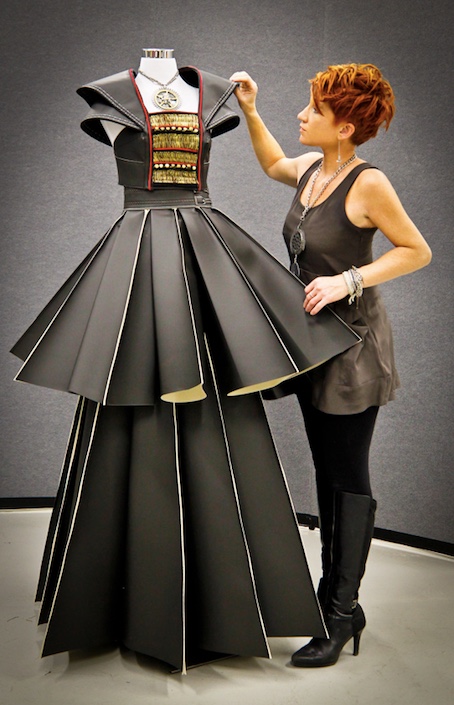 DFN: Wow! Well, now that you're an established designer and hold a well deserved place in the Michigan fashion community, how do you run your fashion business? Do you create your automotive designs seasonally or by client order?
Coumoundouros: I wish I had time to do seasonal lines but I run my photography business and jewelry business on my own. I also do marketing for my husband's restaurant and have 2 teenagers. I do custom orders for dresses. Recently I designed and made a dress for Ann Delisi to host the Concert of Colors in. It was a great experience and she looked amazing in the dress on stage!  My clients have been great because they realize that the process can take some turns and they go with the flow. I can sketch and design all I want but ultimately, the material dictates the design because it's so different from traditional material. But that's the fun part! Unexpected materials make unexpected results.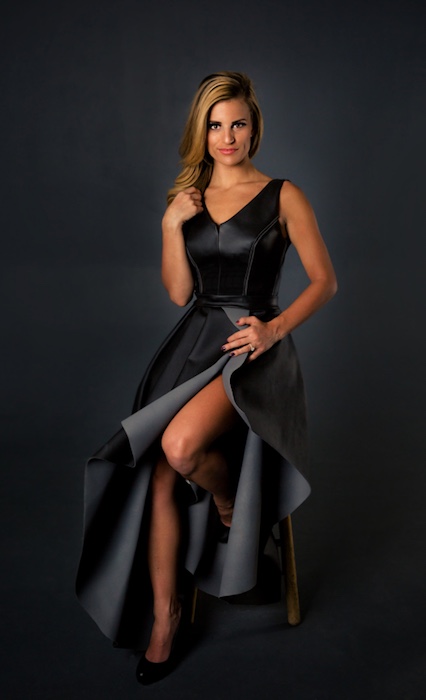 DFN: From photography to designing and creating, what is your favorite thing to do? Do you prefer one talent over the other?
Coumoundouros: I love them all, I really do. When I'm working on jewelry, I get lost in it. Yesterday I was at the studio working for over 10 hours straight on new designs. But when I'm sewing I do the same thing. Sometimes I daydream about owning a shop where I could have a studio behind the counter and make jewelry all day. Sometimes I dream about being a full time fashion designer. But I really love shooting real estate and corporate events too. I think I've found a balance that works for my creative spirit.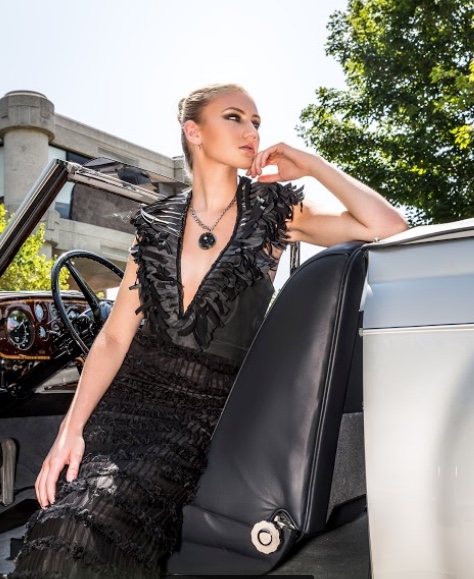 DFN: Tell us something about yourself that others might not know. Do you have any other talents or amazing skills you haven't let out yet?
Coumoundouros: I love to draw and I've started doing limited runs of Giclee prints in my Etsy shop. http://lilacpopphotography.etsy.com My favorite medium is charcoal because I feel like I'm using my whole hands to draw and move it around the paper and it gets almost sculptural. Eventually I would like to frame and do a show of my drawings and paintings.   I've also started to consider my fashion designs as pieces of sculpture to display as art pieces, rather than wearable and I've thought about making the dress form myself so they are stand alone pieces. I don't create my designs in traditional ways like someone who sews, I don't think anyway. I think I approach designing a dress more like a piece of sculpture so going in this direction makes sense to me.
DFN: You are so inspiring and you work so hard!  What do you like to do on your time off where you can regroup and recharge?
Coumoundouros: My husband and I are both entrepreneurs with our own businesses (he is the chef and owner of The Conserva and we work on opposite schedules. When we have a little bit of time off we just like to spend it together relaxing with the kids and goofing around. We try to get out of town for a couple of days here and there and go to the west side of the state or up north. I love to get out into nature whenever possible and recharge.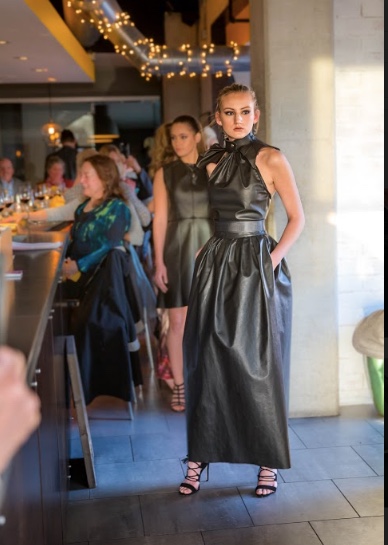 DFN:  What is your next step? Do you have anything big coming up you would like to share with us?
Coumoundouros: I do have some exciting things coming up but I can't talk about it just yet. Make sure to follow me on Instagram and Facebook for updates! I am @Lilacpop on Instagram and Lilacpop Studio on Facebook. You can also sign up for my mailing list on my website at http://lilacpopstudio.com
DFN: Are there any shows or charity events you will be a part of in 2018-2019 we can attend to support you?
Coumoundouros: I'm applying to some shows and will send out information about them once they're confirmed.  I'm going to help my husband with a couple of fun things this fall like the USA Today Food and Wine Experience with the Detroit Free Press and Martha Stewart. He will also be a featured chef at Savor Detroit this fall for Hour Magazine, and I may be in the kitchen helping him with that…or most likely in the audience eating!
DFN: All very amazing! Congratulations to you both! Thank you Janna. 
Janna: Thank you!
Disclosure – This post may contain affiliate links. By clicking and shopping, you help support Detroit Fashion News and allow us to keep reporting on all things fashionable.