Time to Revamp Your Office Makeup Routine for Summer 
Office makeup is by far the trickiest makeup routine, mainly because of two major constraints:
1. Time
2. Lack of ideas regarding multi-purpose beauty products
Without time, one cannot get the urge to do the appropriate makeup; and without using multifunctional products, one cannot save time! Sounds complicated right? In this article, the focus is on using the right amount of makeup that would make one look a little more put together without overdoing it. Enhancing the best features of the face, with the use of the right products, without consuming excessive time is the key to perfect the ultimate office makeup look. Women belonging to three different age groups have been considered here to show how makeup takes a transition beautifully with age.
20s Makeup
The model here hardly applies makeup, which is why a bright pop of color has been used to brighten her face. Since she doesn't use makeup in general, spot concealing for black spots or marks on her face was required without the overuse of foundation. The emphasis here has been given on the application of loose powder to set the minimal amount of foundation on the face giving a more youthful appearance.
Products used:
1. Drugstore primer from Elf Cosmetics in green shade – it helped to cancel out the redness and soothe the skin.
2. Flower Beauty Light Illusion foundation mixed with City Color cosmetic glowing complexion illuminating cream for that youthful bouncy look that will keep her face look fresh throughout the office hours.
3. Maybelline Age Rewind Concealer for dark circles on her under eye region and spot concealing.
4. Maybelline pumped up Colossal Mascara.
5. Black Radiance contour powder – to bring some definition mainly for her nose area.
6. Maybelline eyeshadow quad (used the pink shades).
7. NYC cosmetics loose setting powder to lock in the base makeup.
8. Covergirl Classic color blush in Iced Plum for that matte and clean blushed cheeks.
9. Maybelline super ink matte liquid lipstick in the shade Globetrotter to brighten the entire face makeup and to make her look bold and beautiful!
30s Makeup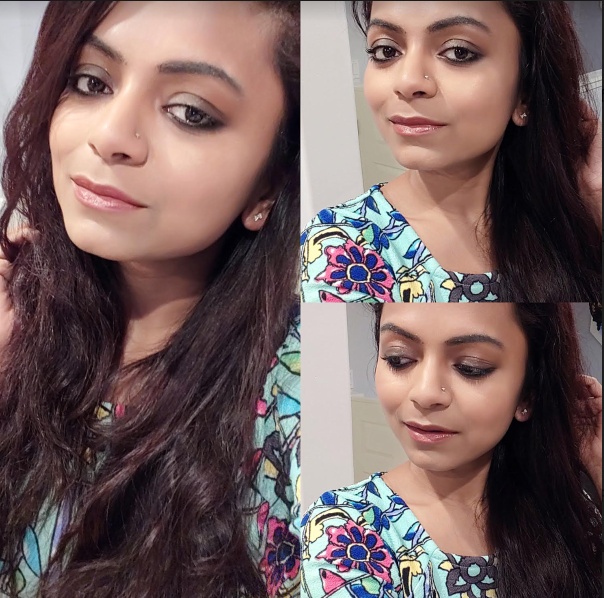 For the 30s age group, a more profound yet subtle tone has been used inclining more towards matte textures. There can be days when after work we may need to go for an office gathering. Or there may be those days when we would want to bring a change in our monotonous makeup routine. In such cases, opting for shades like charcoal would make the eyes look more prominent. But to do that, concealers should be used abundantly under the eyes to make those eyes pop!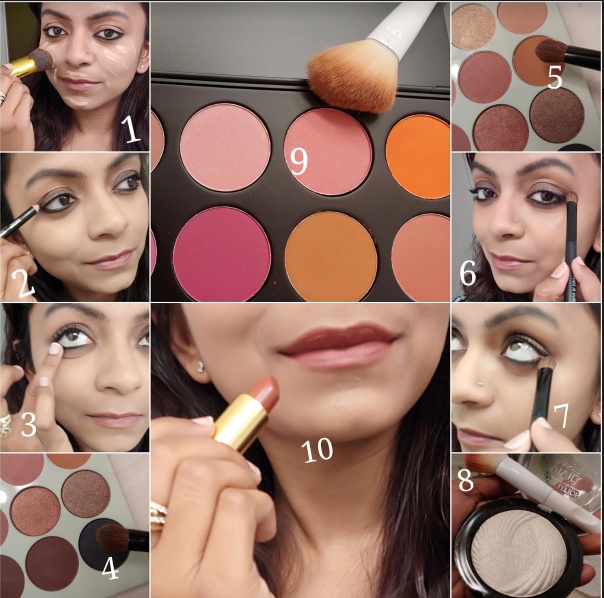 Products used:
1. The flawless base is the magic of the concealer by Christina Cosmetics.
2. Then kohl liner from Revlon has been used to create a base on the eyelids so that the charcoal eyeshadow can stick on to it, plus, it would help to intensify the dark shade and make it last longer without creasing.
3. Charcoal eyeshadow from Pixi by Petra itsjudytime palette has been used to cover the lids.
4. And on the crease section, matte brick brown shade has been used to blend out the charcoal eyeshadow.
5. Also, the kohl liner's definition on the lower lash line has been diffused with the same charcoal eyeshadow. Also, don't forget to add lots of mascara!
6. Followed by highlighter in Golden lights from Makeup revolution.
7. Peachy pink blush from Coastal Scents blush palette has been used on the apples of the cheeks with light hands.
8. And the look is finished by applying a muted brown lipstick – Revlon's Toast of NewYork.
40s Makeup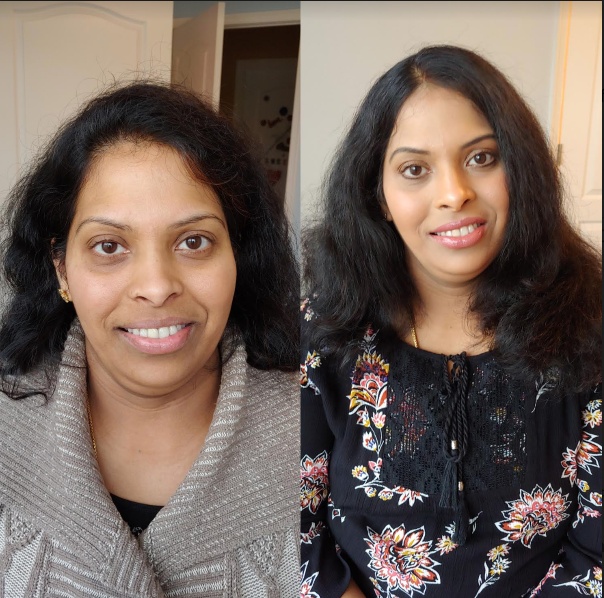 For the 40s age group, subtle shades have been used in the photo above that pretty much would fit with a variety of colors and shades. The model is not too keen on wearing makeup to the office on a daily basis, but when she does wear makeup, a pinky nude on the lips in conjunction with a hint of gold on the eyes compliments her olive skin tone. Also, contouring the face is essential if someone wants more definition and sharpness. Contouring makes a huge difference and instantly reduces age giving the look of a chiseled face.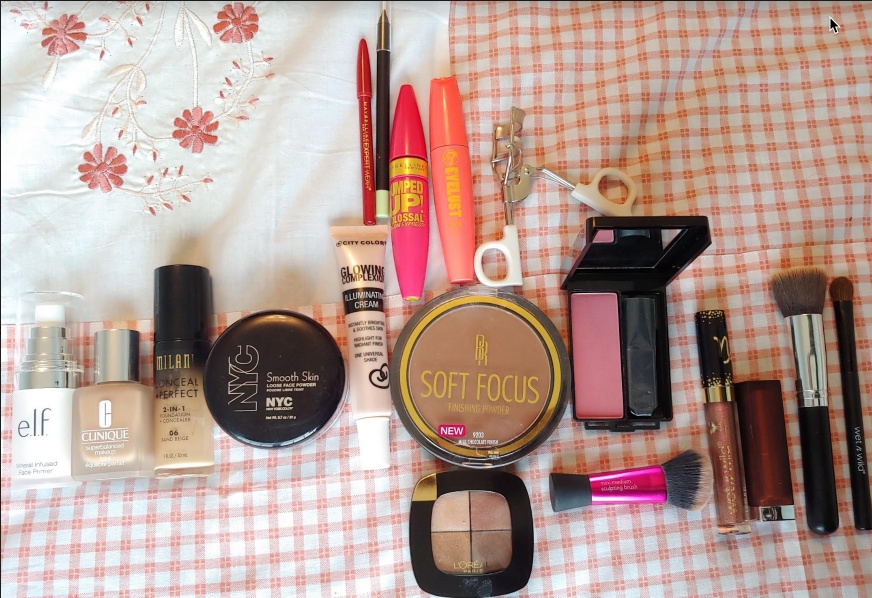 Products used:
1. Drugstore primer from Elf Cosmetics which is available everywhere and it is inexpensive too!
2. Clinique super balanced foundation mixed with Milani foundation for flawless everyday matte look and contouring done using Black Radiance contour powder.
3. NYC cosmetics loose setting powder – to make the makeup last longer.
4. Maybelline Colossal Mascara – they are the best when it comes to drugstore mascara.
5. Pixi by Petra endless silky waterproof kohl eyeliner – it is smooth to blend and once it sets, doesn't budge!
6. Covergirl Classic color blush in Iced Plum – for that matte and clean blushed cheeks.
7. L'Oreal® Colour Riche® Pocket Palette in Boudoir Charme.
8. Wet and Wild lipgloss in Sagittarius and Maybelline Touch of Spice has been combined to add more sheen to the lips.
These are the three different looks created for office makeup. If you have a great office makeup look/routine or want to share your tips and tricks on everyday makeup, feel free to comment below!
Disclosure – This post may contain affiliate links. By clicking and shopping, you help support Detroit Fashion News and allow us to keep reporting on all things fashionable.